Remember the last time we talked about how a tie happens in baseball? There we had rainfall as the primary culprit. You must have heard of different events in baseball to tie or suspend a game due to heavy rainfall.
However, for football or soccer, players can continue to play during the rain in some cases but for baseball! Nyah! Imagine the wet field and the ball getting too uncomfortable to hold in the mitt. Not to mention how heavy players' uniforms can be.
This is why MLB has specific protocols for Baseball Rain Delay Rules. While most of the major leagues follow these rules by the book, you might find amateur leagues adapt to the rules according to the nature of their progress.
Hop in with us to learn everything about MLB Rain Delay Rules in Baseball.
MLB Baseball Rain Delay Rules Explained
In the past, there have been multiple reports to suspend the match due to poor weather conditions. You can recall the Cubs and Bucs match that ended with a 1-1 tie due to rainy weather or the Cubs and Cardinals' terrible muddy field in the spring of 1965.
However, times passed, and now, there are several ballparks (baseball grounds) with retractable rooftop options to prevent rain delays. Popular names that pop up are:
American Family Field in Milwaukee, USA –

Founded in 2001

Chase Field in Arizona, USA –

Founded in 1997

Globe Life Field in Texas, USA –

Inaugurated in 2020

loanDepot Park in Miami, USA –

Opened in 2012

Minute Maid Park in Houston, Texas –

Opened in 2000

Rogers Centre in Toronto, Canada –

Opened in 1989

T-Mobile Park in Seattle, USA –

Opened in 1999
You can see the retractable rooftop stadiums/ fields were established and launched between 1989 to 2020. Before this, tournaments frequently faced challenges to continue the match due to rainy weather.
MLB provides strict guidelines regarding rain delays but with time those guidelines went through several modifications and changes. In the following, we will state and describe the current MLB Baseball Rain Delay Rules.
Rain Delay: It's A Regulation Game After Five Innings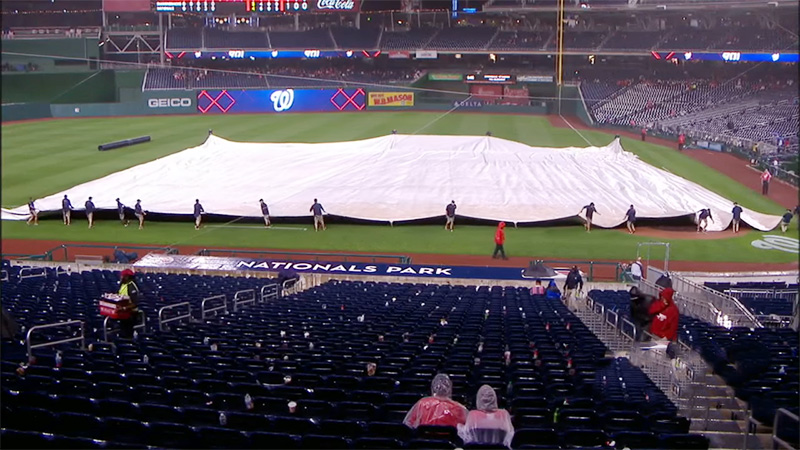 "Regulation Game" is an official term (according to Rule 7.01(c)) used by MLB. For season tournaments, often spectators have heard the phrase on the screen.
In terms of MLB, a match will be declared a 'Regulation Game' or 'Official Game' when the visitor team completes five innings (15 outs) while the home team takes the lead, or the home team has earned fifteen outs; no matter what the score is.
According to MLB's official statement, when a match is postponed due to rain after five innings (occasionally 4.5 innings), it will be declared as a Regulation Game.
Both teams and authorities related to the management are therefore obliged to complete the game upon further notice on dedicated time and location.
Quick Notes:
You must be thinking about what lies under these rules; take a quick note before you find your head is in the cloud.
Rule 7.01(c):
When the chief umpire calls the match; it will be a Regulation Game if:
(1): Upon the completion of five innings
(2): When the home team has earned more runs before five innings or four and a fraction of half innings than the visiting team has made in five completed half-innings.
(3): In cases like this: when the home team completes one or more runs in its half of the fifth inning to tie the match.
Rain Delay: It's A No Game Before Five Innings
Have you witnessed a No-Game baseball? When a match faces unexpected circumstances (particularly rainfall) before the five innings, it is officially announced as a No Game. No Games are scheduled for later dates and times and have to start over from the beginning.
MLB clarified about No Game due to rain delays. However, this protocol had some alterations in 2020; during the COVID era. The update is as followed:
In the year 2020, baseball matches that were unable to meet five innings due to rain delays were resumed where they left off. Rather than starting all over again, No Games started where it left off to limit the crowd, the number of active players, and other associates related to the match.
However, don't mistake this temporary alteration in No Game with Regulation Games. When the umpire-in-chief postpones the match before five innings due to bad weather, it is a No Game and therefore it's not an official game; unless the match lies under these following Rules 7.02(a)(3) or 7.02(a)(4) of baseball.
Quick Notes:
Here's another useful note for you.
According to official MLB 7.02 (a) a baseball match is suspended and will be resumed in case the umpire in chief terminates the game under one of the following reasons:
Rule 7.02(a)(3):
Even though modern stadiums have power backup and light failure or darkness can be merely a reason to terminate the game, matches may still struggle with these technical issues (malfunction, light error, operator error, etc). Thus the game will be terminated and have a new schedule, to begin with.
Rule 7.02(a)(4):
Special cases – when the country law prevents the authorities to turn on the lights. Well, it's pretty creepy, isn't it? National orders like this are approved to save power and reduce power consumption.
Rain Delay: Umpire Declares A Suspended Match Any Time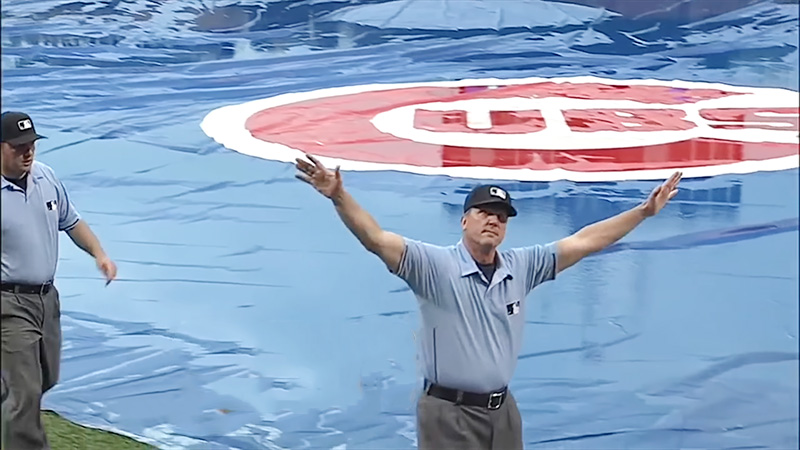 Doesn't matter how highly precautious (such as retractable rooftops or power backup) the authorities are, plans can still fail to ensure healthy grass during the rainy seasons.
In such cases, when the umpire in charge finds the field unplayable due to rainfall, he can suspend the match regardless of the number of innings completed.
It can be neither a 'No Game' nor a 'Regulation Game'. In special scenarios like when the rooftop collapses or water is trapped inside the field due to heavy rain, the umpire can, at any instance, suspend the game; even if the game only had one inning.
Situations like this are dealt with under Rule 7.02(a)(3) – power outage, operational error – intentional or unintentional, any mechanical or equipment failure.
Official Time Limit for Rain Delays
Here in the official 23rd baseball season, major league baseball introduced a new time extension rule for rain delays. It stated that, due to bad weather (heavy rainfall, mild earthquake, heat wave, storm), a minimum delay of 30 minutes is mandatory before the game can finally resume.
But what happens after 30 minutes? This is upon the umpire-in-chief to decide. The weather condition may improve or decline. The match is scheduled to begin after 30 minutes if the weather improves.
However, in case the weather worsens after 30 minutes of the waiting period, the umpire may decide to call off the match. There have been a few examples in the early days with the longest period of rain delays.
In the year 2009, White Sox and Texas Rangers had a prolonged match. They were interrupted 4 times due to heavy rainfall; while the game met 2 and 27 minutes of extended time. Ultimately the White Sox met their fate with a 9-6 defeat.
The longest delay was recorded in the fall of August 1990 in Chicago. It was a delay of 7 hours and 23 minutes; and again White Sox and Rangers. The game was ultimately postponed when the Rangers voted down the options. It was recorded as the longest delay in MLB history.
Carlton Fisk, White Sox Catcher was quite bothered by the situation saying, "It doesn't take a rocket scientist to figure out how it could've been avoided. It's been raining since 11 o'clock." Clearly! The team faced their prolonged fate that day!
The second one was recorded in 2014 with a 6 and a half hours delay due to rain. Other rain delays (over 5 hours) were also significantly reported in Philadelphia, Milwaukee, New York, and St. Louis throughout baseball history.
It's not up to us to figure out what mother nature has for us. Thus, MLB has been strict and flawless about rain delay rules. They have set policies that deliver flexibility and safety for the players; also making sure the play doesn't lose its charm.
Weather Conditions That Affect Baseball Match
We mentioned earlier how modern stadiums and ballparks have improved to shelter baseball matches regularly. Nonetheless, there still can be situations that may jeopardize the progress of the game. And we are not talking about rain only.
So, as you are here, let's take you on a tour and offer a detailed analysis of other weather conditions that may affect your favorite match.
Delays Due To Lighting
There have been regular policies to deal with lighting the same way leagues deal with rain delays. In events like this when there is no rain but lighting; EMW baseball faces the situation following NSSL (National Severe Storms Laboratory) guidelines. And we all know what NSSL says!

Terminate any on-ground activity when there is lighting 6 miles away.
Lighting delays are considered more serious than other forms of weather delays. Because they pose a higher risk to the players and audience present in the field, it is strictly recommended to follow the guidelines and avoid risk.
Delays Due to Fog
Players can't play if their sight vision can't cover the field. Fog Delay is one of the most disturbing delays for players. There is no rain or threat of lighting you still have to possibly suspend the game.
However, luckily! There have been no official cases reported till today that halted the match for a long time. Fogs usually come and go and it only takes a little time to clear the fog. However, in extreme cases, the team has to follow MLB weather policy that's the same for rain delay.
Fog is the most unpredictable form of weather; so we never know what's going to happen!
Delays Due to Snow
Now, Snow Delay is mostly geological. For countries located in Middle Asia or the Middle East, snow delay is a rare phenomenon. It mostly happens in countries like the USA, North Korea, or other places where snowfall is a normal scenario.
Different leagues can face snow delays mostly during the beginning of a season or at the end of a postseason. In situations like this, matches are generally rescheduled like rain delays.
However, in case the snowfall continues, the authority has to wait until the field is properly ready again to play.

One of the notorious snowfalls was reported in April of 2007. The match was between Cleveland Indians and Seattle Mariners. Both teams were only one strike away from having a regulation game. However, Mike Hargrove, manager of the Seattle Mariners, asked to postpone the game due to snow.
What's the Difference Between Rain Delays and Rainouts in Baseball?
There is a common term in baseball that you may mistake for Rain Delays. That is "Rainout". Rain Delay is the delay in the game due to heavy to mild rain. However, Rainout is the result that's effectively followed by the incident of rainfalls.

Often a match will be called a Rainout Game when it is either postponed, delayed, or suspended by heavy rainfall. In situations like this, the umpire in charge holds the right to declare the match a rainout after 30 minutes of a rain delay.

There is no specific rule that the umpire has to wait 30 minutes to declare a rainout game. He can wait more before going official.
Final Words
Rain delays can often slow down your spirit. Both players, spectators, and others related to the official match may feel jeopardized following the decision umpire takes to reschedule the game.
However, MLB has set Baseball Rain Delay Rules to prevent the struggles players may face due to unpredictable weather conditions. To continue a baseball match in adverse weather like heavy rainfalls will only result in imperfect results and end with dissatisfaction.
Thus! Don't be hopeless upon finding yourself amid a rainout baseball match. When rain interrupts your favorite tournament, remember the MLB rules, embrace the suspense, and enjoy the unexpected twists the game holds for you!
Similar Posts:
What Do Tennis Umpires Say When The Ball Bounces Twice?
Tennis umpires have a unique perspective on the game of tennis. They are in charge of making sure that all rules are followed and that the games run smoothly.
Playing tennis is a great way to get in shape and have some fun. However, it is important to know how often you should play in order to maintain good fitness levels.
Hanging a golf net is an easy way to improve your game by Practice hitting the ball into the net.
Source: youtube
How To Hang A Golf Net
When it comes to golf, everyone loves getting a hole in one.
What Does The Number On A Bat Mean?
The number on the bat means that the ball has been hit. It is a standard measurement for bats in order to keep track of their performance.
What Is A Pepper Game In Baseball?
Baseball, known as America's pastime, has a rich history filled with various traditions and unique games. One such game is the "pepper game," which has captivated players and fans alike for generations.
In this comprehensive guide, we will delve into the intricacies of the pepper game in baseball, exploring its origins, rules, benefits, and even the reasons behind its banishment from certain ballparks.
By the end, you will have a thorough understanding of this beloved baseball activity.
What Is A Junk Ball In Tennis?
A junk ball in tennis is a ball that does not meet the required standards for play. These balls are typically used by beginners and low-level players because they are easier to handle and do not bounce as high as other types of balls.