In American Baseball, the Major League Draft is a common concept. It's the one thing that varies deeply from European sports. So, what is the MLB Draft? How does the MLB Draft work? Potential benefits and disadvantages related to it? Can we know it all in one article?
Let's find out! Today, we will start this article with what Major League Draft is and how it functions. By the end of this article, you will be able to tell how the MLB draft is different and why!
Definition of Terms
Before we dive into it, here are a few terms you should be aware of. Get familiar with these terms to easily understand the objective of our article.
Draft: It is a process to determine and distribute young baseball players to the Major Baseball League.
Free Agent: Baseball players who are eligible and can sign with any baseball team.
Young Players: Unsigned baseball players who are full of potential. Baseball coaches and scouts look for them to add to their teams.
Amateur: Players who are officially not paid to participate in the baseball game. High school or college baseball players are often considered amateur baseball players.

Sign: To work under an official club, you have to follow their rules and regulations. This requires baseball players to sign a contract.
Bonus Pool: Each team receives a specific amount of money to spend for the draft during the first 10 rounds. It is known as the bonus pool. Signing Bonus: The top 6 picks in the MLB Draft (for the first player draft) have an assigned dollar value. It is referred to as the signing bonus.
Defer: When a baseball is selected in the MLB draft but decides to postpone his joining the MLB.
40 Man Roster: Refers to the list of players who are under contract with a Major League Baseball team and are eligible to be called up to the Major League roster. It includes both active and inactive players.
What is The MLB Draft?
We all have been to different MLB tournaments, right? But did it ever cross our mind how players make it to the Major League Baseball tournaments? Or, how does MLB select all new players?
Players have a unique journey to reach an official position in MLB. Each of their roads is different and versatile. And, many went through the MLB draft.
So, what is this MLB Draft we are frequently talking about?
Every year, Major League Baseball hosts an annual event for talent hunts. This event is known as the MLB Draft.
MLB hosts it to find out the young and talented players who can potentially shape the future of baseball.
Different baseball organizations take their turns and hunt down the talent pool. It starts with the teams with poor or average records from the previous season and ends with the teams with the best record.
Purpose of MLB Draft
You can consider the MLB draft an official way to select from unsigned baseball players. They follow a roster to pick up players who haven't been signed under any other teams.

MLB Draft is organized every year to meet up a few smart objectives. The primary goals of the MLB draft are:
To maintain a competitive balance within Major League Baseball.

Reduce the dependency on free agents to acquire new baseball players.

To select amateur players before they become eligible for the unrestricted free agents.

Allow smart market teams to compete against powerful baseball franchises.

Small teams can secure a top-tier player without having to sign for sky-high bonuses.

To promote equality and parity among all franchises of baseball; harnessing an ambitious playing field.
The MLB draft shapes the landscape of Major League Baseball. Think about the MLB without the MLB Draft, you will find the heart of the tournament missing i.e. fair competition and equal opportunity for players.
The MLB Drafts aim to harness the eligible players who deserve the opportunity to get a wider platform.
How Does The MLB Draft Work?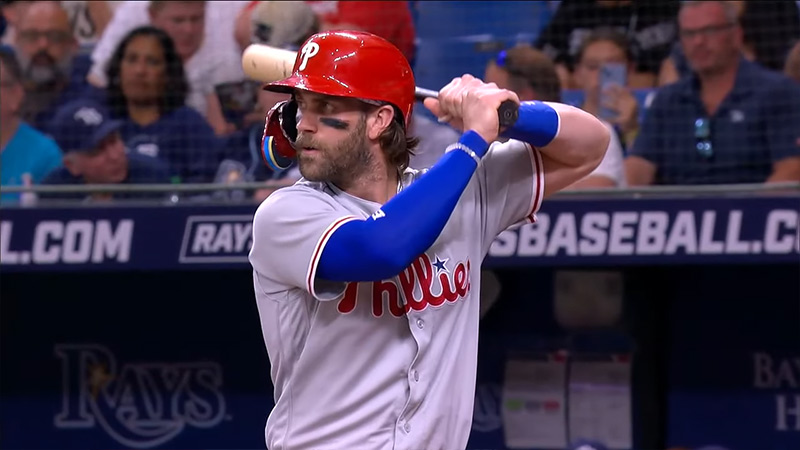 When the MLB Draft successfully works and the organization drafts a player, a deal is made between the player and the organization.
It depends upon the player on what happens next. The player can accept the deal and starts his pro-baseball career in the minor league. Or, he can deny and try out in the next year to secure a better deal.
However, players can also expect to be signed by their boyhood club. Players should keep in mind that who they get to play for has very limited options.
To build up a step-by-step career in baseball, the MLB draft is a definite solution for you. But keep in mind that, messing around here will only lead you to a bad reputation and affect your overall baseball career.
Two Types of MLB Drafts
Only a few sports organize two drafts and MLB is one of them. Keep reading to find out how the MLB draft work with its two drafts.
1) The First Year Player Draft:
One of the two drafts, specifically the bigger one is the first year player draft. It is basically more typical and complex in form.
The first year player draft is the primary segment of the draft process in Major League Baseball. Some also call it the Rule 4 Draft. Wondering why?
Rule 4 is the section of the MLB collective bargaining agreement that leads the draft.
The first year player draft usually takes place between June 1 to July 20, in the middle of the MLB season.
A lot of amateur baseball players don't sign for minor or major league teams. The Rule 4 Draft ideally targets them; especially players who are in their first year of eligibility.
To be eligible for the First Year Player Draft, a few conditions have to be met. Listed below:
First year players have to be a resident of the United States of America or Canada. However, U.S Territories like Puerto Rico also apply to this.

Players who have graduated high school but have not been admitted to college yet are also eligible for the draft.

Those who have completed at least one year of junior college are also eligible.

Players can apply at any time when attending a two year or community college.

Players attending the four year college after completing their junior year and turning 21 years old, can also apply.

However, international players who meet certain residency requirements are also eligible for the draft.

Amateurs who meet these conditions must register with the MLB Scouting Bureau to officially enter the draft.
First Year Player Draft Format
The collective bargaining agreement of MLB was established four years ago. The aim was to improve baseball players' development system including salaries, free housing, clubhouse conditions, and others.

According to the 2022-2026 collective bargaining agreement (CBA), the First Player Draft will consist of 20 rounds.
First Year Player Draft Bonus Pool
Players who have been picked in the first 10 rounds will have an assigned dollar value – the signing bonus. How much each player can spend from the signing bonus equals the total of each club's selection.

However, when a player, selected in the first 10 rounds, doesn't agree with the deal and doesn't sign up, their bonus value will be removed from his team's bonus pool.

It works alternately for the first drafting team! They receive the largest bonus pool. Keep in mind that the pool size decreases with the upcoming draft slots.

The penalty only follows when a team excels in their bonus pool in the first 10 rounds. It will be a monetary penalty.
MLB Draft Lottery
It is just as you guessed. The Draft Lottery in MLB First Year Player Draft determines the top draft pick. Even though it seems a bit hard to believe, the first six picks in the MLB First Player Draft are randomly selected through a lottery.
The MLB draft lottery system was established per the 2022-26 CBA. This was done to recover the drawbacks of the previous selection rule.
Earlier, MLB selected the top picks based on the records of the previous season's records. This may seem simple at first. But, multiple times teams with the worst records earned the first pick. The Lottery draft, on the contrary, is set on the reverse order of winning percentage. Who enters the lottery?
The 18 teams who couldn't make it to the playoff seasons. The bottom three clubs with their worst records will have their odds at 16.5%.
No need to worry. The odds will decrease as the records start to improve.
Note that, revenue sharing payees are not eligible to receive the lottery selections in three back-to-back years. However, non-payees are ineligible to get into the lottery selection every year.
After the top 6 picks, the rest of the teams are allocated into the draft order following their previous season records. The teams with the worst records will be picked first.
2) MLB Rule 5 Draft
Lesser known and smaller MLB Draft because it is implemented with players who have been through the MLB First Year Player Draft.
It specifically applies to the players who have signed a major or minor league but haven't been to the major league 40 man roster.
The MLB Rule 5 Draft takes place in December of each year. An MLB team can select a baseball player under Rule 5 only if they have at least one empty spot in their 40 man roster.
However, not all professional baseball players can apply to the MLB Rule 5 Draft. Follow up on the conditions that players have to meet to be eligible for the Rule 5 Draft.
Players below 18 (

who signed the First Year Player Draft

) can apply for Rule 5 Draft only if they have played at least five seasons.

Players who have signed can not already be a part of the MLB 40 man roster.

If a player (

age 19 or older

) signed up for MLB first year player draft, are not eligible for MLB Rule 5 Draft until they have completed 4 seasons.

Additionally, signed players who are at their 19 or older can be eligible for MLB Draft 5 only if they are not already on the MLB 40 man roster.

This draft is applicable for the Major League injured list, but that player has to be active for a minimum of 90 days to avoid roster restriction.
The MLB Rule 5 Draft is not hard to comprehend. In this draft, teams draft in reverse order of their standings from the previous season. Teams with poor records can pick first.
However, not every club needs to make a selection. But those who pick up must pay $100,000 to the home club of the specific player they chose.
Clubs must also keep the players in a 26 man roster for the rest of the season. To remove them from the 26 man roster in the following season, they have to place them on waivers.
Unlike MLB First Year Player Draft, the MLB Rule 5 Draft doesn't impose any limit to the number of rounds. This draft will continue no matter how long it takes until there are no longer any clubs left to draft players.
MLB Draft In A Summary
Here we are at the end of our article. We hope now you have a detailed understanding of how does the MLB draft work. Here are some highlights from our article.
MLB Draft is a selection process from young talented and unsigned baseball players.

There are two MLB Drafts – First Year Player Draft and Rule 5 Draft.

The first year player draft is bigger and only players in their first year of eligibility can apply for this draft.

Players who have played in the major or minor league but haven't been to the MLB 40 man roster are eligible for the Rule 5 Draft.

The First year player draft takes 20 rounds to complete.

The Rule 5 Draft can take as many as rounds it needs.
This was all in a nutshell. What do you think of the MLB Draft? Do you think it's a timewise solution for our young players? Or not? Let us know in the comment section.
Also, don't forget to share this article with your baseball lover friends and pave their way to the MLB.
Similar Posts:
How To Break In A Nokona Baseball Glove?
Breaking in a new baseball glove can be frustrating, but with a little patience and some elbow grease, you'll have the perfect glove for your batting needs. Here are five tips to help you break in your new glove fast: Warm up the glove before you start hitting.
How To Get Rid Of Golfer'S Tan?
Golfer's tan is a skin discoloration that results from the natural exposure to ultraviolet (UV) radiation from the sun. Although it can be aesthetically pleasing, golfer's tan can also be very harmful if not treated properly.
How To Get White Baseball Pants Clean?
White baseball pants are notorious for getting dirty and stained during games and practices. Whether it's grass stains, dirt, or sweat, keeping your baseball pants clean can be a challenging task.
However, with the right tools and techniques, you can effectively clean your white baseball pants and restore them to their pristine condition.
In this article, we will explore the best way to clean dirty white baseball pants and provide you with step-by-step instructions to achieve excellent results.
How To Clean Leather Golf Grips?
If your golf grips are dirty and stained, you'll need to clean them. Here's how:
1) Pour a small amount of mild soap into a bowl or cup.
How Much Is A Membership At Tpc Stonebrae
If you're looking for a place to enjoy some quality time with friends and family, then Tpc Stonebrae is the perfect destination for you. With its wide variety of activities – from hiking to golfing – there's always something for everyone.
How To Put A Batting Cage In Your Basement
Batting cages are an exciting addition to any basement and can provide many hours of fun for your family. However, before you buy one, it is important to understand how they work and what the various types entail.