In the complex world of Major League Baseball (MLB), the Collective Bargaining Agreement (CBA) holds significant importance.
Serving as the contractual framework between the league's owners and the players' union, the MLB CBA plays a crucial role in shaping the game, determining player rights, and establishing team operational guidelines.
This comprehensive guide aims to unravel the intricacies of the MLB CBA, shedding light on its purpose and delving into the mechanisms that govern its functioning.
From player contracts and arbitration to revenue sharing and competitive balance, we will explore the fundamental aspects of the MLB CBA, providing a comprehensive understanding of what it is and how it works.
MLB Collective Bargaining Agreement Explained
There is a Collective Bargaining Agreement (CBA) or Basic Agreement between the Major League Baseball Players Association and Major League Baseball that describes the employee's rights and the financial structure of the game.
You can download a copy of the last CBA from the Players Association website. Signed on February 21, 1968, the first Basic Agreement was the basis for all future agreements. As of October 20, 2026, the current agreement will last until December 2026, following a 99-day lockout.
The previous labor agreement expired before a new one could be negotiated, resulting in a lockout that extended into spring training and threatened to shorten the regular season after two decades of relative peace.
In addition to determining the salary structure, the CBA determines how free agency works and salary arbitration works, rules relating to the amateur draft, how drug testing operates, and practical aspects of the game itself, such as alterations to certain rules and the way the injured list operates.
How Long Does A Collective Bargaining Agreement Last?
MLB's collective bargaining agreement is an agreement between players and team owners. Those agreements largely determine the nature of the relationship between those parties, including travel protocols, salaries, contractual structures, roster sizes, and even free agency dates. Furthermore, it includes seemingly minor details, such as meal allowances and travel protocols for players.
The most important part, however, is the part related to money. Revenue-sharing details are agreed to through the CBA, which is why it's such a delicate matter every time players and team owners need to agree.
A Collective Bargaining Agreement typically lasts for five seasons, although this has changed over the years. It's mostly because they constantly engage with broadcasting partners and sponsors to generate more revenue.
It follows, then, that CBA negotiations are typically slow, blunt, and tedious. The players constantly request more rights and compensation, while owners are unwilling to give in to most of their requests.
Why Does The CBA Sometimes Lead To A Lockout?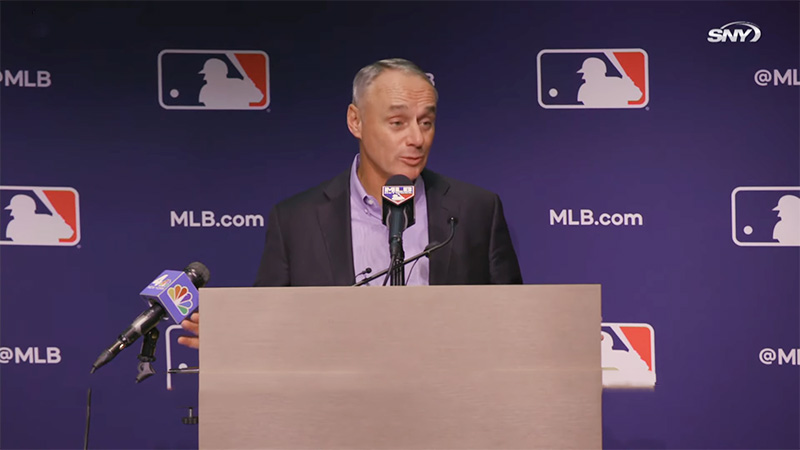 The whole thing revolves around money (easy to see why). It means there will be no baseball if the Players' Association and team owners cannot reach an agreement. It's as simple as that.
Players can threaten to sit out until the owners agree to their terms, while owners can play hardball and refuse to play a season. Both are equally powerful.
Labor stoppages have been experienced by MLB eight times throughout its history. Those lockouts have gone from two days as the shortest to the cancellation of a whole postseason. Despite this, no lockout has been recorded since 1994, when players went on strike over owners' attempts to impose a salary cap.
As a result, the previous CBA, which had been on hold for a long time, had to be reinstated by a federal judge in an unprecedented ruling at that time. This might be the last time we won't be able to see the greatest players in the world play at The Big Show, but that seems unlikely since there will always be MLB CBA disputes.
What You Need To Know About MLB's New CBA
Despite a lengthy lockout, Major League Baseball and the MLBPA announced Thursday that they had agreed on a new collective bargaining agreement allowing the sport to play a full 162-game season in the coming years.
You need to know about the new wrinkles in that agreement:
It is planned to expand the postseason field to 12 teams. Those who qualify for the Wild Card playoff will not be required to play a game. In most cases, the lower-seeded wild cards will play against the division winner with the worst record and the wild card with the best record.
From $230 million in 2022 to $233 million in 2023, $237 million in 2024, $241 million in 2025, and $244 million in 2026, the competitive-balance tax threshold will increase by $230 million yearly.

There will now be three additional thresholds in 2022 for teams to pay spending penalties – $250 million, $270 million, and $290 million. With the exception of the new fourth threshold, tax rates will remain the same as during the last CBA.

By 2022, the minimum wage is expected to rise from $570,500 to $700,000. Increasing to $720,000 in 2023, $740,000 in 2024, $760,000 in 2025, and $780,000 in 2026, the amount will increase to $780,000 in 2026.

Each team will play at least one series during every season starting in 2023, in addition to playing fewer divisional games.

The MLB will implement a draft lottery to reduce tanking. Each of the top six picks will be determined through a lottery, with all non-playoff teams eligible to participate.

A small market team cannot pick higher than the 10th in the following draft if it has a lottery pick in two straight drafts. When a large-market team is given a lottery pick, it cannot pick higher than the 10th.

There will be 20 rounds in the amateur draft, just like in 2021. MLB will determine the top 300 draft prospects eligible to participate in a pre-draft combine, and the top 300 players who pass a physical pre-draft must be offered at least 75% of the slot value with the pick they receive.

It was decided, as part of efforts to curb service-time manipulation, to reward compensatory draft picks to teams that carry players who finish in the top three in the voting for the Rookie of the Year Award or the top five in voting for Cy Young or MVP on their Opening Day rosters.

There will be a full year of service time for the top two finishers in each league for Rookie of the Year.

Bonuses worth $50 million have been established for players not yet arbitration eligible, earning the league minimum or close to it. As part of the agreement, the pool will remain at $50 million per season over the length of the deal and will be counted as $1.66 million against each team's competitive balance tax.

Optioning players into the minors is limited to five times per season before they must be exposed to waivers.

As a result of the universal DH, pitchers in the National League will no longer be required to hit, and players like Nelson Cruz, who lack defensive proficiency, will have 30 serious suitors instead of just 15 now.

It is now possible for MLB to adopt on-field rule changes for a season with a 45-day notice rather than a year's notice as was previously required. A committee made up of six league officials, four union appointees, and an umpire will discuss any possible changes.

The league and union have already agreed upon pitching clocks, defensive shift restrictions, and larger bases.

There will be an advertising patch available for sale on uniforms and helmets.
As of July 25 this year, negotiations regarding instituting an international draft will continue between the league and the union. Getting rid of the qualifying offer process will be possible if an agreement is reached. Without an international draft, things from the last collective bargaining agreement will remain unchanged.
Final Words
There are increases in minimum wages, a new pre-arbitration bonus pool that rewards young players, a raise in competitive balance tax thresholds, the introduction of a universal designated hitter, the largest Draft lottery in professional sports, a system that prevents alleged service-time manipulation, as well as limits on how often a player can be optioned to address the problem of "roster churn."
Additionally, the contract includes a 12-team postseason format, bringing playoff baseball to two additional markets each year.