Attending a PGA Tournament is an exhilarating experience for golf enthusiasts and sports aficionados alike. The allure of watching world-class golfers navigate the challenges of immaculate fairways and treacherous greens is undeniable.
However, amidst the excitement of witnessing history unfold, there lies an often-overlooked facet of this grand event: dressing appropriately.
Your attire can significantly impact your comfort and experience. In this guide, we'll explore the significance of selecting the right outfit, ensuring that you not only look the part but also pay homage to the storied traditions of the sport.
So, whether you're a seasoned golf aficionado or a first-time spectator, join us on a sartorial journey to make the most of your PGA Tournament experience.
Does Pga Tour Have a Dress Code?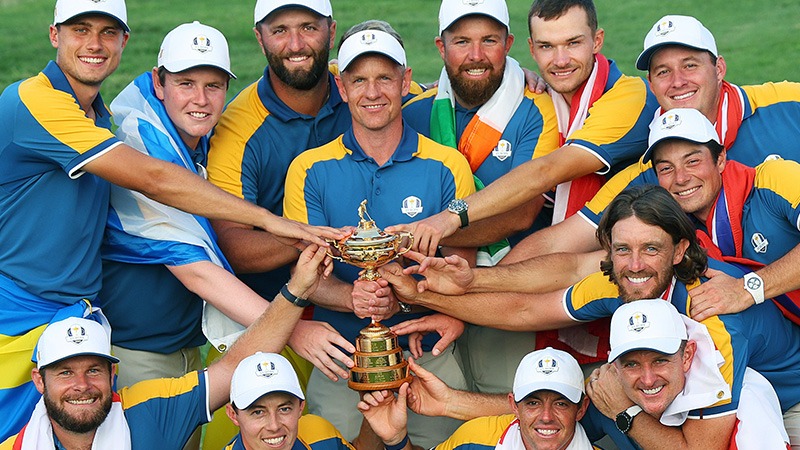 Yes, the PGA Tour does have a dress code, although it may not be as strict as some private golf clubs or high-end golf courses.
The dress code for spectators and fans attending PGA Tour events is generally more relaxed compared to the dress code for professional golfers participating in the tournaments.
However, it's essential to note that specific dress code rules may vary from one tournament to another, and some venues might have additional guidelines.
What To Wear To PGA Tournament?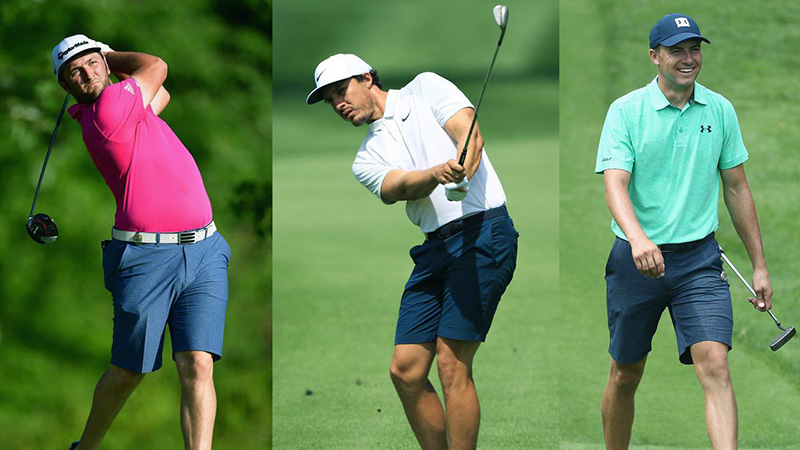 Attending a PGA Tournament requires dressing appropriately for the occasion. Golf tournaments often have a dress code that attendees are expected to follow. Here are some general guidelines on what to wear to a PGA Tournament:
Collared Shirt
Most PGA events require attendees to wear collared shirts. Polo shirts are a popular choice, and they should be in good condition and relatively conservative in style and color. Avoid overly flashy or distracting patterns.
Slacks or Khakis
Men should wear slacks or khaki pants. Women can also wear slacks or a skirt. Jeans are generally not appropriate for PGA events.
Belt
A belt is a nice addition to your outfit and helps complete the look.
Footwear
Comfortable, closed-toe shoes are essential. Many golf courses have specific rules about the type of footwear allowed, so check the tournament's website for any specific requirements.
Socks
Wear appropriate socks that match your outfit. Avoid athletic or sports socks.
Outerwear
Depending on the weather, you may need to bring a light jacket, sweater, or rain gear. Check the weather forecast for the tournament location to ensure you're prepared.
Hat or Visor
A hat or visor can provide sun protection and complete your look. Many golf fans wear baseball caps or traditional golf visors.
Sunscreen
Don't forget to apply sunscreen to protect yourself from the sun's rays.
Sunglasses
Sunglasses can help protect your eyes from the sun and glare off the golf course.
Small Bag or Backpack
You might want to bring a small bag or backpack to carry essentials like sunscreen, sunglasses, a water bottle, and any tournament-specific items.
Respect Tournament-Specific Rules
Check the tournament's website or guidelines for any specific dress code requirements or restrictions that may apply. Some tournaments may have slightly different rules, so it's essential to be aware of them in advance.
Comfortable Attire
Keep in mind that you'll likely be walking and standing for an extended period, so choose comfortable clothing and footwear.
Can You Wear Jeans to PGA?
Although many golf courses don't allow denim inside the clubhouse, some do. Before attending a course, be sure to inquire about their dress code and whether or not jeans are allowed.
Jeans may work well for casual events like going out with friends but might not be appropriate at an upscale club such as the PGA Championship. For more formal occasions, consider wearing slacks or khakis instead of jeans.
Ultimately it is up to you what you wear to a golf event – just make sure that it's appropriate.
What Do Women Wear to the Pga Golf Tournament?
Women attending a PGA Golf Tournament can follow a similar dress code to men, aiming for a neat and respectful appearance while considering comfort for a day spent outdoors. Here are some clothing suggestions for women:
Collared Polo Shirt
Like men, women can opt for collared polo shirts, which are a classic choice for golf events. These shirts provide a neat and sporty look. Solid colors or subtle patterns are usually preferable.
Golf Dresses or Skirts
Women have the option of wearing golf dresses or skirts, which are designed for comfort and mobility. These can be both functional and stylish choices.
Golf Shorts or Pants
If you prefer not to wear a dress or skirt, comfortable golf shorts or pants are also appropriate. Make sure they are of an appropriate length (usually knee-length or just above the knee).
Footwear
Comfortable and supportive footwear is essential for walking the golf course. Golf shoes are ideal if you have them, but athletic shoes or sneakers are also suitable. Ensure your shoes are comfortable for an entire day of walking.
Accessories
Consider wearing a hat or visor to shield yourself from the sun. Sunglasses are also a practical accessory for outdoor events. A lightweight scarf or shawl can be useful if the weather is cooler.
Sunscreen
Protect your skin from the sun by applying sunscreen, especially to exposed areas.
Outerwear
Depending on the weather forecast, bring a light jacket, sweater, or rain gear if needed.
Respectful Attire
Show respect for the event and its traditions by avoiding overly casual or beachwear attire. Avoid clothing with offensive slogans or graphics.
Bag or Tote
If you plan to carry items with you, consider a small bag or tote that adheres to any bag size restrictions set by the tournament or venue.
Weather Considerations
Check the weather forecast for the day and dress accordingly. It's essential to be prepared for various weather conditions, such as sun, rain, or wind.
Is There a Dress Code for PGA Spectators?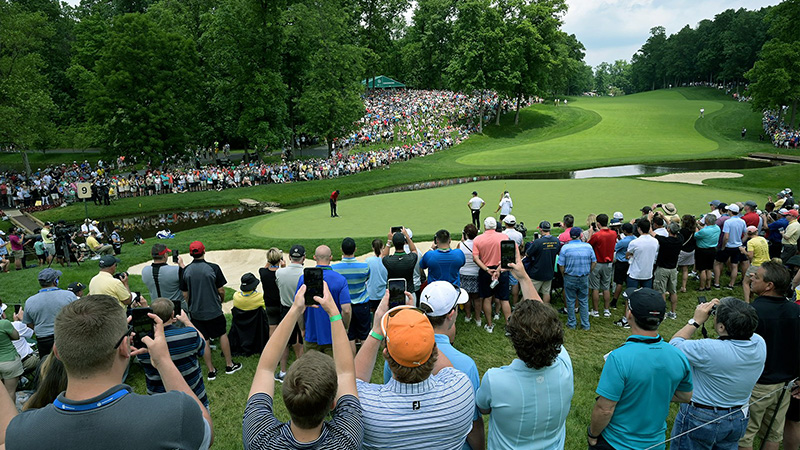 PGA Tour events typically have a relatively relaxed dress code for spectators, but it's essential to adhere to some general guidelines to ensure a respectful and enjoyable experience. While specific rules can vary from one tournament to another and from one golf course to another, here are some typical guidelines for PGA Tour spectators:
Neat and Respectful Attire: Dress in a neat and respectful manner. Avoid overly casual or beachwear attire.
Collared Shirts: Although not always strictly enforced, it's advisable to wear collared shirts, such as polo shirts, for a more traditional and respectful appearance.
Shorts or Pants: Golf shorts or pants are generally acceptable. Ensure they are of an appropriate length (usually knee-length or just above the knee). Avoid denim shorts or athletic shorts.
Footwear: Wear comfortable and supportive shoes, as you may be walking a lot during the event. Golf shoes are a good choice if you have them, but athletic shoes or sneakers are also suitable.
Hats and Sunglasses: These are not only fashionable but also provide protection from the sun. Many spectators wear hats and sunglasses at golf events.
Sunscreen: Protect your skin from the sun by applying sunscreen, especially to exposed areas.
Weather-Appropriate Clothing: Check the weather forecast for the day and dress accordingly. Bring a light jacket or sweater if needed, or rain gear if rain is expected.
Respectful Attitude: Besides attire, maintain a respectful attitude towards the game and its players. Avoid loud or disruptive behavior.
Bags and Backpacks: Some tournaments may have restrictions on the size of bags or backpacks allowed on the course. Check the specific event's guidelines.
Frequently Asked Questions
Do you have to wear a collared shirt on the PGA Tour?
Some golfers wear collared shirts while playing in tournaments, but most players choose not to. If you are unsure if you must wear a collar, ask your tournament organizer or fellow professionals.
Can you wear jeans to TPC Sawgrass 2022?
All attire that is appropriate on the Golf Course. Denim in good condition is permitted in the Clubhouse unless otherwise noted for a specific event. Specific attire may be required for special events, which will be noted.
What do you wear to a golf tournament dinner?
Most golfers choose to either wear long khakis or if allowed, dressier shorts. The safe bet is to wear pants of a cotton or blended fabric material, and for women skirts in such material are also accepted. If you have them, we recommend wearing specifically designed golf pants.
What do you wear to the Masters 2022?
On average, April temperatures in Augusta range from highs around 80 degrees to lows around 50 degrees. Cool clothing, hats, and sunscreen are recommended on warm days.
Can you take your cell phone to the Masters?
The club strictly monitors the use of cell phones with a zero-tolerance policy. Anyone seen with a cell phone is removed from the grounds.
To Recap
In the world of professional golf, dressing appropriately for a PGA Tournament is not just a matter of fashion; it's a mark of respect for the sport and its traditions.
As we conclude this guide, remember that the right attire can enhance your comfort and overall enjoyment of the event. Collared shirts, suitable bottoms, comfortable footwear, and sun protection are your allies on the course.
But beyond the dress code, let the spirit of the game captivate you. So, whether you're following your favorite golfer or simply soaking in the atmosphere, savor every moment, and feel well-prepared to make the most of your PGA Tournament experience.
Similar Posts:
Are Golf Shoes Good For Hiking?
Hiking is a great way to get some fresh air and take in the natural beauty of your surroundings. However, it can be dangerous if you are not properly equipped.
There is no right or wrong answer when it comes to Skechers. People can wear them for different reasons and styles.
How To Get Rid Of Golfer'S Tan?
Golfer's tan is a skin discoloration that results from the natural exposure to ultraviolet (UV) radiation from the sun. Although it can be aesthetically pleasing, golfer's tan can also be very harmful if not treated properly.
How To Clean Footjoy Flex Golf Shoes?
Footjoy Flex Golf Shoes are designed to provide a comfortable and durable golfing experience. However, like any other piece of equipment, they can be dirty and need to be cleaned on a regular basis.
Can You Wear Metal Cleats On Turf?
Metal cleats are not typically recommended for use on turf because they can damage the surface. They are also susceptible to rust and other corrosion, so be sure to clean them after every use.
Can You Wear Plastic Cleats On Turf?
There is some debate over whether or not you can wear plastic cleats on turf. While there is no definitive answer, it is generally recommended that you avoid wearing them because they can cause damage to the turf surface.