Baseball, often referred to as America's pastime, is a sport that captivates millions of fans around the world.
At the heart of this game, ensuring fair play and maintaining order, are the umpires. An umpire in baseball plays a crucial role in officiating the game and upholding the rules.
In this article, we will delve into the world of baseball umpires, exploring their origins, the different types of umpires, and their significant responsibilities. Stay focused.
What Is an Umpire in Baseball?
The term "umpire" traces its origins back to the Old French word "nompere," which meant "not equal." This historical context is intriguing as it sheds light on the umpire's role as a neutral arbiter in baseball.
Over time, the term evolved into "umpire," representing an individual who settles disputes or makes decisions impartially.
In the context of baseball, an umpire is more than just an individual who officiates the game. They serve as the guardians of fairness, ensuring that the rules are upheld and adhered to by all parties involved.
Umpires act as the ultimate authority on the field, maintaining order and resolving conflicts that may arise between players, coaches, and managers.
Qualities of an Umpire
Some important qualities of an umpire are discussed in the following section.
Knowledge of the Game
An umpire should possess a comprehensive understanding of the rules and regulations of baseball. This includes not only the basic rules but also the more intricate and nuanced aspects of the game.
They must be well-versed in the different scenarios that can occur during a game and know how to apply the rules accurately.
Impartiality
Umpires must maintain impartiality and be able to make decisions without any bias towards any team or individual. They need to treat all players and teams equally and ensure that the game is played fairly.
Communication Skills
Effective communication is crucial for an umpire to convey their decisions and rulings to players, coaches, and spectators. They should be able to articulate their calls clearly and confidently, helping to maintain transparency and understanding on the field.
Confidence
Umpires need to display confidence in their decision-making abilities. They often face high-pressure situations, and their assertiveness in making calls helps establish their authority and credibility. Confidence also allows them to handle disputes and conflicts with poise.
Adaptability
Baseball is a dynamic sport with various situations and scenarios that can arise. Umpires must be adaptable and able to adjust to different game conditions, rule interpretations, and player behavior.
They should remain flexible in their approach while upholding the integrity of the game.
Game Management Skills
Umpires are responsible for managing the flow of the game. This includes controlling the pace of play, ensuring adherence to time limits between pitches, and managing substitutions and player changes.
They must possess strong organizational and time management skills to ensure a smooth and efficient game.
Conflict Resolution
Umpires often find themselves in situations where conflicts arise between players, coaches, or managers. They should have excellent conflict resolution skills, remaining calm and composed while addressing and diffusing tense situations. The ability to communicate effectively and mediate disputes is vital in maintaining the game's integrity.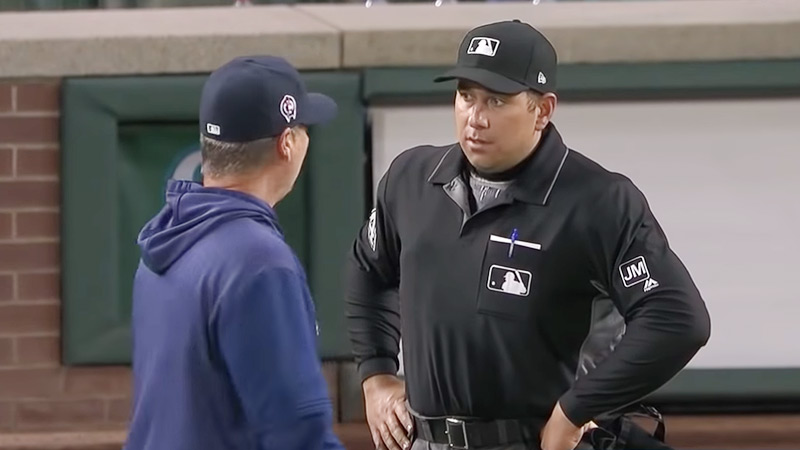 Physical Fitness
Umpires need to be physically fit to keep up with the demands of the game. They are required to move swiftly and position themselves appropriately to make accurate calls.
Maintaining good physical health and conditioning enables umpires to perform their duties effectively throughout the game.
Professionalism
Umpires are representatives of the game and should conduct themselves with professionalism. This includes dressing appropriately in umpire attire, maintaining a respectful demeanor towards players and coaches, and exhibiting a positive attitude on and off the field.
Continuous Learning
Baseball is a sport that evolves, and rule changes and updates are common. Umpires should stay updated on rule changes and participate in ongoing training and development programs to enhance their knowledge and skills.
Keeping up with advancements in technology and their impact on the game is also important.
These qualities collectively contribute to the effectiveness and success of an umpire in fulfilling their role on the baseball field.
A skilled and proficient umpire not only ensures fair play but also enhances the overall experience of the game for players and fans alike.
Types of Umpires in Baseball
There are several types of umpires in baseball, each assigned to a specific position on the field. Let's explore the roles and responsibilities of each type of umpire in more detail:
Homeplate Umpire
The home plate umpire is positioned directly behind the catcher, at a vantage point that allows them to have a clear view of the entire home plate area.
Their primary responsibility is calling balls and strikes, which determines the count for the batter. This task requires quick judgment and accuracy.
In addition to calling pitches, the home plate umpire also oversees plays at home plate, including determining whether a runner is safe or out on plays such as a tag-up from a caught fly ball or a collision at the plate.
First Base Umpire
The first base umpire takes their position near the first base, usually a few steps into the outfield grass. Their main focus is on plays that involve the first base area.
They are responsible for determining whether a runner reaches first base safely, making calls on fair or foul balls hit down the first base line, and monitoring potential pickoff attempts by the pitcher.
The first base umpire also works in conjunction with the home plate umpire to determine if a batter successfully checked their swing or not.
Second Base Umpire
Positioned near the second base, the second base umpire's primary responsibility is to handle plays related to the second base. This includes monitoring potential double plays, determining if a baserunner successfully stole second base, and making calls on tag plays when a fielder attempts to tag a runner out.
The second base umpire also helps with fair or foul calls on balls hit near the second base.
Third Base Umpire
The third base umpire is stationed near the third base and is responsible for plays occurring around that area of the field. They make calls on tag-outs, determine if a ball hit down the third base line is fair or foul, and monitor potential pickoff attempts by the pitcher.
Additionally, the third base umpire assists with fair or foul calls on balls hit near third base and collaborates with the homeplate umpire on checked swings.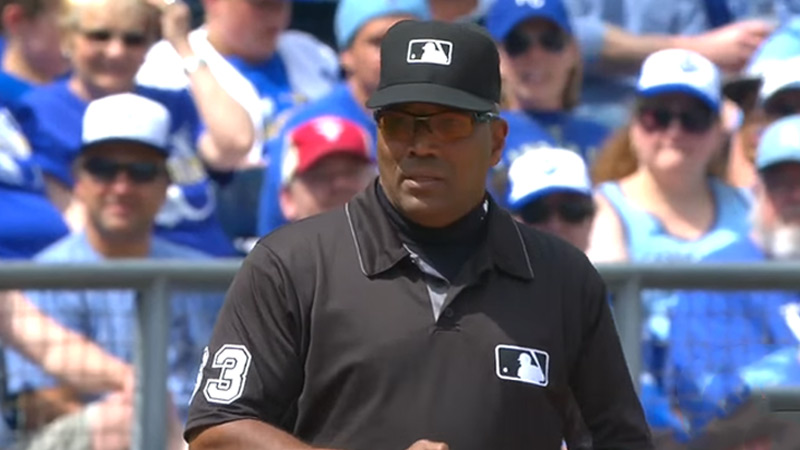 The Role of an Umpire in Baseball
Umpires in baseball hold a pivotal role that extends beyond making simple calls. Let's delve into the key aspects of an umpire's role in more detail:
Rule Enforcement
Umpires are required to possess a comprehensive understanding of the rules and regulations of baseball. They enforce these rules during the game, ensuring fair play and penalizing infractions.
Umpires also interpret the rules and make judgment calls in situations where the rules may be open to interpretation, such as whether a fielder successfully caught a ball or if a runner intentionally interfered with a fielder.
Decision Making
Umpires have the authority to make critical decisions during a game that can significantly impact its outcome. They are responsible for determining whether a pitch is a ball or a strike, whether a runner is safe or out, and whether a batted ball is fair or foul.
These decisions must be made promptly and accurately, as they affect the flow and fairness of the game.
Conflict Resolution
Umpires often find themselves in the middle of conflicts that arise between players, coaches, or managers. In such situations, they must act as mediators, handling disputes calmly and impartially.
Umpires aim to diffuse tensions, maintain the integrity of the game, and prevent conflicts from escalating further.
Player Safety
Ensuring the safety of the players is of paramount importance to umpires. They actively monitor the field for potential hazards, such as foul balls or collisions, and take appropriate action to protect the players from harm.
Umpires also have the authority to eject players or coaches who engage in unsportsmanlike conduct or pose a threat to player safety.
Game Management
Umpires are responsible for managing the flow of the game. They control the pace of play, ensuring that it progresses at a reasonable speed. Umpires enforce time limits between pitches, preventing excessive delays that can disrupt the rhythm of the game.
They also manage substitutions and player changes, ensuring that all moves adhere to the rules and regulations.
By fulfilling these multifaceted responsibilities, umpires contribute significantly to the smooth running of a baseball game, ensuring fairness, maintaining order, and upholding the principles of the sport.
FAQs
Can umpires be challenged on their calls?
In certain professional leagues, such as Major League Baseball (MLB), managers have the option to challenge certain calls through a replay review system.
However, not all calls are reviewable, and there are limitations to the number of challenges a manager can make.
Do umpires receive any training or certification?
Yes, umpires typically undergo training and certification programs. They learn the rules, mechanics, and positioning specific to their assigned role. They often start officiating at lower levels and work their way up through various leagues.
How are umpires assigned to playoff games or the World Series?
Umpires who have demonstrated consistent performance throughout the regular season are selected for postseason assignments. The selection process involves evaluations, ratings, and experience in handling high-pressure situations.
Are there any technology advancements affecting umpires?
Yes, technology has played a significant role in aiding umpires. Systems like the Pitch Tracking System help determine the accuracy of pitches, while instant replay systems provide additional perspectives to review close calls.
Do umpires have any responsibilities after a game ends?
Umpires typically meet with the other umpires and the game officials to discuss any significant calls or situations from the game. They may also complete paperwork or reports related to the game.
Bottom Line
Umpires are an integral part of the game of baseball, ensuring fair play and upholding the rules. Their role goes beyond making calls, as they contribute to player safety, conflict resolution, and maintaining the integrity of the game.
The responsibilities and types of umpires enhance our appreciation for their crucial contributions to the sport we love.
So, the next time you watch a baseball game, take a moment to acknowledge the umpires and the challenging role they play on the field. Good luck.