Soccer, the beautiful game, holds an irresistible charm that has captivated the hearts of billions of people worldwide. From its origins in ancient times to the modern-day global spectacle it has become, soccer has evolved into more than just a sport—it's a cultural phenomenon.
As we delve into the enchanting world of soccer, we present to you a comprehensive list of soccer facts that will take you on a journey through the history, legends, memorable moments, and significant impact of this beloved sport.
Whether you're a die-hard fan or a newcomer to the sport, these facts are sure to deepen your appreciation and fascination for the game.
List Of Soccer Facts
Soccer has a rich history and a plethora of interesting facts that have contributed to its status as a global phenomenon. Here, you'll find 50 captivating soccer facts, with brief explanations and insights.
Historical Soccer Facts
Ancient Origins: Soccer's origins can be traced back to ancient civilizations, with variations of the game played by Greeks, Romans, and Chinese as early as 2,000 years ago.
Codifying the Rules: The Cambridge Rules of 1848, established at Cambridge University, played a significant role in standardizing soccer's rules and marking an important step toward the modern game.
First International Match: The first recognized international soccer match took place in 1872 between England and Scotland, ending in a 0-0 draw.
The World Cup's Inception: The FIFA World Cup, the most prestigious soccer tournament, was first held in 1930 in Uruguay. Thirteen teams participated, and Uruguay emerged as the inaugural champions.
Pele's Youthful Triumph: Brazilian legend Pelé won his first World Cup at the age of 17 in 1958, becoming the youngest player to win the tournament.
The Maracanã Tragedy: The Maracanã Stadium in Rio de Janeiro, Brazil, witnessed a tragedy during the 1950 World Cup final when Uruguay upset Brazil, leading to a period of national mourning.
The "Hand of God" and the "Goal of the Century": In the 1986 World Cup, Argentine star Diego Maradona scored two iconic goals in a quarterfinal match against England – the controversial "Hand of God" goal and the mesmerizing "Goal of the Century."
Hillsborough Disaster: The 1989 Hillsborough Disaster in Sheffield, England, resulted in the tragic deaths of 96 Liverpool fans due to overcrowding and poor stadium management.
Bosman Ruling: In 1995, the Bosman ruling by the European Court of Justice revolutionized soccer transfers by allowing players to move freely at the end of their contracts, regardless of transfer fees.
Invincibles: Arsenal's 2003-2004 Premier League-winning team, led by Arsène Wenger, earned the nickname "The Invincibles" for going unbeaten throughout the entire league season.
Modern El Clásico Rivalry: The El Clásico rivalry between Spanish giants Barcelona and Real Madrid reached new heights with the emergence of superstars Lionel Messi and Cristiano Ronaldo, defining an era of soccer excellence.
Leicester City's Miracle: Leicester City's improbable Premier League title win in the 2015-2016 season remains one of the most remarkable underdog stories in soccer history.
Germany's 7-1 Victory: The 2014 World Cup semifinal between Brazil and Germany saw an astonishing 7-1 victory for Germany, sending shockwaves through the soccer world.
VAR Introduction: Video Assistant Referee (VAR) technology was introduced in various leagues to aid match officials in making accurate decisions, but it sparked debates about its impact on the game's flow and integrity.
Expansion of Women's Soccer: The FIFA Women's World Cup gained momentum, with increased attention to women's soccer, and the United States women's national team emerged as a dominant force, winning multiple titles.
Soccer Fun Facts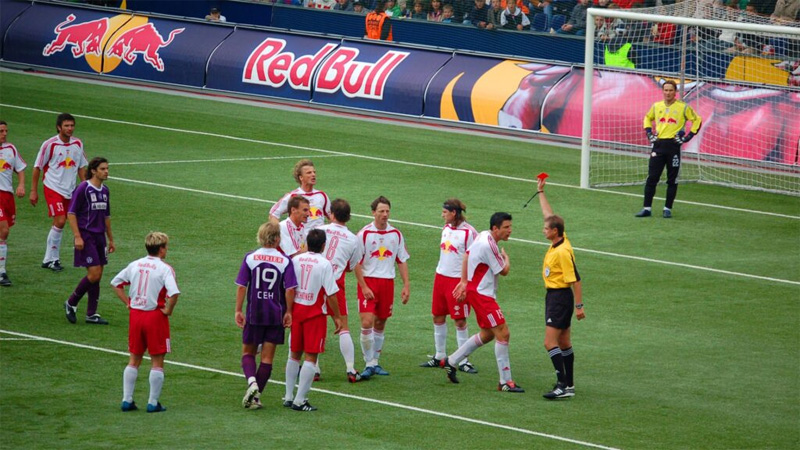 Source: thefactsource
Officially Unofficial: Soccer's original name is "association football," which led to the creation of the term "soccer" from the word "association," making it an abbreviation.
Goalkeeper's Paradox: In 2001, Paraguayan goalkeeper José Luis Chilavert became the first and only goalkeeper to score a hat-trick in an international match, including two penalties and a free-kick.
Highest Scoring Defender: Brazilian defender Rogério Ceni holds the record for most goals scored by a goalkeeper. He scored an incredible 131 goals during his career, primarily from free-kicks and penalties.
Fastest Red Card: Lee Todd holds the record for the fastest red card in soccer history, being sent off just two seconds into a match in 2000 for foul language toward the referee.
Home of Soccer: The world's oldest soccer competition, the FA Cup, was first held in 1871. The final is traditionally played at London's Wembley Stadium.
Shirt Numbers: In the early days of soccer, players were assigned numbers based on their position in the team's formation. The modern numbering system was introduced later.
Superstitious Rituals: Many soccer players have superstitious rituals, such as stepping onto the field with their right foot first or wearing a specific item for good luck.
Bicycle Kick Origins: The spectacular bicycle kick, where a player kicks the ball while airborne and parallel to the ground, is believed to have been invented by Brazilian player Leônidas da Silva in the 1930s.
Longest Soccer Match: The longest soccer match in history took place in 2015 in the UK, lasting for 35 hours and 30 minutes. It was played to raise money for charity.
Hat-Trick of Penalties: On rare occasions, players have scored a hat-trick (three goals in a single game) of penalties. One such instance was Cristiano Ronaldo in a La Liga match in 2016.
FIFA World Cup's Original Trophy: The original FIFA World Cup trophy, known as the Jules Rimet Trophy, was stolen in 1966 but later recovered by a dog named "Pickles" in a garden.
High-Scoring Match: In a 2002 match between Australia and American Samoa, Australia won 31-0 in a World Cup qualifier, setting a record for the most lopsided international victory.
Soccer in Space: In 2014, a soccer ball was sent to the International Space Station, and astronauts played with it in microgravity, showcasing soccer's universal appeal.
World's Smallest Stadium: The tiny soccer stadium on the Scottish island of Foula measures only 26 meters by 12 meters and can accommodate just a handful of spectators.
Unique Mascots: Some soccer teams have quirky and unusual mascots, like Norwich City's "Captain Canary" and Gillingham FC's "Tommy Trewblu," a blue horse.
Contemporary Soccer Players Facts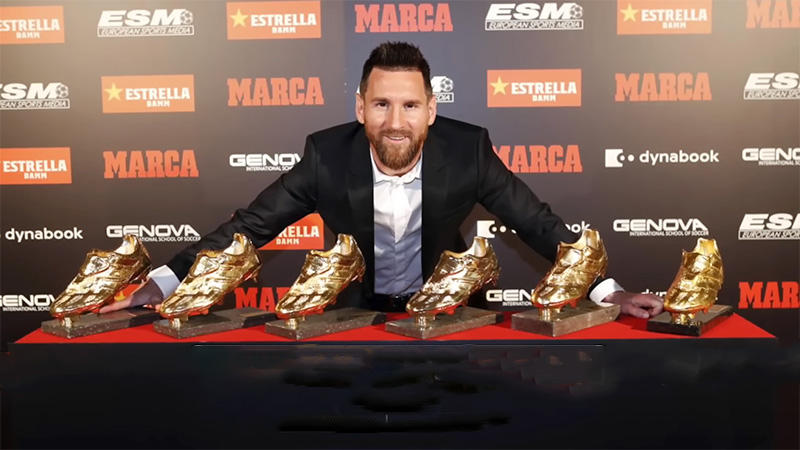 Lionel Messi's Records: Lionel Messi, often regarded as one of the greatest players of all time, holds the record for the most Ballon d'Or awards (as of my knowledge cutoff in September 2021) and has spent the entirety of his professional career with Barcelona before moving to Paris Saint-Germain.
Cristiano Ronaldo's Global Reach: Cristiano Ronaldo is known not only for his exceptional skills on the pitch but also for his massive social media following, making him one of the most recognizable and marketable athletes in the world.
Neymar's Record Transfer: Brazilian star Neymar's transfer from Barcelona to Paris Saint-Germain in 2017 for a world-record fee highlighted the increasing financial power of top-tier clubs.
Kylian Mbappé's Youthful Achievements: French sensation Kylian Mbappé, at the age of 19, played a key role in leading France to victory in the 2018 FIFA World Cup and continues to shine as a future star.
Mohamed Salah's Prolific Scoring: Egyptian forward Mohamed Salah has been a goal-scoring machine for Liverpool, playing a pivotal role in the club's domestic and international successes.
Sergio Ramos' Leadership: Spanish defender Sergio Ramos, known for his defensive prowess and leadership, spent the majority of his career at Real Madrid, helping the club secure numerous titles.
Kevin De Bruyne's Playmaking: Belgian midfielder Kevin De Bruyne's exceptional playmaking abilities have made him a linchpin in Manchester City's midfield and one of the Premier League's standout performers.
Robert Lewandowski's Scoring Feats: Polish striker Robert Lewandowski's incredible goal-scoring record for Bayern Munich, including a historic five-goal performance in a single Bundesliga match, has solidified his status as one of the world's best strikers.
Virgil van Dijk's Defensive Dominance: Dutch defender Virgil van Dijk played a crucial role in Liverpool's Premier League and Champions League successes, earning recognition as one of the finest defenders in the modern game.
Harry Kane's Versatility: English striker Harry Kane is known not only for his goal-scoring abilities but also for his exceptional passing and playmaking skills, making him a complete forward.
Erling Haaland's Meteoric Rise: Norwegian sensation Erling Haaland burst onto the scene with remarkable goal-scoring feats at RB Salzburg and Borussia Dortmund, becoming one of the most sought-after young talents in the world.
Bruno Fernandes' Impact: Portuguese midfielder Bruno Fernandes revitalized Manchester United's midfield upon his arrival, showcasing his creative flair and goal-scoring prowess.
Alphonso Davies' Speed: Canadian full-back Alphonso Davies, known for his lightning-fast speed and versatility, has become a crucial player for Bayern Munich and the Canadian national team.
Jadon Sancho's Youthful Success: English winger Jadon Sancho's move from Manchester City to Borussia Dortmund proved transformative, establishing him as one of the brightest young talents in European soccer.
Ansu Fati's Youth Record: Barcelona's Ansu Fati, at just 17 years old, became the youngest goal-scorer in UEFA Champions League history and is seen as a potential superstar for both club and country.
Soccer Team Facts
Real Madrid: With a record 34 La Liga titles and 13 UEFA Champions League titles, Real Madrid is one of the most successful and storied clubs in soccer history.
FC Barcelona: Founded in 1899, Barcelona is known for its commitment to youth development and its famed La Masia academy, which produced talents like Lionel Messi and Andrés Iniesta.
Manchester United: The "Busby Babes," a young and talented Manchester United team managed by Matt Busby, tragically lost several players in the Munich air disaster of 1958 but eventually rebuilt to become a global powerhouse.
Bayern Munich: Bayern's 2020 Champions League victory marked the club's second treble (winning the domestic league, domestic cup, and Champions League in a single season), making them one of Europe's elite teams.
AC Milan: AC Milan's success includes 18 Serie A titles and 7 UEFA Champions League trophies, making them one of Italy's most successful and iconic clubs.
Liverpool FC: The "You'll Never Walk Alone" anthem and the club's passionate fanbase at Anfield contribute to Liverpool's storied history, including their recent Premier League title in 2020.
Juventus: With an unmatched number of Serie A titles and a strong presence in European competitions, Juventus remains a dominant force in Italian and international soccer.
Paris Saint-Germain (PSG): PSG's ambitious rise in recent years has been fueled by significant investment, leading to their emergence as one of Europe's most formidable teams.
Borussia Dortmund: Known for its "Yellow Wall" of passionate fans, Borussia Dortmund won the 1997 UEFA Champions League and remains a beloved club in Germany.
Chelsea FC: Chelsea's transformation under Roman Abramovich's ownership brought multiple Premier League titles and their historic UEFA Champions League triumphs in 2012 and 2021.
Atletico Madrid: Famous for their solid defensive play, Atletico Madrid clinched La Liga titles and consistently challenges Spanish soccer giants Real Madrid and Barcelona.
Ajax: Renowned for their youth development and the "Total Football" philosophy, Ajax has won numerous domestic and international titles, including four UEFA Champions League trophies.
Inter Milan: Inter's treble-winning season in 2009-2010, under the guidance of Jose Mourinho, marked a historic achievement for the club in Serie A, Coppa Italia, and the UEFA Champions League.
Manchester City: A modern powerhouse, Manchester City's Premier League dominance under Pep Guardiola and their investment-backed success have significantly elevated their status.
Boca Juniors: One of South America's most legendary clubs, Boca Juniors boasts a passionate fanbase and a storied history in Argentine soccer, winning numerous league titles and Copa Libertadores trophies.
So, these are the most captivating facts about soccer that every soccer fan should know.
FAQs
Who are some of the legendary players that have left an indelible mark on soccer history?
Throughout soccer's history, several players have attained legendary status due to their exceptional skills and achievements. One such iconic figure is Pele, the Brazilian maestro often hailed as the greatest player of all time.
With three World Cup titles and a mesmerizing goal-scoring record, Pele's influence on the sport remains unparalleled. Other legends, like Diego Maradona, Lionel Messi, and Cristiano Ronaldo, have also left an indelible mark, setting records and inspiring generations of players.
What are some of the most remarkable records in soccer history?
Soccer is a sport that thrives on records, and some of them seem almost unattainable. Lionel Messi's incredible feat of scoring 91 goals in a single calendar year in 2012 is an astonishing record that may stand the test of time.
Additionally, Gerd Muller's astounding record of 365 goals in 427 Bundesliga appearances highlights the sheer brilliance of some players' goal-scoring prowess.
How has soccer impacted society beyond the playing field?
Soccer's influence extends far beyond the boundaries of the pitch. The sport has played a significant role in uniting nations during international competitions, fostering a sense of national pride and camaraderie.
Moreover, soccer has served as a platform for social change, with players and clubs using their influence to advocate for important causes and charitable initiatives.
How has technology shaped the world of soccer?
Technology has had a transformative impact on soccer, enhancing the sport in various ways. The introduction of a Video Assistant Referee (VAR) has revolutionized the decision-making process, allowing referees to review critical moments with the aid of video replays.
Additionally, advancements in data analytics have provided clubs with valuable insights, helping them make informed decisions in player recruitment and tactical strategies.
What is the origin of soccer, and how did it evolve into a modern game?
Soccer's origins can be traced back to ancient civilizations, where various cultures played ball games similar to the sport. However, the modern version of soccer emerged in England during the 19th century when standardized rules were established.
The formation of official soccer associations, like the English Football Association in 1863, paved the way for the sport's growth and global popularity.
Wrapping Up
Soccer is more than just a game; it is a cultural phenomenon that has woven its way into the fabric of societies worldwide. From its humble beginnings to the grand spectacles of modern tournaments, the sport's history is filled with fascinating stories, legendary players, and remarkable records.
As technology continues to shape the game's landscape, soccer's influence on society and the world of sports is bound to grow even stronger.
Whether you're a devoted fan or a curious observer, exploring the captivating world of soccer is a journey filled with awe and admiration for the beautiful game. Best of luck.
Similar Posts:
American Football Boots Vs Soccer Boots
There are a few key differences between American football boots and soccer boots. First, American football boots typically have a heavier construction than soccer boots, which is necessary in order to absorb more impact when players are running with the ball.
Can You Wear Metal Cleats On Turf?
Metal cleats are not typically recommended for use on turf because they can damage the surface. They are also susceptible to rust and other corrosion, so be sure to clean them after every use.
Are Metal Cleats Better Than Plastic?
Plastic cleats are often used in place of metal cleats when playing football because plastic is lighter and doesn't rust. However, metal cleats do a better job of keeping the foot secure on the ground, which can lead to more tackles and more victories on the field.
Can You Wear Molded Cleats On Turf?
No, you cannot wear molded cleats on turf. Molded cleats are designed for use on hard surfaces like concrete and asphalt, and they can damage the surface of a turf field.
Can You Wear Plastic Cleats on Turf? Benefits, Problems & Suggestions
Navigating the choice of footwear on turf involves critical considerations for both performance and safety.
The compatibility of plastic cleats with the synthetic composition of turf fields raises questions about their suitability.
This inquiry delves into the potential challenges of wearing plastic cleats on turf, examining issues such as traction deficiencies, durability concerns, and increased injury risks. As the sporting community seeks the ideal balance between optimal play and surface preservation, understanding why plastic cleats may not be the best choice for turf fields becomes essential.
This exploration underscores the importance of selecting footwear tailored to the specific demands of artificial surfaces in sports.
What Did Abbott And Costello Predict?
Abbott and Costello first performed in vaudeville in the early 1920s. They were a popular comedy act that was known for their parodies of current events.