Viktor Hovland, the Norwegian golf prodigy, has made a resounding impact on the PGA Tour with his remarkable skills and unwavering determination.
Hovland has achieved an impressive total of six PGA Tour victories, a testament to his talent and consistency in one of the world's most competitive golfing arenas.
His journey from a promising amateur to a multiple-time PGA Tour winner has not only placed him among the elite in the sport but has also inspired a new generation of golf enthusiasts.
Each win represents a milestone in his burgeoning career and reinforces his reputation as a rising star in the golfing world.
Who Is Viktor Hovland?
Viktor Hovland is a Norwegian professional golfer who has made a significant impact on the world of golf. Born on September 18, 1997, in Oslo, Norway, Hovland's rise to prominence in the sport has been nothing short of impressive.
He gained widespread recognition during his amateur career, winning the 2018 U.S. Amateur Championship, which earned him a coveted spot in the 2019 Masters Tournament.
Turning professional in 2019, Hovland quickly made his mark on the PGA Tour by securing multiple victories.
Known for his exceptional ball-striking and calm demeanor on the course, he has become one of golf's rising stars, capturing the attention of fans and peers alike.
How Many PGA Tour Wins Does Hovland Have?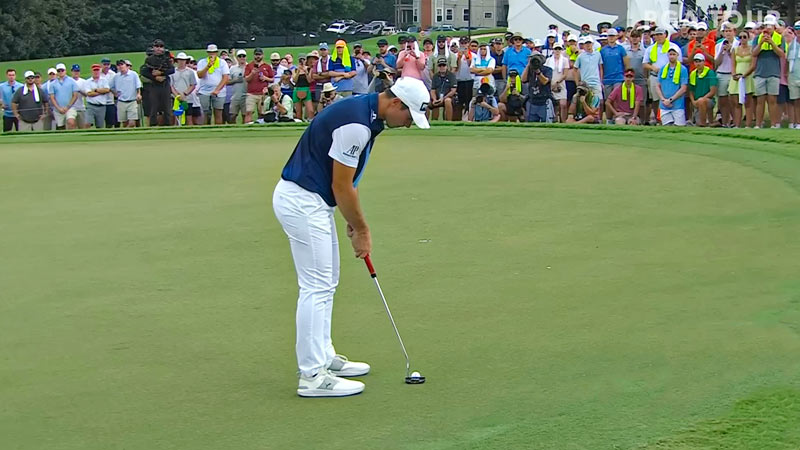 Viktor Hovland has accumulated an impressive total of 6(six) PGA Tour victories in his career.
Hovland's journey in professional golf has been marked by remarkable achievements and consistent success on the PGA Tour.
With each win, he has solidified his reputation as a formidable player and a rising star in the world of golf.
Here are how many tournaments has Viktor Hovland won:
Victory in Paradise: Puerto Rico Open (2020)
On February 23, 2020, Viktor Hovland etched his name in PGA Tour history with his maiden victory at the Puerto Rico Open. Displaying remarkable consistency,
Hovland finished with a winning score of −20 (68-66-64-70=268). It was a nail-biting finish, as he secured the title with a mere one-stroke margin over his United States rival, Josh Teater.
This win not only marked his first PGA Tour title but also hinted at the promising career that lay ahead.
Mayakoba Magic (2020)
In December 2020, Viktor Hovland's star continued to rise as he triumphed at the Mayakoba Golf Classic.
With a stunning winning score of −20 (67-69-63-65=264), Hovland showcased his golfing prowess once again.
The victory was no walk in the park, as he held off strong competition, including a one-stroke lead over Aaron Wise, another talented golfer from the United States. This win further solidified his status as a rising star in the golfing world.
Dominance at the World Wide Technology Championship (2021)
November 7, 2021, marked a significant milestone in Viktor Hovland's PGA Tour journey. At the World Wide Technology Championship, he demonstrated his mastery of the game by posting a remarkable winning score of −23 (67-65-62-67=261).
Hovland left the field trailing by a substantial four-stroke margin, showcasing his dominance in the competition.
This third PGA Tour victory underscored his growing reputation as a force to be reckoned with in professional golf.
Memorial Tournament Playoff Drama (2023)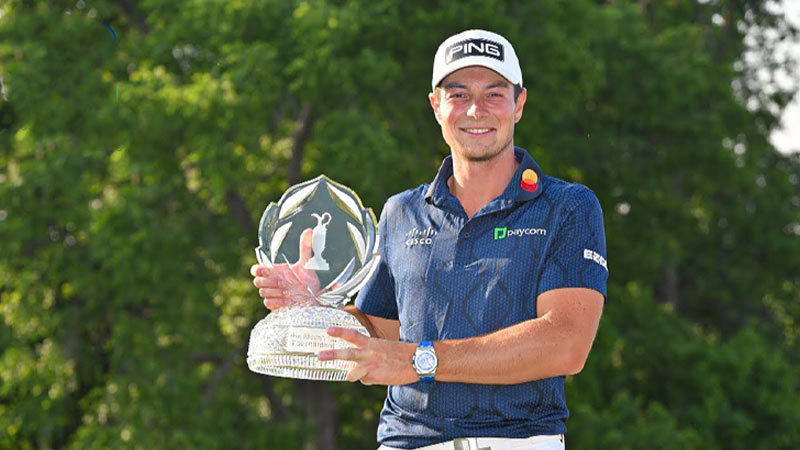 June 4, 2023, witnessed Viktor Hovland's triumphant return to the winner's circle at the Memorial Tournament.
In a dramatic showdown, Hovland secured his fourth PGA Tour victory, posting a winning score of −7 (71-71-69-70=281).
The playoff battle against Denny McCarthy added an extra layer of excitement, as Hovland's unwavering determination and skill prevailed, marking another significant achievement in his evolving career.
Triumph at the BMW Championship (2023)
August 20, 2023, witnessed Hovland's extraordinary performance at the BMW Championship. His remarkable winning score of −17 (69-68-65-61=263) highlighted his ability to excel under pressure.
Despite formidable competitors like Matt Fitzpatrick and Scottie Scheffler, Hovland held his ground, clinching his fifth PGA Tour victory with a two-stroke margin. This win reaffirmed his status as a golfer capable of consistent and exceptional play.
Tour Championship: Sealing Greatness (2023)
On August 27, 2023, Viktor Hovland's journey reached its zenith at the Tour Championship. With an astonishing total score of −271 (68-64-66-63=261), he clinched the title with authority.
His five-stroke margin over the competition, including a stellar performance by Xander Schauffele, underscored his undeniable greatness.
This sixth PGA Tour victory marked a monumental achievement and left the golfing world eagerly anticipating Hovland's future accomplishments.
Impact of Hovland's PGA Tour Winnings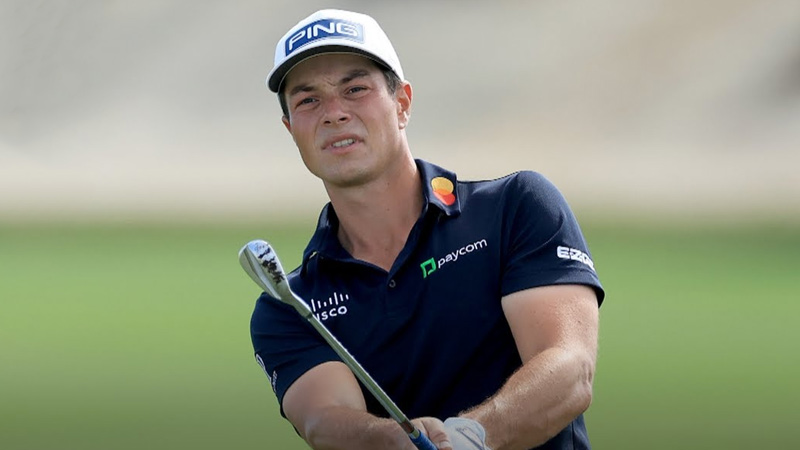 The impact of Viktor Hovland's PGA Tour winnings extends far beyond the trophies and prize money.
His success has had a profound influence on the world of golf and serves as an inspiration to aspiring players and enthusiasts.
Here are some key aspects of the impact of Victor Hovland's wins on PGA tour:
Inspiration for Young Golfers
Hovland's rise from a promising amateur to a multiple-time PGA Tour winner serves as a source of inspiration for young golfers worldwide.
His journey showcases the rewards of hard work, dedication, and a relentless pursuit of excellence in the sport.
Enhanced Visibility for Norwegian Golf
As one of the few prominent Norwegian golfers on the global stage, Hovland's successes have put Norwegian golf on the map.
His achievements have undoubtedly spurred interest and investment in the sport within Norway, potentially leading to a new generation of talent.
Increased Global Fanbase
With each win, Hovland's global fanbase has grown. His exciting and consistent performances on the PGA Tour have endeared him to golf enthusiasts from all corners of the world, contributing to the international appeal of the sport.
Enhanced Sponsorship and Endorsement Opportunities
Success on the PGA Tour often translates into increased sponsorship and endorsement deals.
Hovland's victories have likely attracted the attention of sponsors and partners, offering him the opportunity to further develop his brand and promote the sport.
Contributing to Golf's Growth
Hovland's achievements contribute to the overall growth of golf as a global sport. His victories showcase the accessibility and universality of golf, breaking the stereotype that it is a sport limited to a few countries.
Raising Norway's Golf Profile
Viktor Hovland's PGA Tour successes have raised the profile of Norwegian golf on the international stage. His achievements provide a platform for showcasing the country's golfing talent and resources.
Motivation for Future Success
Hovland's PGA Tour victories have undoubtedly fueled his own drive for future success. Each win serves as a reminder of his potential and pushes him to strive for more accomplishments in his career.
FAQS
Has Viktor Hovland Won a Major?
No, he has not won a Major title in his career.
What was Hovland's first PGA Tour win?
Hovland's first PGA Tour victory came at the Puerto Rico Open in February 2020.
How many PGA Tour wins did Hovland have by the end of 2020?
By the end of 2020, Viktor Hovland had secured two PGA Tour wins, with victories at the Puerto Rico Open and the Mayakoba Golf Classic.
Has Hovland won multiple PGA Tour events in the same year?
Yes, in 2020, Hovland achieved victories at both the Puerto Rico Open and the Mayakoba Golf Classic in the same year.
Which was Hovland's most recent PGA Tour win, and when did it occur?
Viktor Hovland's most recent PGA Tour win occurred at the Tour Championship on August 27, 2023.
To Recap
In professional golf, Viktor Hovland's six PGA Tour victories stand as a testament to his exceptional talent and unwavering dedication.
His journey from a promising amateur to a multiple-time PGA Tour winner showcases his remarkable growth within the sport.
With each win, he has not only solidified his status as a rising star but has also inspired golf enthusiasts worldwide.
Hovland's accomplishments have elevated Norwegian golf's profile and expanded the global appeal of the sport.
As he continues to chase excellence, the anticipation surrounding his future successes remains palpable, leaving the golfing world eager to witness the next chapter in his remarkable career.
Similar Posts:
Bushnell Tour V3 is an advanced golfing GPS device that helps you improve your game. It has a range of features, such as shot tracking and analysis, plus it connects to the internet for easy updates and access to online resources.
How To Beat Callaway Scoring System?
Callaway Scoring System is a computer-generated scoring system used in golf tournaments. It is designed to make the game more random and therefore more exciting for the spectators.
How To Make An At Home Golf Net?
Making an at home golf net is easy. All you need is a piece of sturdy cardboard, some tape, and a hole saw.
How To Clean Leather Golf Grips?
If your golf grips are dirty and stained, you'll need to clean them. Here's how:
1) Pour a small amount of mild soap into a bowl or cup.
How To Tell If Golf Pride Grips Are Fake?
Golf Pride Grips are a well-known brand of golf club grips and they are often considered to be one of the best around. However, it's important to be aware that not all Golf Pride Grips are legitimate.
How To Add Length To Golf Clubs?
Adding length to golf clubs is a very simple process that can have a great impact on your game. By increasing the club's loft, you'll increase the distance it will travel and improve your accuracy.