Alisson Ramsés Becker, commonly known as Alisson Becker, is a Brazilian professional footballer born on October 2, 1992, in Novo Hamburgo. He is a goalkeeper with a height of 1.93 m (6 ft 4 in) who currently plays for Liverpool wearing number 1.
Becker started his youth career with Internacional, where he played until 2013 before joining the senior team. Later on, he played for Roma from 2016 to 2018 before moving to Liverpool. Becker also represented Brazil in international football, playing for the country's Under-17, Under-20, and senior teams.
He helped Brazil win the 2019 Copa América.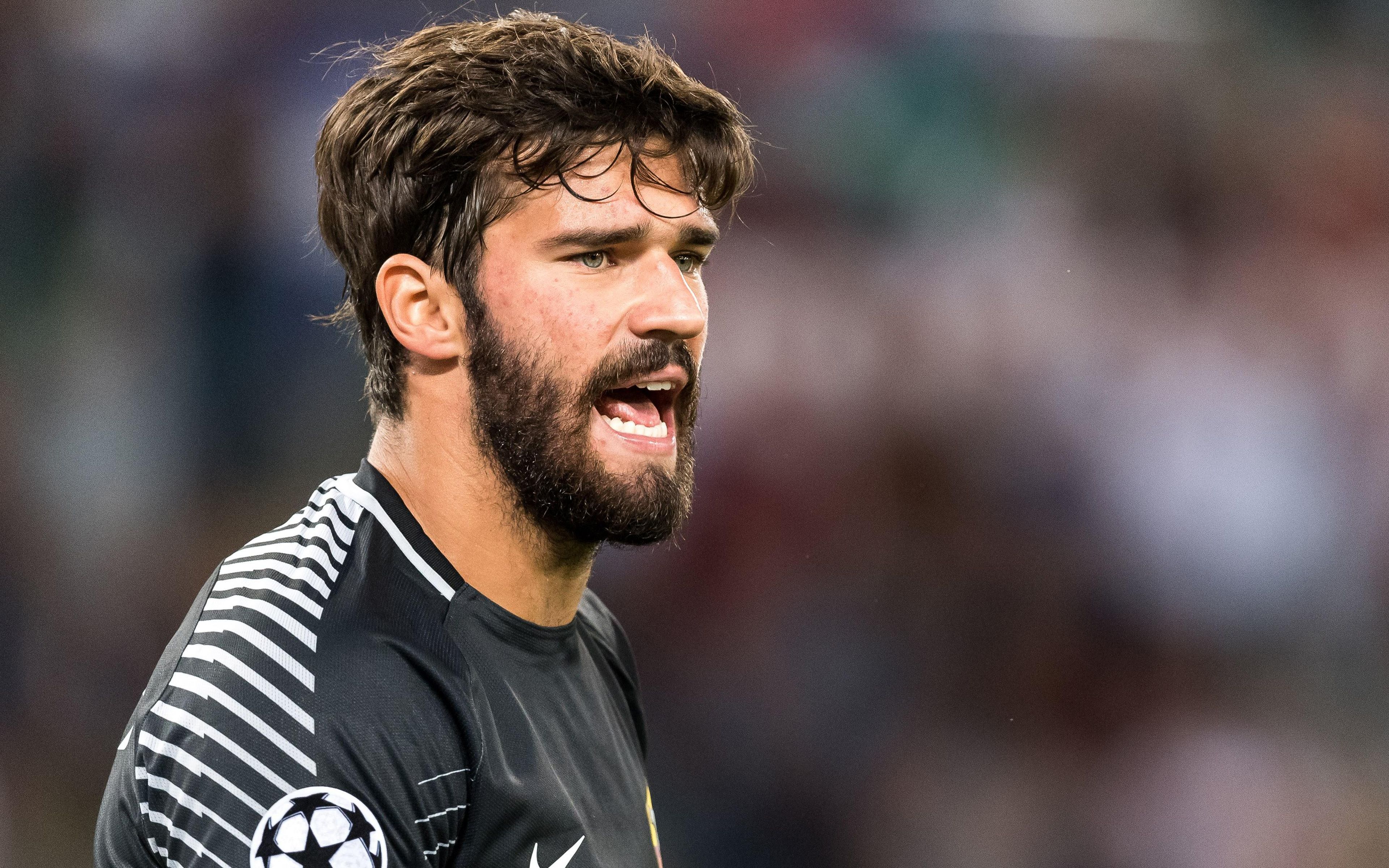 Personal Information of Alisson Becker
| | |
| --- | --- |
| Real Name/Full Name | Alisson Ramses Becker |
| Age | 30 years old |
| Birth Date | 2 October 1992 |
| Birth Place | Novo Hamburgo, Rio Grande do Sul, Brazil |
| Nationality | Brazilian |
| Height | 6 feet 4 Inches |
| Weight | 91 kg |
| Marital Status | Married |
| Wife/Spouse (Name) | Natalia Loewe |
| Profession | Goalkeeper |
| Net Worth | $8 million USD |
Stats
offensive
| season | Team |
| --- | --- |
| 2022-23 English Premier League | |
| 2021-22 English Premier League | |
| 2020-21 English Premier League | |
| 2019-20 English Premier League | |
| 2018-19 English Premier League | |
| STRT | FC | FA | YC | RC | G | A | SH | ST | OF |
| --- | --- | --- | --- | --- | --- | --- | --- | --- | --- |
| 36 | 1 | 5 | 1 | 0 | 0 | 1 | 0 | 0 | 3 |
| 36 | 0 | 2 | 0 | 0 | 0 | 1 | 1 | 1 | 0 |
| 34 | 1 | 6 | 1 | 0 | 1 | 0 | 1 | 1 | 1 |
| 29 | 1 | 1 | 0 | 1 | 0 | 1 | 0 | 0 | 0 |
| 38 | 0 | 1 | 1 | 0 | 0 | 0 | 0 | 0 | 0 |
goalKeeping
| season | Team |
| --- | --- |
| 2022-23 English Premier League | |
| 2021-22 English Premier League | |
| 2020-21 English Premier League | |
| 2019-20 English Premier League | |
| 2018-19 English Premier League | |
| CS | SV | GA |
| --- | --- | --- |
| 14 | 88 | 40 |
| 20 | 4 | 23 |
| 10 | 24 | 32 |
| 13 | 58 | 23 |
| 21 | 76 | 22 |
Club career
Alisson Becker was born in Novo Hamburgo, Rio Grande do Sul. At the age of 10, he joined Internacional's academy in 2002. Becker made his senior debut in 2013, starting in a 1-1 away draw against Cruzeiro-RS in the Campeonato Gaúcho championship.
He regularly featured with the under-23 side before making his debut. In August 2013, he started his Série A debut in a 3–3 home draw against Goiás. During his first season, he finished with six appearances.
Becker competed for second-choice with Agenor and was a backup to his brother Muriel.
International career
Alisson Becker has an impressive international career with Brazil. He first represented the country at the under-17 and under-20 levels. Becker's performances were impressive and he was called up to the senior squad by manager Dunga.
His call-up came for the first two matches of the 2018 FIFA World Cup qualification campaign against Chile and Venezuela. Becker's debut match was against Venezuela on October 13, 2015, at the Castelão stadium.
He started in the game, and Brazil won the match comfortably, with a scoreline of 3-1. Becker's performance was excellent, and he proved that he was ready for senior level international football. He continued to perform well for Brazil and was a key player in their squad.
Becker became an integral part of the Brazil team and played a crucial role in their success at the Copa America in 2019 and 2021. His performances helped Brazil to win both tournaments. Becker is regarded as one of the best goalkeepers in the world and has proved his worth at both club and international levels.
He continues to shine for Brazil and is expected to play a significant role in their future campaigns.
Net Worth
Alisson Becker é um dos melhores goleiros do mundo, atuando pelo Liverpool e pela seleção brasileira. Ele nasceu em 2 de outubro de 1992 em Novo Hamburgo, no Rio Grande do Sul, e tem ascendência alemã.
Alisson começou sua carreira no Internacional, onde foi revelado e conquistou cinco títulos estaduais. Em 2016, ele se transferiu para a Roma, da Itália, onde se destacou por suas defesas e sua habilidade com os pés.
Dois anos depois, ele foi contratado pelo Liverpool por uma quantia recorde de 76,8 milhões de dólares, tornando-se o goleiro mais caro da história na época. Pelo clube inglês, ele já ganhou a Liga dos Campeões, o Mundial de Clubes, a Supercopa da Europa e o Campeonato Inglês.
Além disso, ele marcou um gol histórico de cabeça nos acréscimos contra o West Bromwich em 2021, garantindo a vitória do Liverpool por 2 a 1. Pela seleção brasileira, ele foi campeão da Copa América em 2019 e é considerado um dos líderes do grupo.
Alisson Becker tem um patrimônio líquido estimado em 9,5 milhões de dólares, segundo o site SportsLumo. Seu salário mensal no Liverpool é de cerca de 635 mil dólares.
Style of play
Alisson Becker is considered one of the best goalkeepers in the world due to his exceptional skills and abilities on and off the pitch. His playstyle is characterized by his crucial saves, one-on-one situation brilliance, and his consistent positioning and distribution.
His inspiration comes from former Barcelona goalkeeper Víctor Valdés and Manuel Neuer. Alisson is a 'sweeper keeper' who has a unique ability to play out from the back and rush off his line with speed and precision.
His ball-playing skills and composure in possession are exceptional which allows him to take on opponents when put under pressure and allows his team to play with high defensive lines. He is also known for his long goal kicks and ability to launch attacks and pick out midfielders.
Alisson's speed and timing to clear or challenge the ball outside the box is remarkable. Alisson Becker's style of play showcases his technical abilities and has established himself as one of the most complete goalkeepers in the world of soccer.
While there can always be arguments about who the best is in the sport, there is no mistaking that Alisson Becker belongs among the elite class of goalkeepers.
Personal life
Alisson Becker has a brother named Muriel who is also a goalkeeper developed at Internacional. Becker's father and grandmother are fluent in German, indicating his German descent. During his time at Roma, he was known as "The German." Becker is multilingual, speaking Portuguese, Italian, and English.
In 2019, he was appointed as a goodwill ambassador by the WHO. His personal life outside of football is not widely discussed.
Career statistics
Alisson Becker is a Brazilian professional footballer who plays as a goalkeeper for the Brazilian national team and Premier League club Liverpool. He started his club career with Internacional in 2013 and played a total of 47 games for the club.
During his time with Internacional, Alisson kept 16 clean sheets and conceded 50 goals in the Brazilian Série A. He made 11 appearances in the Copa Libertadores and kept 2 clean sheets. Alisson's impressive performances at Internacional earned him a move to AS Roma in 2016.
After two successful seasons with Roma, Liverpool signed him in 2018, making him the world's most expensive goalkeeper at the time. With Liverpool, Alisson has won numerous titles, including the Premier League, UEFA Champions League, and FIFA Club World Cup.
Alisson has also won several individual awards for his performances, including the Best FIFA Goalkeeper and UEFA Goalkeeper of the Season.
To Recap
Alisson Becker is a professional Brazilian footballer who plays as a goalkeeper for Liverpool and the Brazil national team. He was born on October 2, 1992, in Novo Hamburgo, Brazil. Standing at 1.93 meters tall, he began his professional career playing for Internacional and later played for Roma before joining Liverpool in 2018.
He has won numerous national and international titles, including the Copa América with Brazil in 2019. Alisson also played for the Brazilian national team at the U-17 and U-20 levels, and currently has 61 appearances for the senior team.
Similar Posts:
How To Cut Down A Golf Club Shaft?
If you have a golf club shaft that's too long, or if you want to shorten it, here are the steps:
1. Remove the club head.
How To Clean Leather Golf Grips?
If your golf grips are dirty and stained, you'll need to clean them. Here's how:
1) Pour a small amount of mild soap into a bowl or cup.
How To Add Length To Golf Clubs?
Adding length to golf clubs is a very simple process that can have a great impact on your game. By increasing the club's loft, you'll increase the distance it will travel and improve your accuracy.
Titleist 913 Hybrid Adjustment Chart?
Titleist Hybrid Adjustment Chart is a handy tool that can be used by golfers to fine-tune their game. It has a stroke index and an impact index which can help you gauge the severity of your shots.
How Much Does A Taylormade Fitting Cost?
A Taylormade fitting costs a bit more than a generic fitting, but it offers better performance and quality. Plus, the technician who installs it will take care to ensure that everything is perfect.
How To Tell If Golf Pride Grips Are Fake?
Golf Pride Grips are a well-known brand of golf club grips and they are often considered to be one of the best around. However, it's important to be aware that not all Golf Pride Grips are legitimate.