In the ever-evolving world of professional basketball, NBA contracts have become a fascinating subject for fans and analysts alike. As the league continues to grow in popularity and revenue, players' salaries have soared to unprecedented heights.
Among the most influential and skilled positions on the court are point guards, responsible for orchestrating the team's offense and often serving as the heart of their respective franchises.
Throughout the years, numerous point guards have secured massive contracts that reflect their talent, impact, and market value.
In this blog post, we'll explore the top 10 biggest NBA point guard contracts, delving into the details of these groundbreaking deals and the players who signed them.
Top 10 Biggest NBA Point Guard Contracts of All Time
Here is the list of the 10 Biggest NBA Point Guard Contracts of all time. But the list is not made according to any specific criteria. Please check the details for more information.
1. Stephen Curry – Golden State Warriors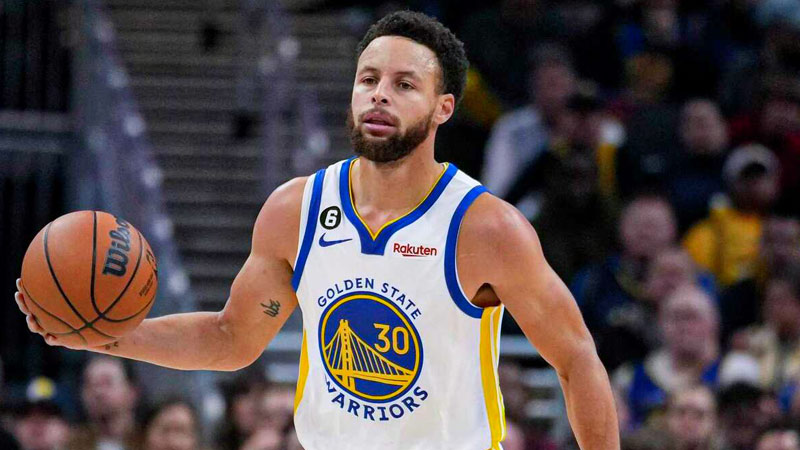 Source: sfchronicle.com
Contract:

$201 million

Year:

2017 – 2021
Stephen Curry's contract with the Golden State Warriors was a landmark deal, solidifying his position as one of the most elite players in NBA history. Signed in 2017, this five-year contract extension was worth a staggering $201 million, making it the largest contract in NBA history at that time.
Curry, a two-time NBA MVP and considered one of the greatest shooters in the game, had a profound impact on the Warriors' success during his tenure.
The contract reflected the Warriors' commitment to building a championship-winning team around Curry, who had led them to multiple NBA titles and had revolutionized the game with his exceptional three-point shooting.
It also symbolized the increasing value and influence of superstar players in the league, as Curry's style of play and on-court achievements greatly contributed to the skyrocketing popularity of the NBA.
Russell Westbrook – Oklahoma City Thunder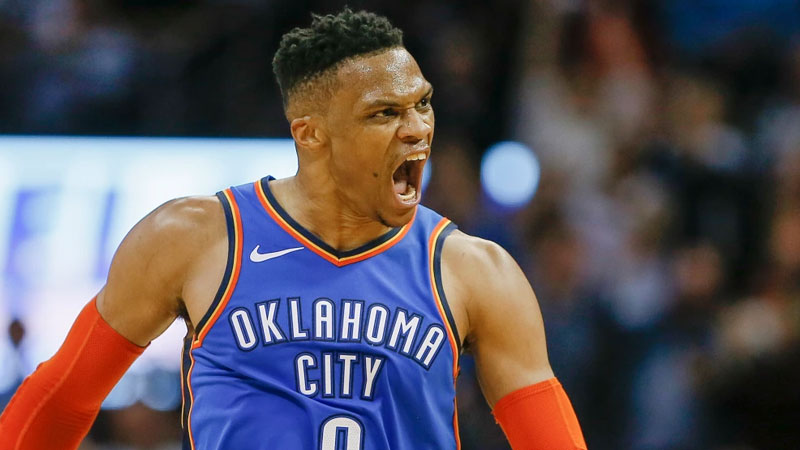 Source: okcthunderwire.usatoday.com
Contract:

$205

Year:

2017 – 2021
Russell Westbrook's contract with the Oklahoma City Thunder, signed in 2017, was a mammoth deal that made him one of the highest-paid players in NBA history.
The five-year extension was valued at $205 million, showcasing the Thunder's commitment to keeping their star point guard as the centerpiece of their franchise.
At the time of the contract signing, Westbrook was coming off an outstanding individual season where he achieved a historic feat by averaging a triple-double (double-digit points, rebounds, and assists) for the entire season.
This extraordinary performance earned him the NBA Most Valuable Player (MVP) award for the 2016-2017 season. The contract extension not only rewarded Westbrook's exceptional talent and leadership but also demonstrated the Thunder's determination to build a competitive team around him.
His electrifying playing style, athleticism, and relentless drive made him a fan favorite and secured his place as one of the NBA's most dynamic and impactful players.
Chris Paul – Houston Rockets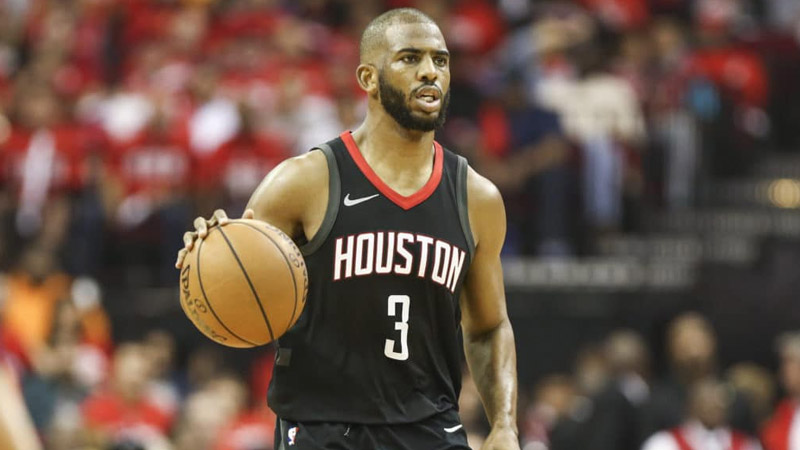 Source: theathletic.com
Contract:

$160 million

Year:

2018 – 2021
Chris Paul's contract with the Houston Rockets was a significant move that reshaped the landscape of the NBA's Western Conference.
In 2018, Paul signed a four-year deal worth $160 million to join forces with James Harden, forming a formidable backcourt duo and elevating the Rockets to legitimate championship contenders.
Paul, an exceptional point guard known for his floor leadership, playmaking, and defensive skills, brought a wealth of experience and a winning mentality to Houston.
His presence was transformative for the Rockets, and he played a crucial role in their strong performance during the regular seasons. The contract signaled the Rockets' ambition to compete for an NBA title and showed their belief in Paul's ability to be a driving force in that pursuit.
Despite facing some injury challenges, Paul remained a vital asset to the Rockets during his time there, and the deal served as a statement of the franchise's determination to vie for championship glory.
John Wall – Washington Wizards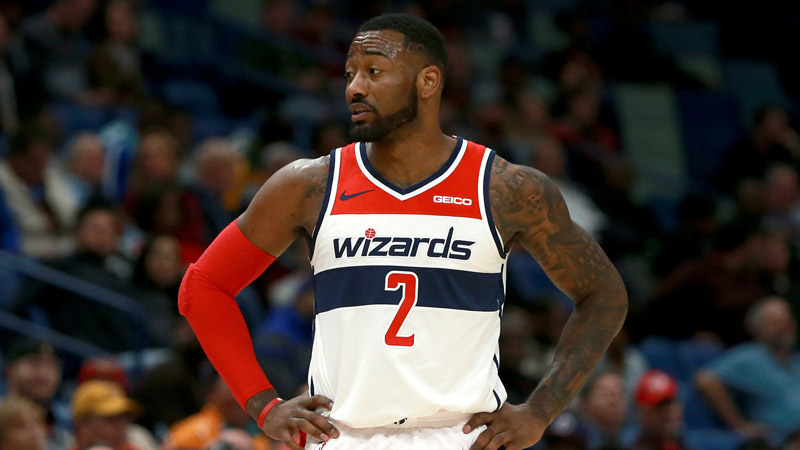 Source: hoopshabit.com
Contract:

$170 million

Year:

2017 – 2020
John Wall's contract with the Washington Wizards, signed in 2017, was a momentous commitment that solidified him as the face of the franchise. The four-year deal was worth $170 million, reflecting the team's belief in Wall's talent and leadership abilities.
At the time of the contract signing, Wall was considered one of the premier point guards in the NBA, known for his exceptional speed, court vision, and playmaking skills. He had already earned multiple NBA All-Star selections and was a key driver of the Wizards' success during his tenure.
The contract extension represented the Wizards' desire to build their team around Wall and make him the centerpiece of their long-term plans.
While Wall's tenure in Washington faced its share of ups and downs, his impact on the team and the city was undeniable, as he became one of the franchise's all-time great players.
The deal was not only a financial investment but also a commitment to building a competitive and successful team around their star point guard.
Damian Lillard – Portland Trail Blazers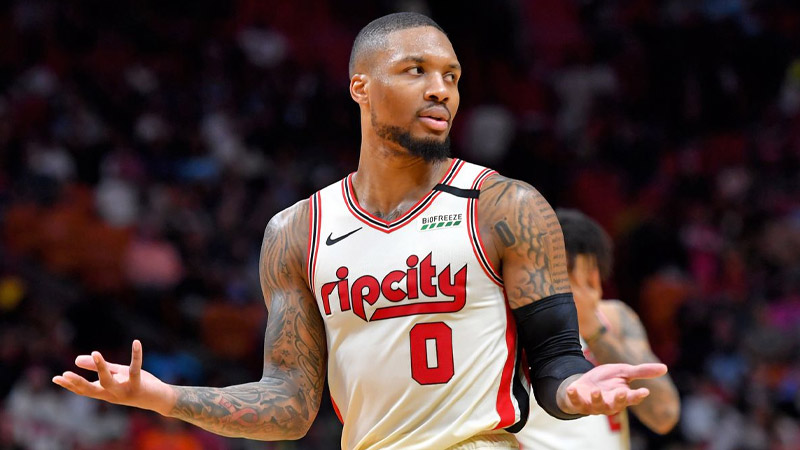 Source: blazersedge.com
Contract:

$196 million

Year:

2019 -2022
Damian Lillard, widely regarded as one of the top point guards in the NBA, signed a supermax contract extension with the Portland Trail Blazers in 2019. The deal was worth a staggering $196 million over four years, making it one of the largest contracts in NBA history at the time.
Lillard's extension demonstrated the Blazers' commitment to building around their star player and solidifying their position as a playoff-contending team.
As a multiple-time All-Star and a consistent scoring threat, Lillard's performance has been exceptional, earning him a reputation for clutch performances and long-range shooting abilities.
The contract also reflected the competitive market for top-tier point guards, as franchises were willing to invest heavily in securing elite backcourt talent.
Kyle Lowry – Toronto Raptors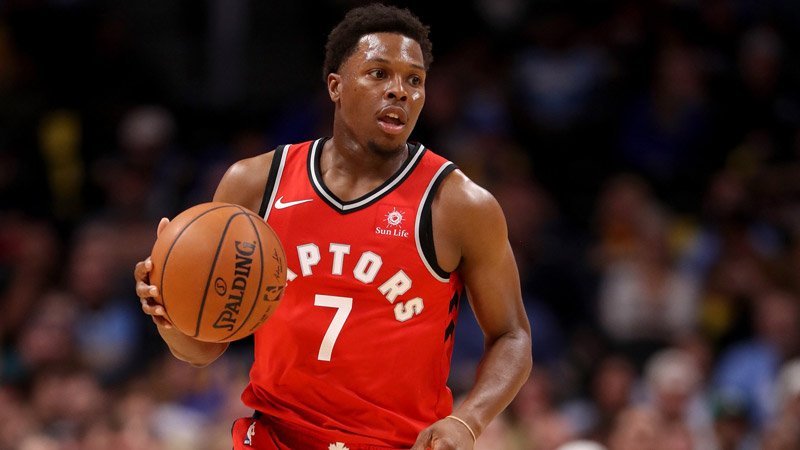 Source: newsweek.com
Contract:

$100 million

Year:

2017 – 2019
Kyle Lowry, the heart and soul of the Toronto Raptors, signed a significant contract extension in 2017, worth $100 million over three years. At the time, this deal showcased the Raptors' belief in Lowry's leadership and on-court abilities, leading the team to multiple successful seasons and playoff appearances.
Known for his tenacity, defensive prowess, and playmaking skills, Lowry had become a vital force in the Raptors' success. The contract also reflected the increasing value of experienced and impactful veteran point guards in the league.
Under Lowry's leadership, the Raptors achieved unprecedented success, including winning their first NBA Championship in 2019.
Mike Conley – Memphis Grizzlies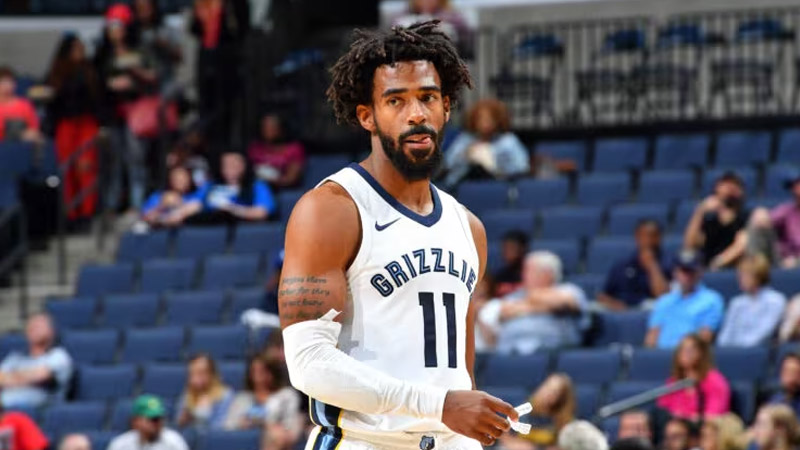 Source: nba.com
Contract:

$153 million

Year:

2016 – 2020
In 2016, Mike Conley signed the largest contract in NBA history at the time, a five-year deal worth $153 million with the Memphis Grizzlies. The contract illustrated the franchise's dedication to retaining their star point guard, who had been a linchpin of their success for many seasons.
Known for his steady floor leadership, defensive tenacity, and ability to run the offense effectively, Conley was a respected and integral part of the Grizzlies' identity. The contract also highlighted the growing market for skilled playmakers in the league.
Conley's consistent performance earned him recognition as one of the league's most underrated players. Although he later moved on to the Utah Jazz, his tenure in Memphis solidified his legacy and the impact of his high-value contract on NBA salary dynamics.
Kyrie Irving – Brooklyn Nets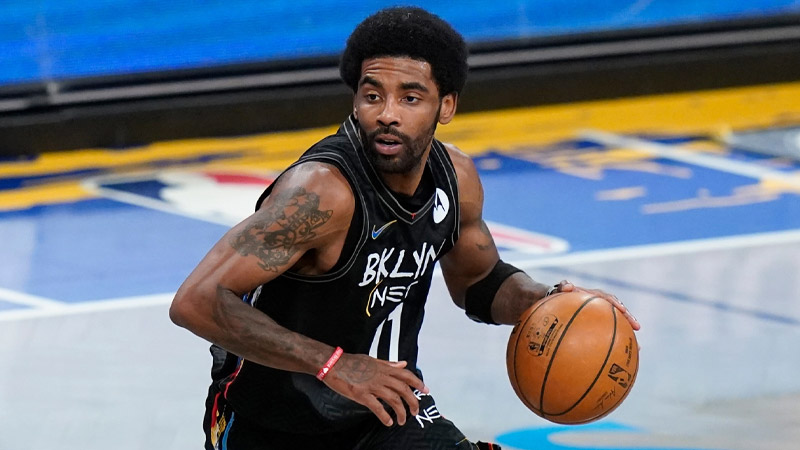 Source: rollingstone.com
Contact:

$136 million

Year:

2019 – 2022
In 2019, Kyrie Irving, the dynamic point guard, made a significant move from the Boston Celtics to the Brooklyn Nets, signing a four-year contract worth $136 million.
Known for his dazzling ball-handling skills and clutch performances, Irving brought a wave of excitement to the Nets and their fans. The move was part of the Nets' strategy to build a formidable team around him and Kevin Durant.
However, Irving's tenure with the Nets had its share of ups and downs. On one hand, he showcased his scoring prowess and playmaking abilities, elevating the team's performance when healthy. On the other hand, injury issues plagued him during his first two seasons, leading to periods of absence and disrupted team chemistry.
Off the court, Irving also made headlines for his philanthropic endeavors and vocal advocacy for social justice causes. As a marquee player, his presence on the team significantly impacted the Nets' fortunes and heightened expectations for a championship run.
Kemba Walker – Boston Celtics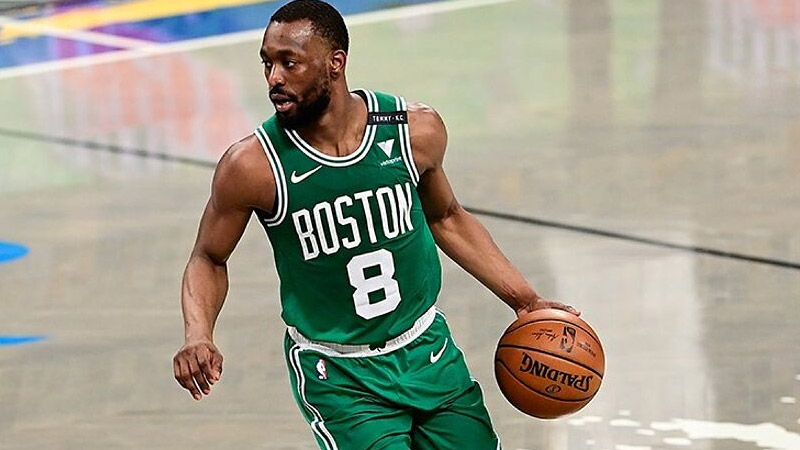 Source: marca.com
Contact Money:

$141 million

Years:

2019 – 2022
In 2019, Kemba Walker, a seasoned point guard with a reputation for clutch performances, joined the Boston Celtics on a four-year contract worth $141 million. This signing came as a response to Kyrie Irving's departure from the team, and Walker's arrival infused fresh energy into the Celtics' backcourt.
Known for his speed, ball-handling, and three-point shooting, Walker quickly won over Celtics fans with his tenacity and leadership on the court.
He embraced the team's culture and became a fan favorite in Boston. Throughout his tenure, Walker consistently provided scoring and playmaking, earning his spot as one of the team's primary offensive weapons.
However, like Irving, Walker also faced injury challenges that affected his availability during crucial moments. Despite this, his contributions and strong work ethic were recognized both by his teammates and the coaching staff.
Jrue Holiday – Milwaukee Bucks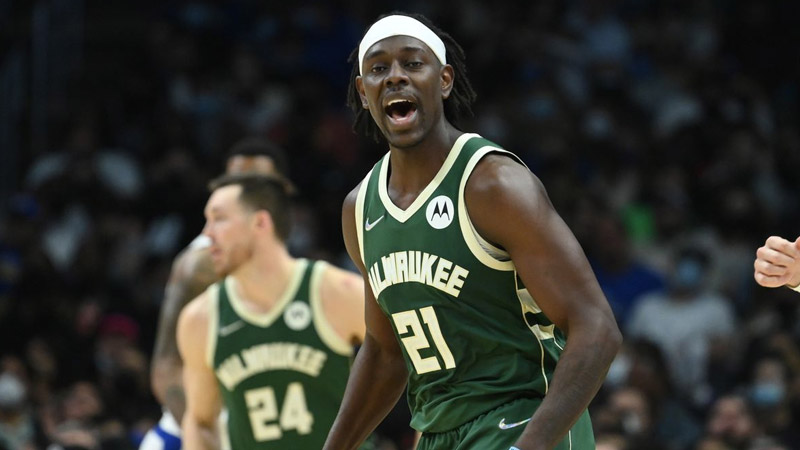 Source: sbnation.com
Contact Money

: $160 million

Years:

2017 – 2021
In 2017, Jrue Holiday, an accomplished point guard, signed a lucrative four-year contract worth $160 million with the Milwaukee Bucks. His arrival was aimed at fortifying the Bucks' roster and complementing the talent of their star player, Giannis Antetokounmpo.
Holiday brought a blend of offensive skills and defensive prowess to the team. As a skilled ball handler and passer, he provided playmaking and floor spacing, creating opportunities for his teammates.
On the other end of the floor, his defensive tenacity and ability to guard multiple positions significantly bolstered the Bucks' defensive capabilities.
The 2020-2021 NBA season proved to be pivotal for Holiday and the Bucks. His stellar performances, particularly during the NBA Finals, played a crucial role in helping the Bucks secure their first championship in 50 years.
The title victory solidified Holiday's status as a crucial component of the team's success and validated the Bucks' decision to invest in his talents through the significant contract.
FAQs
Who holds the record for the largest point guard contract in NBA history?
As of my last update in September 2021, Stephen Curry of the Golden State Warriors holds the record for the largest point guard contract in NBA history. In 2017, he signed a remarkable five-year deal worth $201 million, cementing his status as one of the league's most valuable players.
Has any point guard surpassed Stephen Curry's record contract since then?
While my information may be outdated, up until 2021, no point guard had surpassed Stephen Curry's record contract. However, the landscape of NBA contracts can change rapidly, and with new superstars emerging, it's possible that the record has been broken since then.
Who are some other notable point guards with lucrative contracts?
Several other point guards have signed substantial contracts over the years. Players like Russell Westbrook, Chris Paul, and Damian Lillard secured multi-million dollar deals that reflected their immense contributions to their teams.
How do NBA teams determine the value of a point guard contract?
The value of an NBA contract is influenced by various factors, including a player's on-court performance, leadership qualities, marketability, and impact on the team's success.
Additionally, the league's salary cap and collective bargaining agreement also play a significant role in contract negotiations.
Are these massive contracts justified for point guards?
The justification of these contracts can be a subject of debate. While some argue that top-tier point guards are the catalysts for a team's success and deserve their hefty paychecks, others question whether such large investments in one player hinder a team's ability to build a well-rounded roster.
Ultimately, the value of a contract is subjective and depends on the player's performance and impact on the team.
Wrapping Up
The top 10 biggest NBA point guard contracts showcase the immense value and significance of these players in the league. These deals not only reflect the players' skills on the court but also their impact as leaders and ambassadors of the game.
As the NBA continues to grow and evolve, we can expect to see new stars rise and potentially surpass the contracts set by their predecessors.
The league's financial landscape will always be a fascinating aspect to follow, as fans witness the ongoing saga of blockbuster deals and historic signings in the dynamic world of professional basketball.
Similar Posts:
How Much Is A Membership At Tpc Stonebrae
If you're looking for a place to enjoy some quality time with friends and family, then Tpc Stonebrae is the perfect destination for you. With its wide variety of activities – from hiking to golfing – there's always something for everyone.
Can You Wear Molded Cleats On Turf?
No, you cannot wear molded cleats on turf. Molded cleats are designed for use on hard surfaces like concrete and asphalt, and they can damage the surface of a turf field.
There are a few things to consider when choosing an external turntable. The first is the type of cartridge that you will be using – either an Kbs S-Taper or an X100.
If you are looking for a great-sounding acoustic guitar that is also easy to play, the KBS S Taper may be the perfect option for you. It features a slim taper design that makes it easy to hold and play, while the Modus 120 pickup allows you to create an amazing range of sounds.
Yeti Hopper M30 Vs Backflip 24
The Yeti Hopper M30 is a great option for those who want an indoor/outdoor camera that can shoot in 4K Ultra HD. The Backflip 24, on the other hand, can capture beautiful footage in 1080p or 720p, making it a better choice for some users.
How To Break In A Nokona Baseball Glove?
Breaking in a new baseball glove can be frustrating, but with a little patience and some elbow grease, you'll have the perfect glove for your batting needs. Here are five tips to help you break in your new glove fast: Warm up the glove before you start hitting.