Scoring goals is the ultimate thrill in soccer, and mastering the art of shooting is essential for any aspiring striker or attacking player.
In this blog post, we present a comprehensive Soccer Shooting Drills List that covers a wide range of exercises designed to enhance your shooting accuracy, power, and decision-making.
Whether you're a beginner looking to improve your finishing or a seasoned pro aiming to take your goal-scoring to new heights, these dynamic drills have you covered. Get ready to fine-tune your shooting skills and become a lethal force on the pitch! Stay focused.
Soccer Shooting Drills List
Unleash your scoring prowess with our action-packed Soccer Shooting Drills List. From perfecting your technique to conquering defenders, these drills will elevate your shooting skills and turn you into a deadly marksman on the field. Get ready to light up the scoreboard and lead your team to victory!
Penalty Kick Practice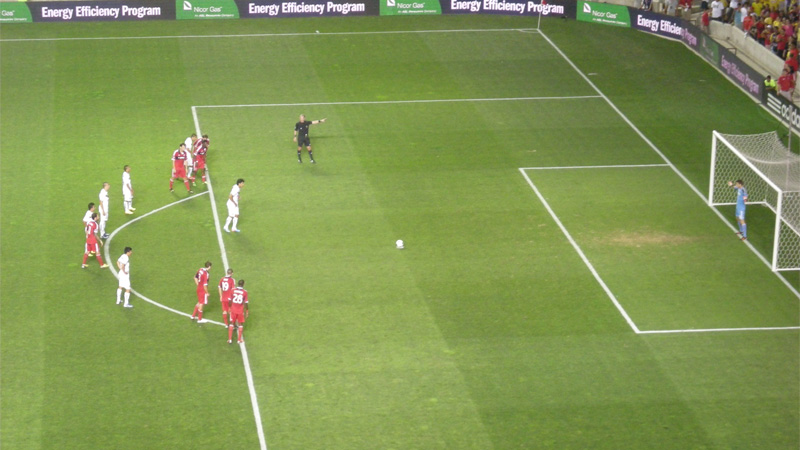 Source: wikipedia
Penalty Kick Practice is a fundamental drill that sharpens a player's ability to score from the penalty spot. Players take turns shooting penalty kicks against a goalkeeper.
This drill not only enhances a player's shooting accuracy and technique but also develops the mental composure needed to convert under pressure.
Regular practice from the spot can turn penalty kicks into a potent weapon during competitive matches, increasing the likelihood of crucial goals and boosting a player's confidence in high-stakes situations.
Shooting from Distance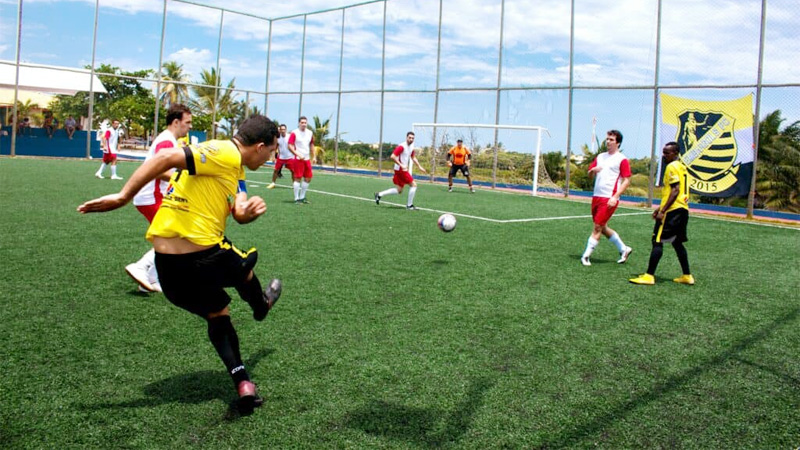 Source: ballatyourfeet
Shooting from a Distance is a drill that focuses on long-range shooting. Players practice striking the ball from various distances outside the penalty area, aiming to hit the target or score goals. This exercise enhances a player's power, accuracy, and shooting technique.
Shooting from a distance is particularly valuable for midfielders and forwards who often find themselves in positions to take long shots. It encourages players to be more adventurous in their attacking play and can lead to spectacular goals that catch opponents off guard.
One-Touch Finish Drill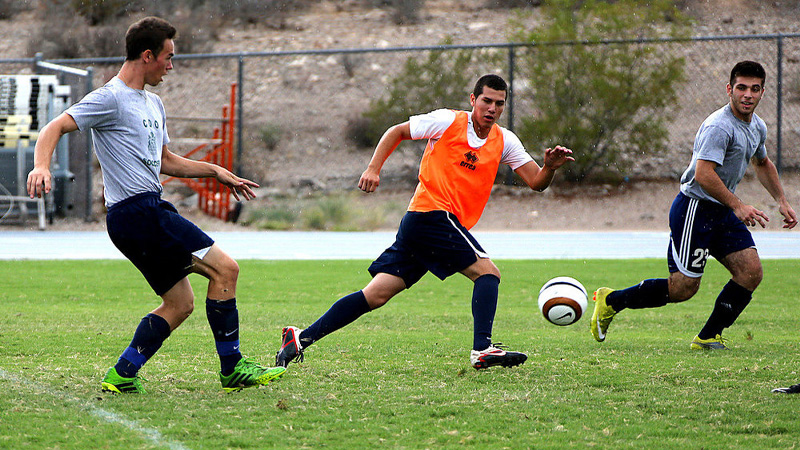 Source: soccerawareness
The One-Touch Finish Drill is designed to improve a player's ability to score quickly with just one touch after receiving a pass. Players work on positioning themselves effectively in front of the goal and making precise first-time shots.
This drill emphasizes speed, anticipation, and sharpness in front of the net, as players must react swiftly to deliver accurate finishes. One-touch finishing is a crucial skill that allows attackers to capitalize on goal-scoring opportunities during fast-paced matches and catch defenders off balance.
Shooting on the Run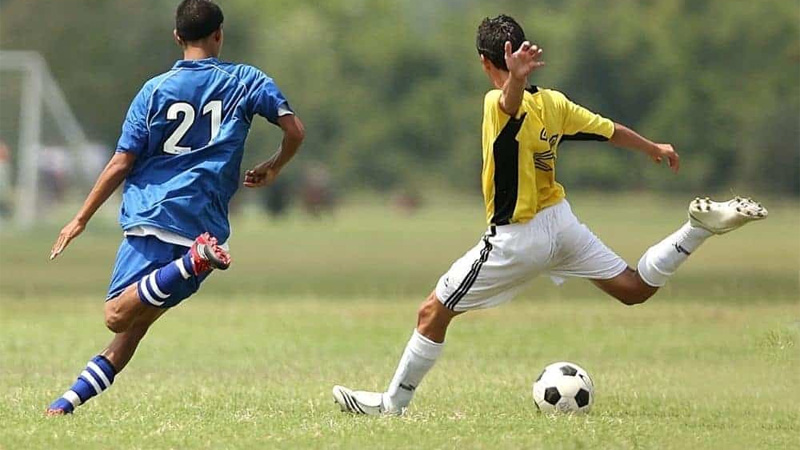 Source: thepitchisours
Shooting on the Run is a dynamic drill that simulates real-game scenarios where players need to shoot while moving. Players receive passes while on the run and attempt to strike the ball into the goal with precision.
This exercise improves shooting technique under dynamic conditions and enhances players' ability to control the ball while in motion. Shooting on the run is particularly valuable for wingers, strikers, and attacking midfielders who frequently make runs into the box during matches.
Curling Free Kick Drill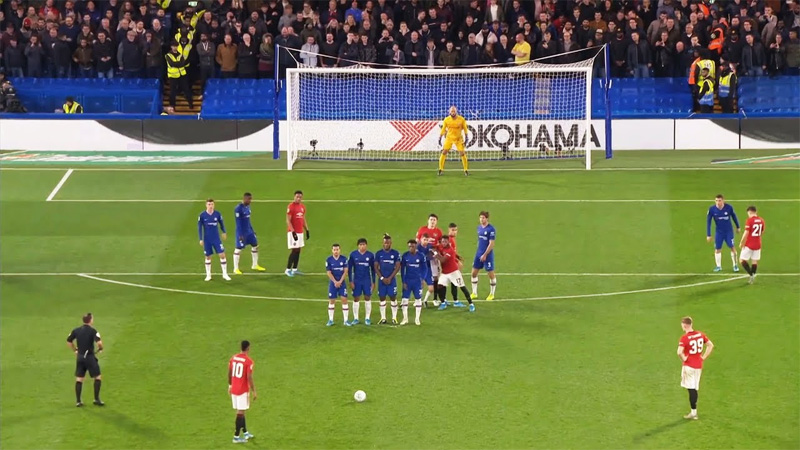 The Curling Free Kick Drill focuses on developing the technique to curl the ball over defensive walls and into the net from free-kick positions. Players practice striking the ball with the instep to generate the desired curve and precision.
This drill requires finesse and accuracy, making it valuable for players who are adept at set pieces and can turn free-kick opportunities into goal-scoring chances. Mastering the curling free kick can be a game-changing skill, allowing players to score from difficult angles and distances.
Target Practice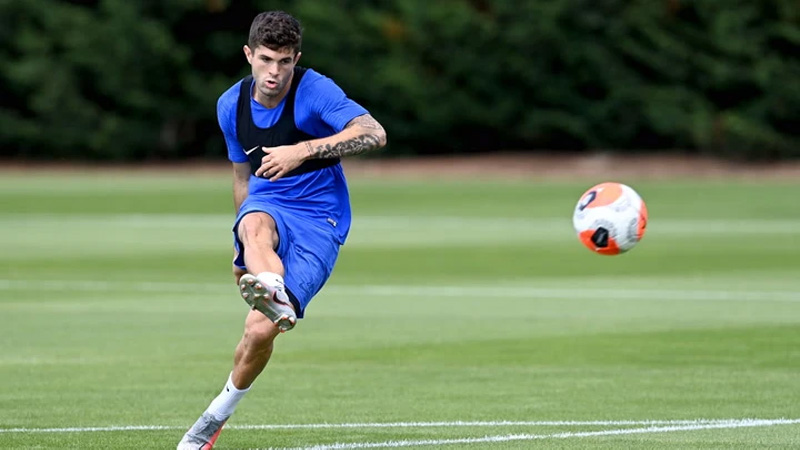 Source: chelseafc
Target Practice is a versatile shooting drill that incorporates various target areas on the goal. Players aim to hit specific target zones, such as the corners, top shelf, or bottom corners, to improve their shooting accuracy.
Coaches can set up different target patterns to challenge players and encourage them to be more precise in their shooting. This drill is effective for all positions on the field and provides a fun and competitive element to shooting practice, keeping players motivated to hit their mark consistently.
Crossing and Finishing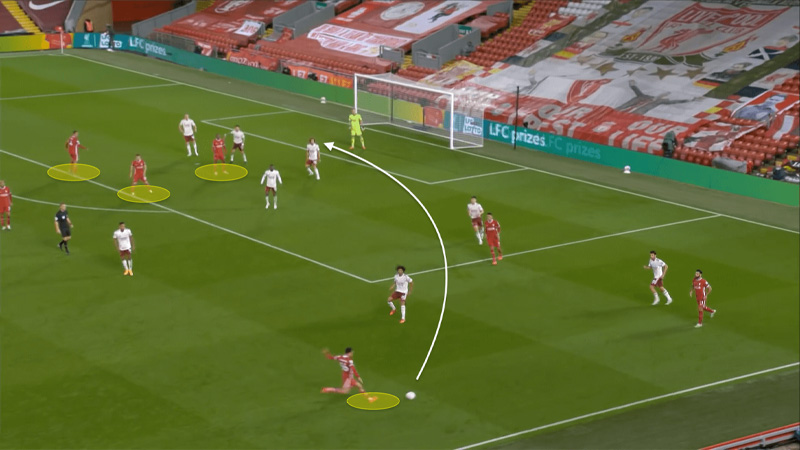 Source: theathletic
Crossing and Finishing is a fundamental soccer shooting drill that emphasizes teamwork and precision. Players work in pairs, with one delivering accurate crosses from the flanks, and the other aiming to finish the ball into the net.
This exercise not only sharpens shooting accuracy but also improves the quality of crosses, fostering better coordination between attackers and wingers.
Mastering this drill is crucial for players seeking to capitalize on goal-scoring opportunities arising from wing play, making it a valuable asset in any team's offensive arsenal.
Quick Release Shooting Drill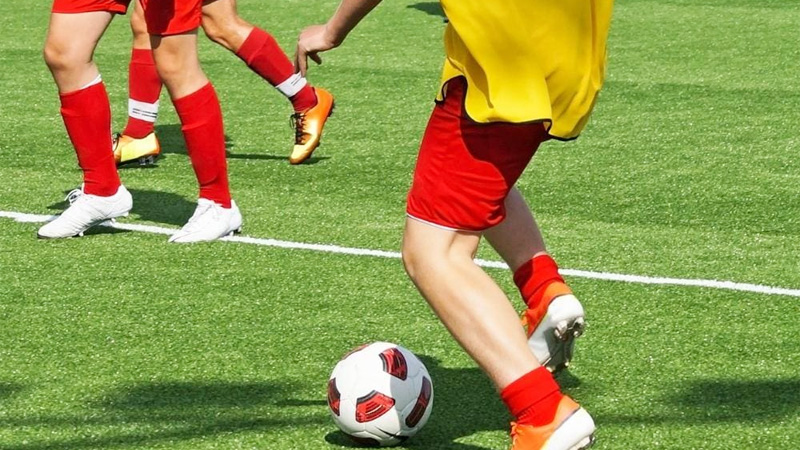 Source: soccerblade
The Quick Release Shooting Drill focuses on developing players' ability to shoot swiftly and accurately in dynamic game situations. Players receive quick passes from teammates or coaches and must release a shot promptly upon receiving the ball.
This exercise enhances players' shooting reflexes and decision-making under pressure. It also prepares players for high-intensity game moments when shooting opportunities arise unexpectedly, enabling them to capitalize on split-second chances with confidence and precision.
Dribble and Shoot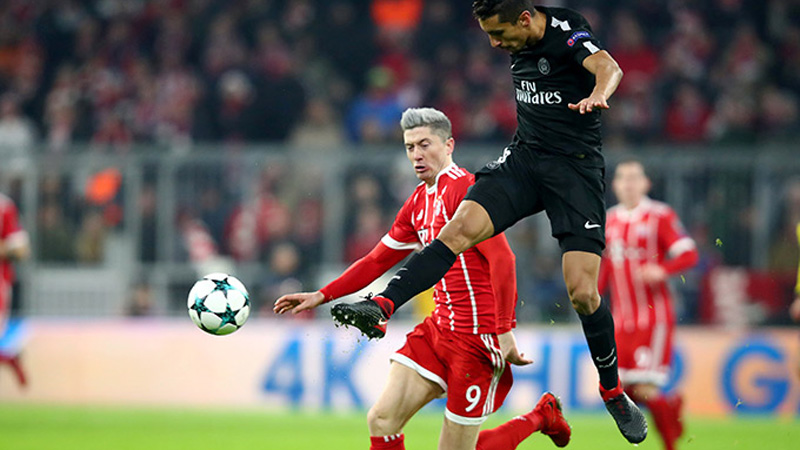 Source: chinadaily
The Dribble and Shoot drill is designed to enhance players' shooting proficiency while on the move. Players start at a designated distance from the goal and dribble towards it, taking a shot at the optimal moment.
This exercise improves shooting technique when running with the ball, simulating real-game scenarios where players must execute accurate shots while under pressure from defenders.
By mastering this drill, players can become more dynamic goal threats, capable of scoring goals with flair and skill during matches.
Rebound Shooting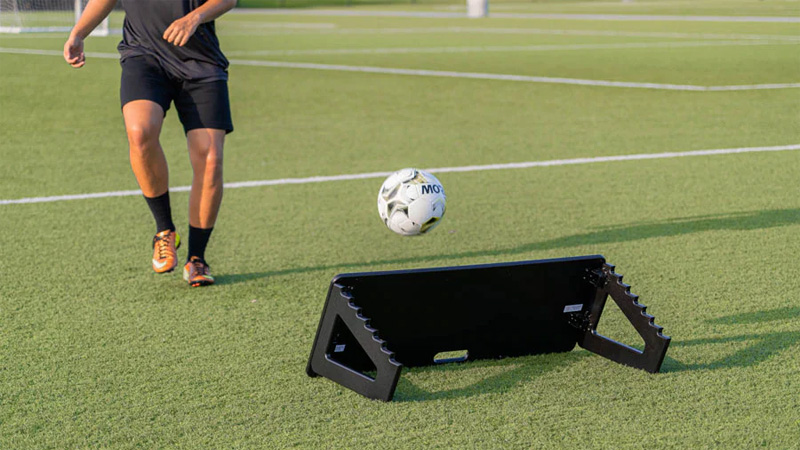 Source: moriisports
Rebound Shooting is an excellent soccer shooting drill that helps players capitalize on second-chance opportunities. Players take shots at the goal, and the coach or another player positions themselves to collect rebounds and quickly return the ball for follow-up shots.
This drill enhances players' anticipation and goal-poaching abilities, teaching them to be alert and proactive in the penalty area. It also encourages players to adopt the right positioning to score goals from rebounds, which can be invaluable in tightly contested matches.
Long-range Bombing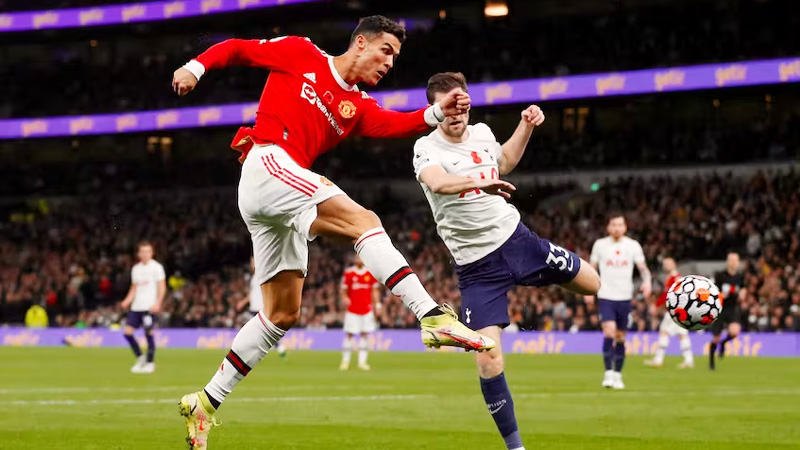 Source: saltwire
Long-range Bombing is an exciting shooting drill that encourages players to unleash powerful shots from a distance. Players take turns shooting from outside the penalty area, aiming for accuracy and power.
This exercise helps players develop their long-range shooting technique, allowing them to surprise goalkeepers and catch them off guard with thunderous shots from afar.
Mastering the long-range shot can turn players into match-winners, capable of scoring spectacular goals that can change the course of a game.
Chip Shot Challenge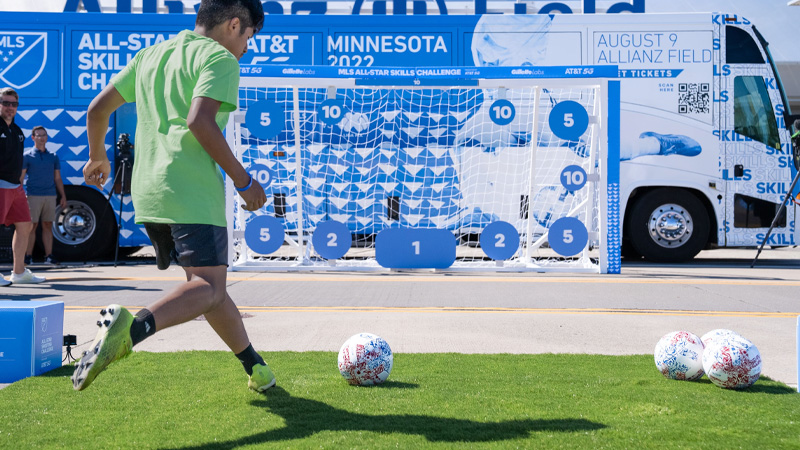 Source: clamorexp
The Chip Shot Challenge is a fun and skillful soccer shooting drill that focuses on lofting shots over goalkeepers from close range. Players attempt to chip the ball accurately into the net, practicing different techniques and angles.
This drill improves players' ability to execute delicate chip shots, which can be particularly effective when faced with an advancing goalkeeper or a crowded penalty area.
Mastering this technique adds flair and finesse to a player's shooting repertoire, making them a formidable threat in one-on-one situations with the goalkeeper.
Finesse Finishing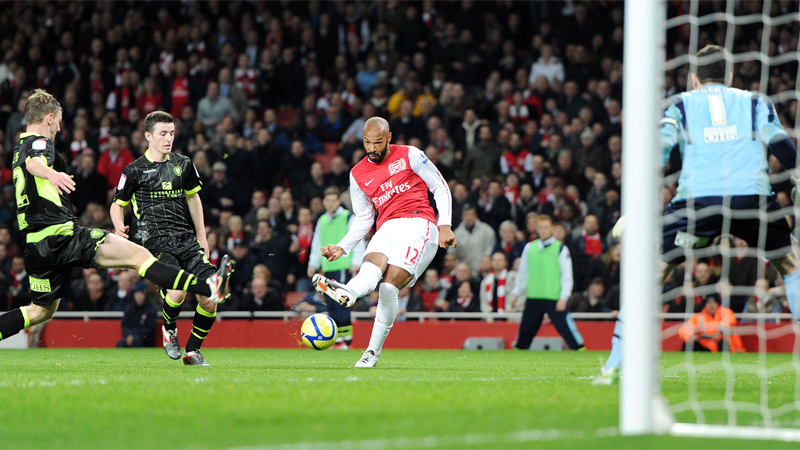 Source: theathletic
Finesse Finishing is a crucial drill that focuses on developing players' finesse and precision in front of the goal. Players practice delicate shots using the inside or outside of their feet, aiming to curl the ball into the net with accuracy.
This drill encourages players to hone their technique and control, allowing them to finesse shots past goalkeepers and into the corners of the goal. Mastering the finesse finish is essential for goal-scoring opportunities in tight spaces and when facing skilled shot-stoppers.
Instep Drive Drill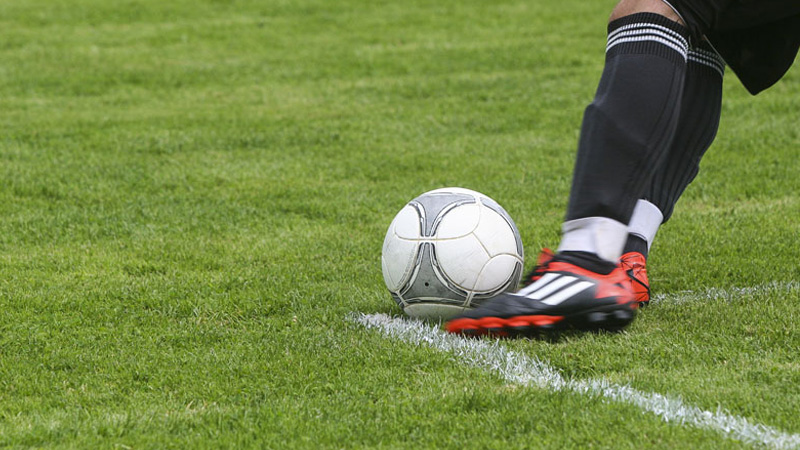 Source: xlathlete
The Instep Drive Drill is designed to improve shooting power and technique. Players strike the ball with the instep or laces of their foot, generating maximum power and accuracy in their shots.
This drill helps players understand the importance of body positioning, follow-through, and striking the ball cleanly to achieve powerful and goal-bound shots.
Practicing the Instep Drive Drill enables players to unleash formidable shots from a distance, making them a potent threat in various game situations.
Power Shooting Exercise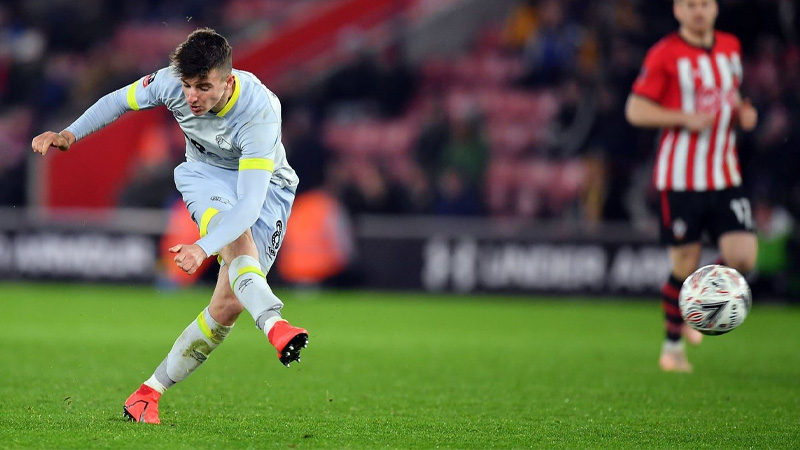 Source: upper90football
The Power Shooting Exercise focuses on developing players' ability to strike the ball with immense power and velocity. Players take shots from various distances, aiming to drive the ball with maximum force into the net.
This drill not only enhances shooting power but also improves a player's balance and composure under pressure. Powerful shots can be a game-changer, breaking through the opposition's defense and catching the goalkeeper off guard, making this drill an indispensable part of any striker's training routine.
Shooting Accuracy Challenge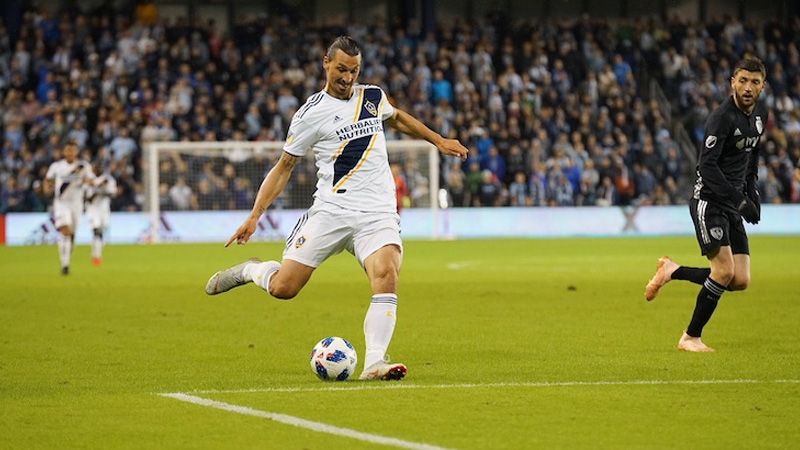 Source: soccertoday
The Shooting Accuracy Challenge is a fun and competitive drill that hones players' shooting accuracy. Players aim to hit specific targets within the goal, testing their ability to place shots precisely. Coaches can set up different target zones or place markers in the corners of the goal to challenge players' accuracy from various angles.
This drill encourages players to remain composed and focused while shooting, ensuring they can consistently find the corners and increase their chances of converting scoring opportunities during games.
Shooting Under Pressure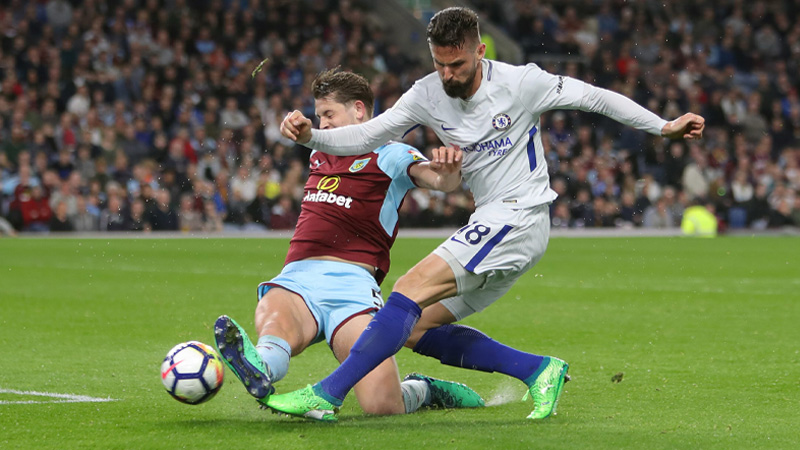 Source: statsbomb
Shooting Under Pressure is a realistic and game-simulated drill that prepares players to perform in high-pressure situations. Defenders or goalkeepers apply pressure on the shooting player, simulating the challenges faced during actual match scenarios.
This drill forces players to think quickly, stay composed, and execute accurate shots while facing opposition pressure.
Practicing Shooting Under Pressure helps players build confidence in their shooting abilities, ensuring they can remain composed and make better decisions when presented with goal-scoring chances during competitive matches.
Shooting from Different Angles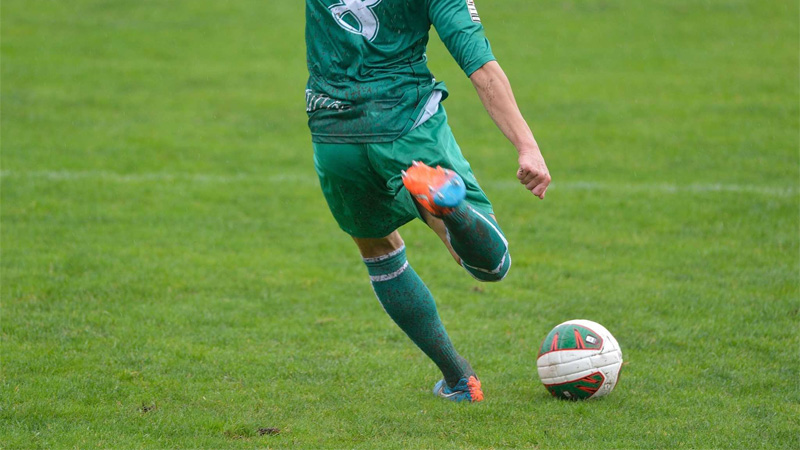 Source: completesoccerguide
The Shooting from Different Angles drill aims to improve players' versatility in shooting from varying positions around the goal. Players take shots from different angles and distances, including tight angles and wide positions.
This drill enhances players' adaptability, enabling them to confidently score from challenging angles during real game situations.
Additionally, it helps players develop a better understanding of the goal's dimensions, making them more adept at exploiting gaps in the defense and finding the back of the net with precision.
1v1 Shooting Duel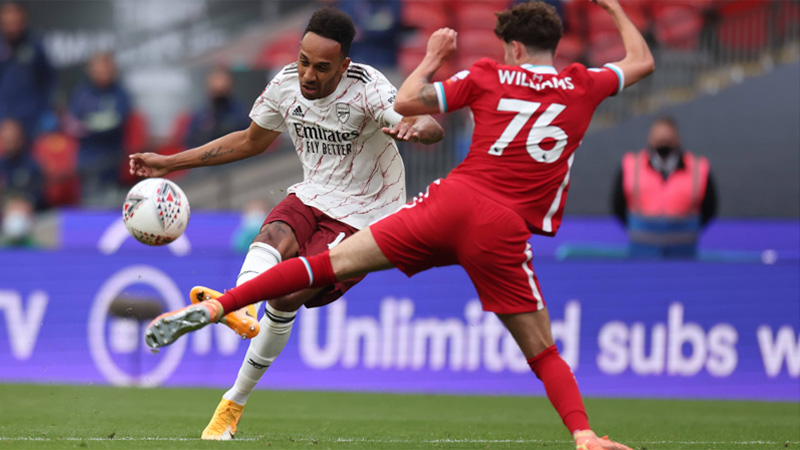 Source: transfermarkt
The 1v1 Shooting Duel is a dynamic drill that sharpens a player's shooting accuracy and composure in one-on-one situations with the goalkeeper. In this exercise, a player faces off against a goalkeeper with the objective of scoring a goal.
It not only refines shooting technique but also enhances decision-making under pressure. Players must choose the right moment to shoot, observing the goalkeeper's positioning and exploiting any openings.
This drill simulates real-game scenarios where players often find themselves in direct confrontations with the goalkeeper, making it an essential practice to boost scoring capabilities on the field.
Bending the Ball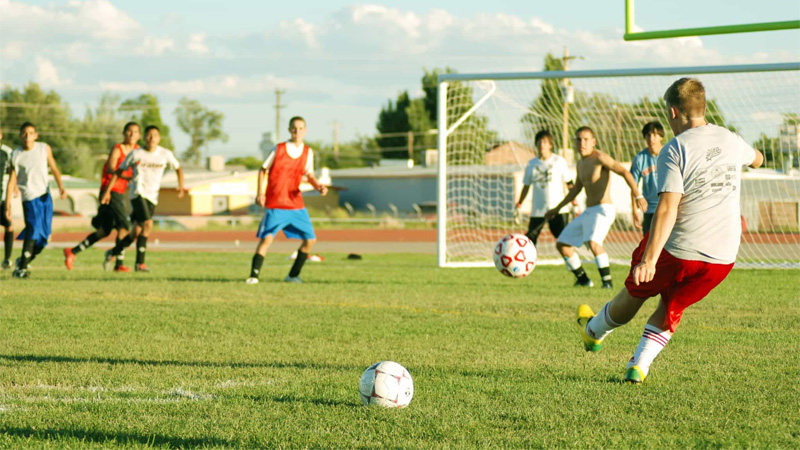 Source: completesoccerguide
Bending the Ball, also known as "curving" or "curling" the ball, is a skillful shooting technique that adds finesse and unpredictability to a player's shots. In this drill, players focus on using the inside or outside of their foot to apply spin on the ball, causing it to curve in mid-air toward the target.
It requires precise foot positioning, body alignment, and striking the ball cleanly. Mastering this technique allows players to bend shots around defensive walls or past diving goalkeepers, providing a potent offensive weapon in their shooting arsenal.
Weak Foot Shooting Practice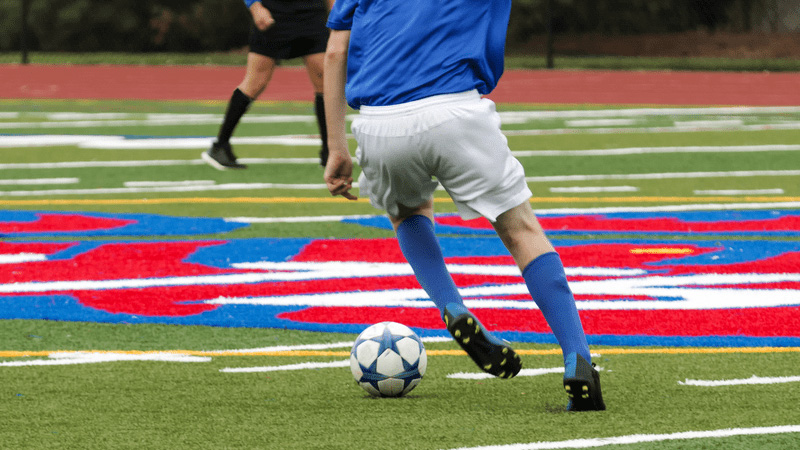 Source: coachup
A player's weak foot should never be underestimated, and the Weak Foot Shooting Practice drill is designed to improve proficiency with both feet. Players perform shooting exercises using their non-dominant feet to develop confidence and accuracy.
Regularly practicing with a weak foot leads to a balanced attacking threat and ensures that goal-scoring opportunities are not limited to the dominant side. It's a crucial drill for becoming a well-rounded and unpredictable striker capable of finishing chances from any angle on the field.
Overcoming Defenders and Shooting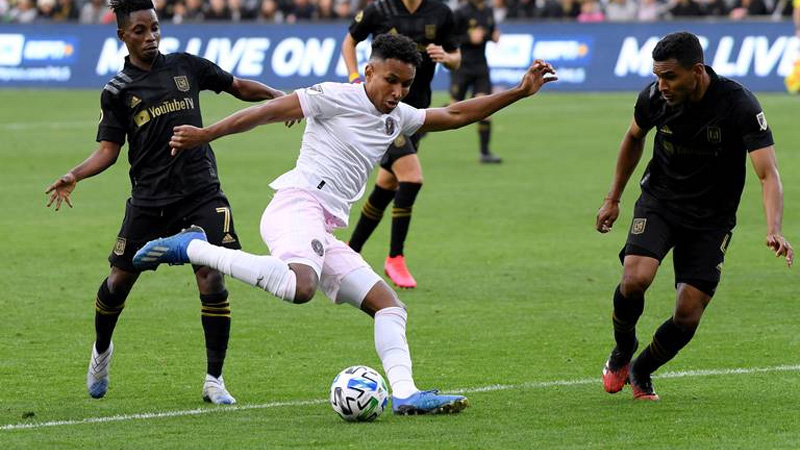 Source: miamiherald
In the Overcoming Defenders and Shooting drill, players work on their shooting skills while facing defensive pressure. A coach or teammate acts as a defender, challenging the player attempting to score.
This drill enhances a player's ability to maintain ball control, change direction, and create space to take a shot despite defensive interference. By combining shooting with dribbling and evasion, players become adept at breaking through defensive lines and finding the net even under challenging circumstances.
Shooting in Traffic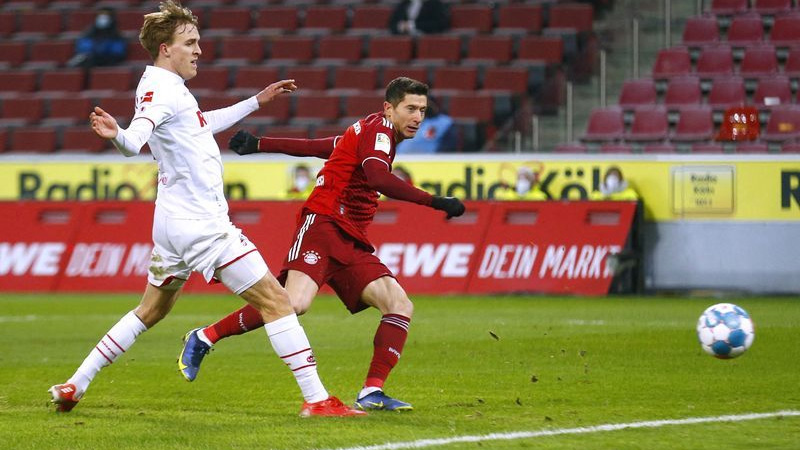 Source: thestar
Shooting in Traffic is a valuable drill that prepares players to handle congested penalty areas during matches. It involves setting up a scenario where several defenders are positioned to block the shot, simulating a crowded goalmouth situation.
Players practice quick decision-making, finding shooting lanes, and using precision to navigate through the crowd of defenders. This drill improves a player's ability to score amidst the chaos, providing a significant advantage when opportunities arise in tightly contested matches.
Goalkeeper vs. Striker Shooting Battle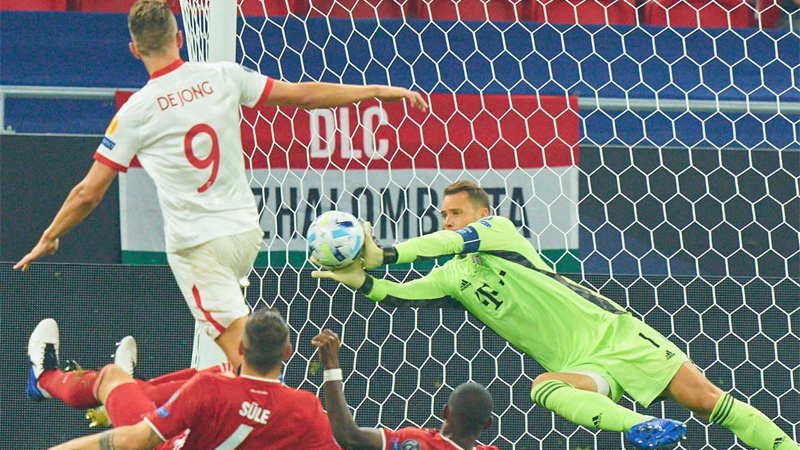 Source: fcbayern
The Goalkeeper vs. Striker Shooting Battle drill is an engaging and competitive exercise that pits shooters against goalkeepers in a series of shooting challenges. Players take turns as shooters and goalkeepers, competing to score or make saves.
This drill benefits both shooters, who refine their shooting accuracy and power, and goalkeepers, who enhance their reflexes and shot-stopping abilities. The friendly competition fosters a challenging yet fun atmosphere that motivates players to push their limits and improve their shooting skills.
Moving Target Shooting Drill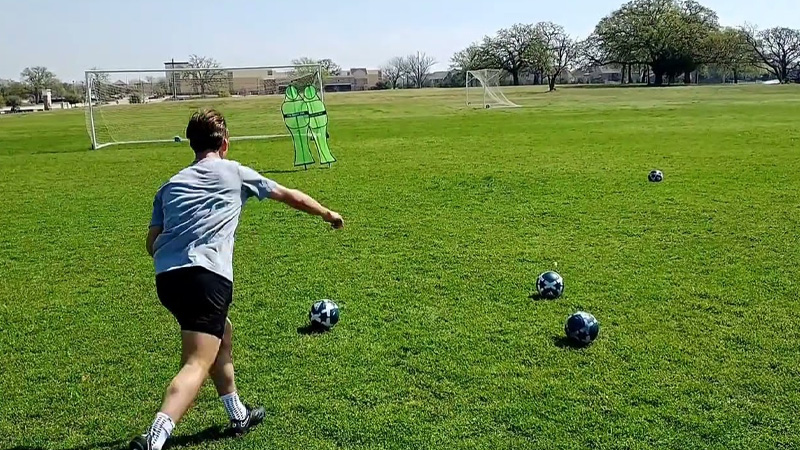 Source: gftskills
The Moving Target Shooting Drill adds an element of unpredictability to shooting practice by involving moving targets. Players shoot at targets or cones that are set in motion by a coach or another player.
This drill improves a player's ability to adjust their shooting technique and timing based on the target's movement. It is particularly beneficial for developing instinctive shooting skills, as players must react quickly and accurately to hit the moving targets.
FAQs
How can these shooting drills benefit my soccer performance?
These shooting drills offer numerous benefits. They help improve shooting technique, footwork, and goal-scoring confidence. Regular practice enhances your ability to find the corners of the net with precision and deliver powerful shots.
Moreover, these drills simulate game scenarios, preparing you to handle shooting opportunities under pressure during matches.
Can these shooting drills be practiced alone or require teammates?
Many of these shooting drills can be practiced alone, making them ideal for individual training sessions.
However, involving teammates, defenders, or goalkeepers in some drills adds realism and increases the challenge. Team-based drills also promote coordination and communication among players during goal-scoring situations.
Are these shooting drills suitable for players of all levels?
Absolutely! Our Soccer Shooting Drills List includes exercises tailored to cater to players of all levels, from beginners to advanced. Each drill can be adapted to match individual skill levels, making them accessible and beneficial for players looking to improve their shooting abilities at any stage of their soccer journey.
How often should I incorporate these shooting drills into my training routine?
The frequency of practicing these shooting drills depends on your training schedule and personal goals. To see a significant improvement, aim to incorporate shooting drills into your training routine at least 2-3 times per week.
Consistent practice and dedication are key to becoming a more proficient goal-scorer.
Can goalkeepers benefit from these shooting drills as well?
Absolutely! Many shooting drills involve goalkeepers, allowing them to enhance their shot-stopping abilities and improve their reflexes.
For goalkeepers aspiring to become more well-rounded players, these drills offer valuable training opportunities to handle various types of shots and build confidence in dealing with challenging shooting situations.
End Call
Mastering soccer shooting is a game-changer for any player, and our Soccer Shooting Drills List provides a comprehensive resource to achieve just that.
By dedicating time to these dynamic exercises, you'll refine your shooting accuracy, develop more powerful strikes, and cultivate the composure needed to score crucial goals.
Whether you're an aspiring goal machine or a team's go-to striker, these drills will undoubtedly elevate your goal-scoring prowess and make you a force to be reckoned with on the pitch. So, lace up your boots, grab a ball, and let these shooting drills propel you to new heights of soccer excellence!
Similar Posts:
How To Hit A Two Handed Forehand?
Hitting a two-handed forehand is an important part of tennis. It's a great weapon to use against your opponents when you're in control of the point and need to take the ball away from them.
What Is A Pepper Game In Baseball?
Baseball, known as America's pastime, has a rich history filled with various traditions and unique games. One such game is the "pepper game," which has captivated players and fans alike for generations.
In this comprehensive guide, we will delve into the intricacies of the pepper game in baseball, exploring its origins, rules, benefits, and even the reasons behind its banishment from certain ballparks.
By the end, you will have a thorough understanding of this beloved baseball activity.
American Football Boots Vs Soccer Boots
There are a few key differences between American football boots and soccer boots. First, American football boots typically have a heavier construction than soccer boots, which is necessary in order to absorb more impact when players are running with the ball.
What Is A Junk Ball In Tennis?
A junk ball in tennis is a ball that does not meet the required standards for play. These balls are typically used by beginners and low-level players because they are easier to handle and do not bounce as high as other types of balls.
What Is The Curve In Football?
There is a curve in football which affects the trajectory of the ball. This curve, or "s-curve" as it is commonly referred to, makes the ball travel further than if it were round.
How To Remove A Graphite Golf Shaft?
If you're having trouble removing a golf shaft from the ball, try using boiling water. Boil some water and pour it over the golf shaft.