In most countries, we call it soccer. But for common people, it's football.
Soccer/ Football is undeniably the most popular sport worldwide (except in America). In the world cup of 2018, over 4 billion people enjoyed the sport!
One of the primary reasons why the game is so famous is the high stake moves and the level of thrill it offers.
One such move is the Slide Tackle in Soccer. So, what is slide tackle? We bet not all the people from the 4 billion clearly know it too!
Let's learn more about this defensive strategy in soccer. By the end of this article, you will understand the slide tackle in soccer and how players perform it on the field!
Slide Tackle in Soccer
It's in the name! The slide tackle in soccer is a defensive strategy. To perform the trick, a player spreads his one leg and slides the surface near his opponent.
What he target? By doing the slide tackle, he aims to reach the ball and throw it away from the possession of the opposition player.
It often comes as the last-ditch effort to prevent an opponent from a dangerously scoring position. No deny! The move looks handsome too!
A successful slide tackle can turn the momentum of a game, while a poorly executed one can result in penalties, injuries, or even being sent off the field.
N'Golo Kanté from Chelsea is best known for the highest slide tackle (90) in FIFA 22, followed by María Giménez from Atlético Madrid.
In the next part, we will dive into the details of how a player can effectively perform the slide tackle in Soccer. Hop in with us!
How to Slide Tackle in Soccer
Follow the few steps with us to perform the slide tackle efficiently, effectively, and, most significantly, safely.
Step 1: Run Along With Your Opponent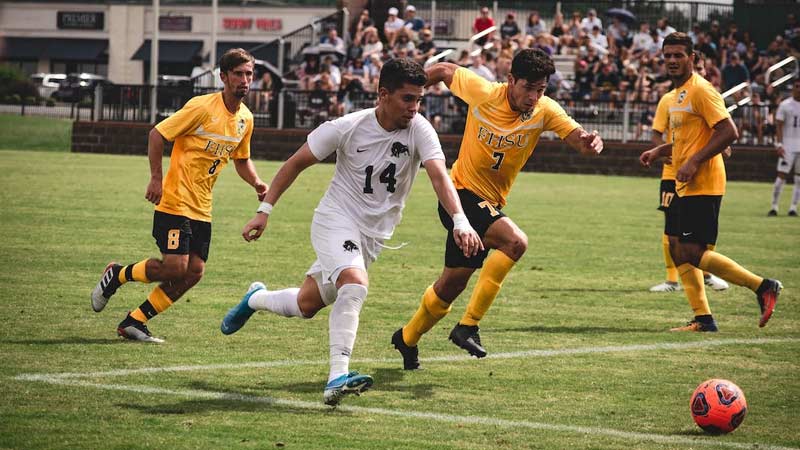 The act starts with chasing the ball! One of the fundamental rules of slide tackle is, you can't tackle from behind. You can tackle from the front or proceed forward but never from behind.
Slide tackling from behind is illegal in soccer. That's why you need to sync with the opponent. Otherwise, they will try to get in front of you.
Your opponent can at best be about 1 step ahead of you but never more, or get ready to be prized with a card.
Step 2: Lock the Ball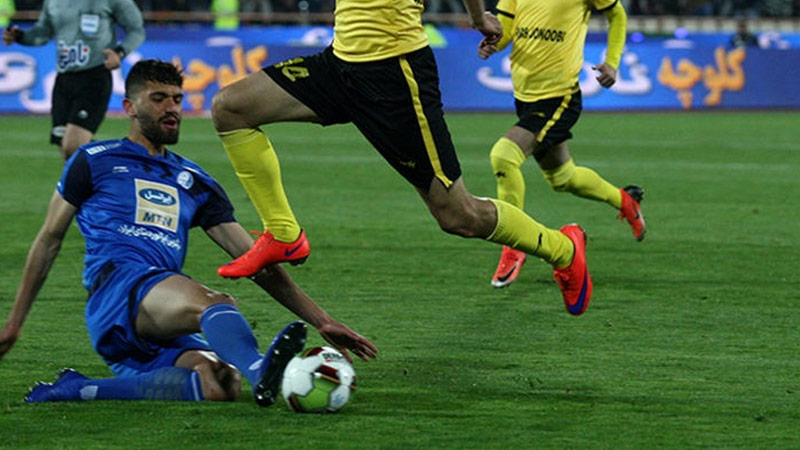 Source: wikipedia.org
The entire point of football or any other sport is to track the ball. With eyes locked on the ball, you have better chances to snatch it away from your opponent.
Don't let your opponent learn about your next move as it will help him just to plan one step ahead of you.
It is recommended to apply slide tacking as your last resort in the sport! Potential risk involves the move! Thus, if you can prevent your opponent from any other means, you should before jumping into slide tackling.
Perform the slide tackle when the ball is away from your opponent and he is targeting to throw. You will have better scopes to steal the ball successfully.
Step 3: Plan Ahead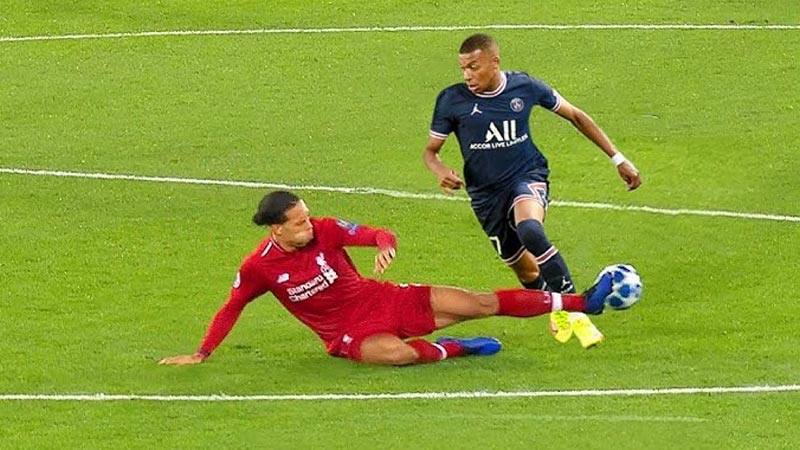 A slide tackle becomes successful only when you can steal the ball away from your opponent. This trick can be efficient to gain possession of the ball when you apply it right!
After you steal the ball, what you do with it, should be planned early. You can map to deliver the ball and surprise your opponent to eliminate any risk of getting it back.
Remember, what you do with the ball significantly affects the way you tackle the ball.
You don't have to be as precise if you want to simply kick the ball away from your opponent. But in case you want to keep possession of the ball and march forward, you should be able to strongly control the ball.
Step 4: Locate Yourself In the Field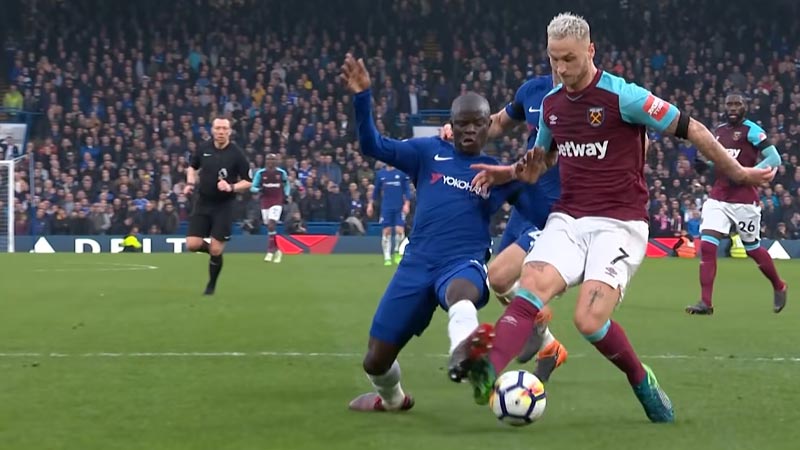 The middle field might not be the best place to initiate the slide tackle. You should also arrange help nearby from one of your teammates.
A solid formation can increase the success rate of this defensive strategy. Also, keep the rest of the area in your side view to better understand what you are dealing with.
You may lose the ball involuntarily when you are performing the slide tackle out of bounds.
Here's the entire process of planning your slide tackle to securing the ball. But, how to deliver a successful tackle? Keep reading and find out!
How to Deliver A Successful Tackle?
Here's what you have to do to deliver a 95% successful Slide Tackle.
Which of your leg is close to your opponent? We asked this because the leg close to your opponent provides you with a higher advantage.
Use it and you can stand up quickly after performing the slide tackle. The bent leg will help you get back on your feet immediately after the tackle.
Also, you can land directly on your leg. Just keep your leading foot a little bit outside of your body.
Additionally, use the leg that's far from your opponent to slide. You can have solid control. Want to know how? Use the leading leg to reach the ball and confirm a successful tackle!
Remember these two key points while delivering a perfect slide tackle,
Bend the leg close to your opponent.

Spread the other leg to slide with it and connect the ball.
You must perform the slide tackle in motion always. There is no such thing as a stationary slide tackle. It has to be done while you are running along with your opponent (not behind).
Closing Words
Here's our final discussion on slide tackle in soccer. To be specific, slide tackle is a smart strategy but experts suggest applying it only when there is a solid reason and confirmation of success.
Otherwise, better try the genuine moves to steal the ball and be safe on both sides.
Please let us know in the comment what you think of this defensive move in soccer. Is it an effective strategy? Or the risk involved is not worth taking any chances? Let us know what you think!
Also, don't forget to share our article with other football lovers. Enjoy the game!
Similar Posts:
American Football Boots Vs Soccer Boots
There are a few key differences between American football boots and soccer boots. First, American football boots typically have a heavier construction than soccer boots, which is necessary in order to absorb more impact when players are running with the ball.
Can You Wear Metal Cleats On Turf?
Metal cleats are not typically recommended for use on turf because they can damage the surface. They are also susceptible to rust and other corrosion, so be sure to clean them after every use.
What Is The Curve In Football?
There is a curve in football which affects the trajectory of the ball. This curve, or "s-curve" as it is commonly referred to, makes the ball travel further than if it were round.
Can You Wear Molded Cleats On Turf?
No, you cannot wear molded cleats on turf. Molded cleats are designed for use on hard surfaces like concrete and asphalt, and they can damage the surface of a turf field.
How To Hit A Two Handed Forehand?
Hitting a two-handed forehand is an important part of tennis. It's a great weapon to use against your opponents when you're in control of the point and need to take the ball away from them.
Can You Wear Football Cleats For Rugby?
There is some debate about whether or not football cleats should be worn when playing rugby. The main concern is that the cleats may cause injuries to players' feet, ankles, and shins.