Jadon Malik Sancho is a professional footballer from England. He was born on March 25, 2000, in Camberwell, London. Sancho is a winger who currently plays for Manchester United and wears the number 25 jersey.
He started his youth career in Watford and then moved to Manchester City. In 2017, he signed with Borussia Dortmund, where he played for four seasons before moving to Manchester United in 2021. Sancho has represented the England U16, U17, U19, and senior national teams.
He has won several honors throughout his career, including the FIFA U-17 World Cup in 2017 with the England U17 team.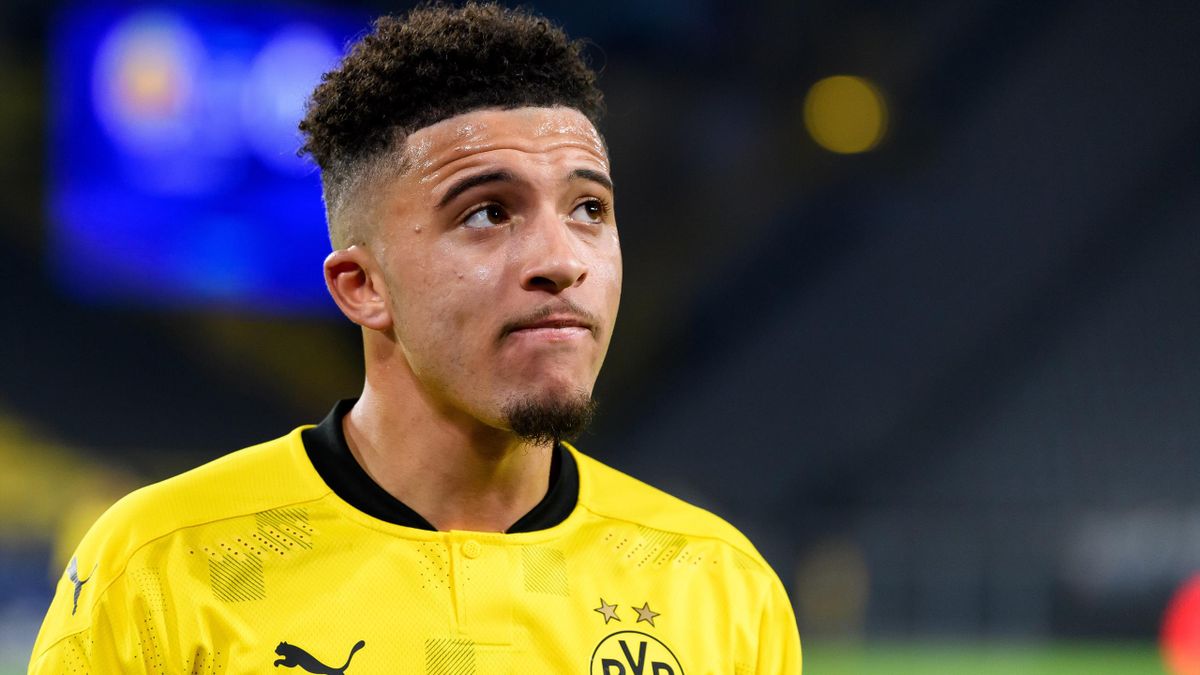 Personal Information of Jadon Sancho
| | |
| --- | --- |
| Real Name/Full Name | Jadon Malik Sancho |
| Age | 22 years old |
| Birth Date | Mar 25, 2000 |
| Birth Place | Camberwell, England |
| Nationality | English · British |
| Height | 5′ 11″ |
| Weight | 162 pounds |
| Marital Status | Not Married |
| Net Worth | $8 million |
Stats
offensive
| season | Team |
| --- | --- |
| 2022-23 English Premier League | |
| 2021-22 English Premier League | |
| STRT | FC | FA | YC | RC | G | A | SH | ST | OF |
| --- | --- | --- | --- | --- | --- | --- | --- | --- | --- |
| 20 | 9 | 10 | 0 | 0 | 5 | 3 | 19 | 8 | 2 |
| 20 | 4 | 7 | 0 | 0 | 3 | 3 | 26 | 9 | 3 |
Early life
Jadon Sancho was born in Camberwell, a locality in Greater London. He was brought up in Kennington which is a neighbourhood located in South London. His father hailed from Trinidad and Tobago while his mother was English.
Sancho grew up loving football and was a Chelsea supporter. Among his idols in football were Ronaldinho and Frank Lampard. He played in youth tournaments together with his friend, Reiss Nelson, who was also an aspiring footballer residing near his home.
Sancho's childhood friend and he shared the same ambition of wanting to become successful footballers in the future. Despite facing various obstacles, he remained positively focused on his passion for football.
Sancho's passion for football was unwavering throughout his early life in London. It was this perseverance to achieve his dreams of becoming a top footballer that laid the foundation of a bright career for him.
Club career
Jadon Sancho's club career began at the age of seven when he joined Watford. However, due to commuting issues, he had to move in to accommodation provided by the club and attend Harefield Academy as a boarder at the age of 11.
He developed his game while playing for the Watford under-15s and expressed his desire to represent England at the age of 14. Later, Borussia Dortmund signed him in 2017, hoping he would become a star.
Sancho quickly established himself as one of the most exciting young talents, winning the Bundesliga title in his second season with the club. He went on to score important goals for Dortmund and became a key player under head coach Lucien Favre.
He has scored 50 goals and provided 57 assists in 137 appearances for the Black Yellow. Currently, he is one of the most sought-after players in Europe, with top clubs like Manchester United and Chelsea interested in signing him.
The 21-year-old winger's blistering speed, dribbling ability, and clinical finishing make him an asset to any team he plays for.
International career
Jadon Sancho, a professional footballer, had an impressive international career. He was chosen to play for England's youth teams when he was under-16, under-17, and under-19 years old.
Sancho's exceptional skills as a player were recognized by the English football association, which gave him an opportunity to showcase his abilities on the international stage.
Sancho's performances for the English youth teams were remarkable, and he soon became one of the most exciting prospects in English football. Sancho's potential was evident, and he quickly became a fan favorite among the English supporters.
Sancho's consistent performances for the youth English squad prompted the senior team's coach, Gareth Southgate, to include him in the senior team. Sancho has since gone on to represent his country in several international matches, where he has showcased his immense talent to the world.
Sancho's international career has been one of the most impressive in recent times, and he has undoubtedly become one of England's most promising young footballers.
Net Worth
Jadon Sancho is one of the most talented and exciting young players in world football. The 23-year-old winger plays for Manchester United in the Premier League and the England national team.
He joined United from Borussia Dortmund in 2021 for a fee of 85 million euros, making him one of the most expensive transfers in history. Sancho has a net worth of around 25 million dollars, according to various sources.
He earns a weekly salary of 350,000 pounds at United, which amounts to 18.2 million pounds a year. Sancho also has endorsement deals with Nike and EA Sports, among others, which add to his income and popularity.
Sancho started his career at Watford's academy before moving to Manchester City in 2015. He then moved to Dortmund in 2017, where he established himself as one of the best players in the Bundesliga.
He scored 50 goals and provided 64 assists in 137 games for Dortmund. He also won two German Cups and a German Super Cup with the club. Sancho made his debut for England in 2018 and has since earned 23 caps and scored three goals for his country.
He was part of the squad that reached the final of Euro 2020, where he missed a penalty in the shootout against Italy.
Style of play
Jadon Sancho is a versatile player who can operate as a second striker or a wide midfielder. He is known for his dynamic attacking ability and can play on either wing of the attack. Sancho's style of play is characterized by his excellent dribbling skills and his ability to take on defenders with ease.
He is also a good passer of the ball and has the ability to create chances for his teammates. Sancho is a key component of Borussia Dortmund's young player project, which focuses on developing young talent.
This project has helped Sancho to thrive alongside other talented young players like Erling Haaland, Gio Reyna, and Jude Bellingham. Sancho is an intelligent player who is always aware of his surroundings and can read the game well.
He has a good understanding of space and knows how to exploit it to his advantage. Sancho's pace and trickery make him a dangerous attacking threat that defenders have to be wary of.
Overall, Sancho is an exciting player to watch and is a crucial player for both Borussia Dortmund and the England national team.
Career statistics
Jadon Sancho is an English soccer player who currently plays for Borussia Dortmund. He was born on March 25, 2000, in London, England. Sancho began his youth career with Watford before joining Manchester City in 2015.
In 2017, Sancho signed a four-year contract with Borussia Dortmund. He has since become a key player for the German club, scoring numerous goals and providing assists for his teammates.
Sancho's impressive performances earned him the Bundesliga's Player of the Month award in October 2018.In the 2019-2020 season, Sancho scored 17 goals and provided 16 assists in 32 league appearances.
He also helped Dortmund reach the final of the DFB-Pokal, where they were defeated by Bayern Munich. Sancho has also represented the England national team, making his debut in October 2018. He has since scored three goals and provided five assists in 18 appearances for his country.
Overall, Sancho's career statistics are impressive, with over 100 goal involvements in his professional career so far. He is considered one of the brightest young talents in European football and is coveted by several of the continent's top clubs.
To Recap
Jadon Sancho is a 22-year-old English professional footballer who plays as a winger for Manchester United. He was born on March 25, 2000, in Camberwell, London. Sancho started his youth career at Watford and then moved on to Manchester City.
He has played for Borussia Dortmund in the past and helped them win the DFL-Supercup in 2019. Sancho has also played for the England national team, earning 23 caps and scoring 3 goals.
He was part of the U-17 team that won the FIFA U-17 World Cup in 2017 and the U-17 team that was runner-up at the UEFA European Championship in 2020.
Similar Posts:
Can You Wear Football Cleats For Rugby?
There is some debate about whether or not football cleats should be worn when playing rugby. The main concern is that the cleats may cause injuries to players' feet, ankles, and shins.
How To Cut Down A Golf Club Shaft?
If you have a golf club shaft that's too long, or if you want to shorten it, here are the steps:
1. Remove the club head.
American Football Boots Vs Soccer Boots
There are a few key differences between American football boots and soccer boots. First, American football boots typically have a heavier construction than soccer boots, which is necessary in order to absorb more impact when players are running with the ball.
What Is The Curve In Football?
There is a curve in football which affects the trajectory of the ball. This curve, or "s-curve" as it is commonly referred to, makes the ball travel further than if it were round.
How To Clean Leather Golf Grips?
If your golf grips are dirty and stained, you'll need to clean them. Here's how:
1) Pour a small amount of mild soap into a bowl or cup.
How To Add Length To Golf Clubs?
Adding length to golf clubs is a very simple process that can have a great impact on your game. By increasing the club's loft, you'll increase the distance it will travel and improve your accuracy.