Iker Casillas is a retired Spanish football player. He was born in Madrid in 1981 and played as a goalkeeper. Casillas began his professional career with Real Madrid in 1999 and played for the club till 2015.
In 2015, he moved to Porto where he spent the rest of his career. Casillas played for the Spanish national team from 2000 to 2016 and represented them in 167 matches.
He won several titles with Spain including the European Championship in 2008 and 2012, FIFA World Cup in 2010, and FIFA U-20 World Cup in 1999.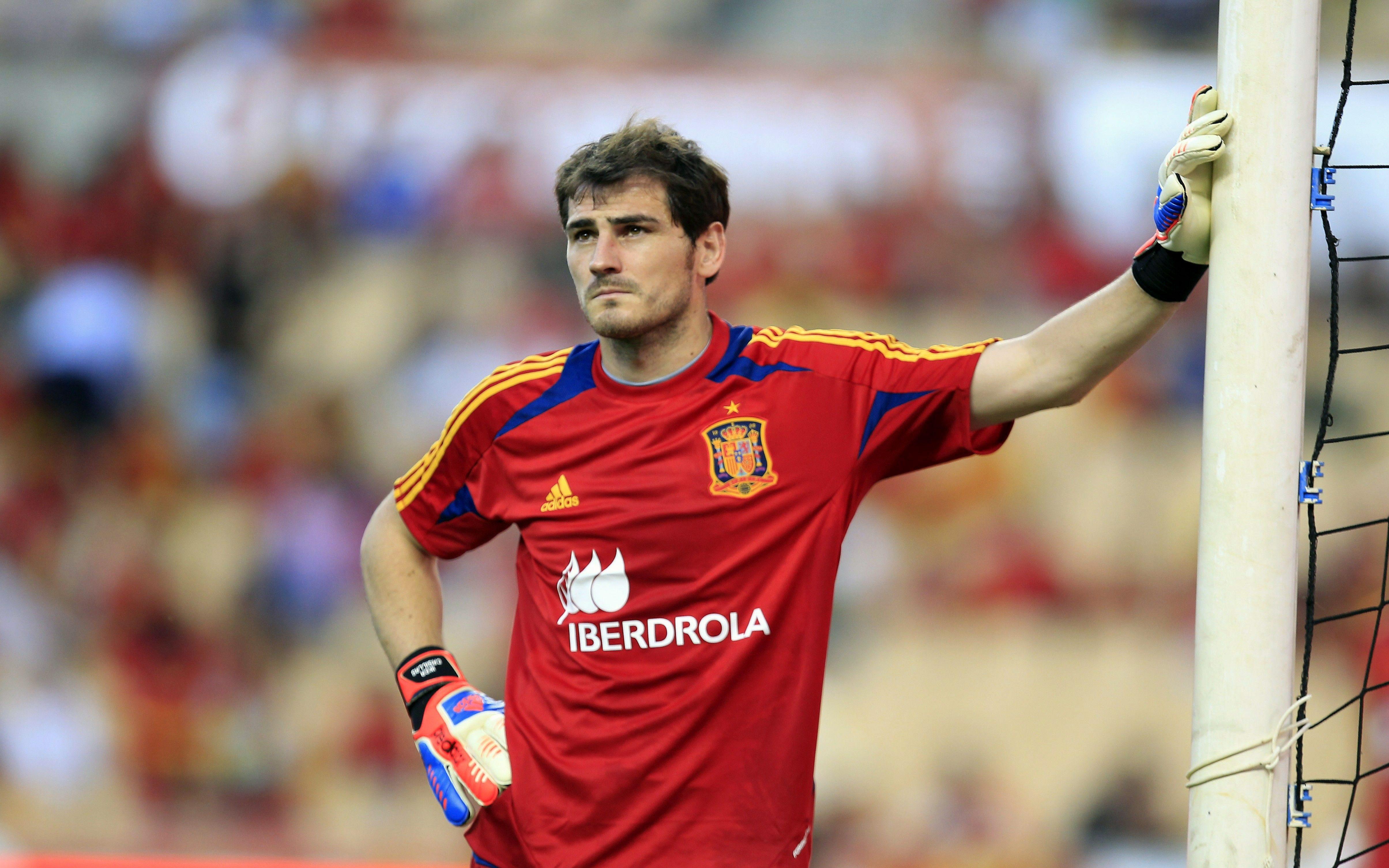 Personal Information of Iker Casillas
| | |
| --- | --- |
| Real Name/Full Name | Iker Casillas Fernández |
| Birth Date | May 20, 1981 |
| Birth Place | Móstoles |
| Nationality | Spain |
| Height | 1.85 m |
| Weight | 84 kg |
| Marital Status | Sara Carbonero |
| Wife/Spouse (Name) | Sara Carbonero |
Stats
offensive
| season | Team |
| --- | --- |
| 2018-19 Portuguese Liga | |
| 2017-18 Portuguese Liga | |
| 2016-17 Portuguese Liga | |
| 2015-16 Portuguese Liga | |
| STRT | FC | FA | YC | RC | G | A | SH | ST | OF |
| --- | --- | --- | --- | --- | --- | --- | --- | --- | --- |
| 31 | 0 | 8 | 4 | 0 | 0 | 0 | 0 | 0 | 0 |
| 19 | 0 | 2 | 0 | 0 | 0 | 0 | 0 | 0 | 0 |
| 33 | 0 | 6 | 2 | 0 | 0 | 1 | 0 | 0 | 0 |
| 32 | 0 | 0 | 1 | 0 | 0 | 0 | 0 | 0 | 0 |
goalKeeping
| season | Team |
| --- | --- |
| 2018-19 Portuguese Liga | |
| 2017-18 Portuguese Liga | |
| 2016-17 Portuguese Liga | |
| 2015-16 Portuguese Liga | |
| CS | SV | GA |
| --- | --- | --- |
| 18 | 48 | 19 |
| 11 | 11 | 10 |
| 19 | 57 | 16 |
| 13 | 0 | 28 |
Early life
Iker Casillas was born in Móstoles, Madrid in 1981. His father, José Luis Casillas, worked as a civil servant in the Ministry of Education. His mother, María del Carmen Fernández González, was a hairdresser.
Both of his parents came from Navalacruz, Ávila. Casillas grew up in a comfortable middle-class family. As a child, he was very active and loved to play football. He joined his local club, Unión Deportiva Móstoles, when he was just 5 years old.
Casillas showed great potential as a goalkeeper and was scouted by Real Madrid when he was just 9 years old.
He joined the club's youth academy, La Fábrica, and began to develop his skills. Casillas's early life was focused on football, and he trained diligently to improve his game.
Despite being a talented goalkeeper, Casillas remained humble and grounded throughout his early years. His dedication and hard work paid off when he made his debut for Real Madrid at the age of just 16.
Overall, Iker Casillas's early life was defined by his love of football and his commitment to developing his skills as a goalkeeper.
Club career
Iker Casillas started his club career in Real Madrid. He joined their youth system, known as La Fábrica, during the 1990–91 season. Even though he was first called up to the senior team squad at the age of 16 to face Rosenborg, he remained on the bench throughout.
He spent a season with the C-team in the fourth tier, during which they won their regional group. Casillas came into contention as the club's first-choice goalkeeper in the following season.
He became the youngest goalkeeper ever to feature in the UEFA Champions League group stage fixture against Olympiakos in the 1999-2000 season when he was 18 years old.
He made his La Liga debut in a 2–2 draw against Athletic Bilbao at San Mamés Stadium. Casillas became the youngest ever goalkeeper to play and win a Champions League final when Real Madrid defeated Valencia 3–0, just four days after his 19th birthday.
These achievements established him as the star of the club, and he continued to mesmerize fans with his incredible saves and reflexes.
In his career at Real Madrid, Casillas won five La Liga titles, two Copa del Rey titles, four Supercopa de España titles, one UEFA Super Cup, and three UEFA Champions League titles, including one where he captained the team to victory.
International career
Iker Casillas' international career began with the Spanish under-17 team. At just 16 years of age, he debuted for his country and helped lead them to a third-place finish in the FIFA U-17 World Championship in Egypt.
In recognition of his leadership skills, he was appointed as the captain of the team. Casillas' international breakthrough came in 1999 when he helped Spain to win both the FIFA World Youth Championship and the UEFA–CAF Meridian Cup.
Although he was initially a backup player for the senior team, he quickly impressed with his performances at club level and earned his first senior cap. Over the course of his international career, Casillas would establish himself as one of the greatest goalkeepers in Spain's history.
He played a key role in Spain's success at the 2010 World Cup, where he made important saves in their victory over the Netherlands in the final. He also helped Spain win the 2008 and 2012 European Championships.
Casillas' performance and leadership on the international stage have earned him widespread praise and acclaim. He is considered a legend in Spanish football and an inspiration to aspiring young goalkeepers around the world.
Net Worth
Iker Casillas is a former Spanish footballer who played as a goalkeeper for Real Madrid, Porto and the Spain national team. He is widely regarded as one of the best goalkeepers of all time and has won numerous trophies and awards in his career.
According to Celebrity Net Worth, Iker Casillas has an estimated net worth of $40 million as of 2021.
His main sources of income are his salary from playing football, his endorsement deals with brands like Adidas and Phillips, and his investments in various businesses and properties.
Style of play and recognition
Iker Casillas was widely considered as one of the greatest goalkeepers of all time. He was known as "San Iker" for his acrobatic and decisive saves in his youth. Casillas was a well-rounded and athletic keeper with outstanding agility, reflexes, consistency, and shot-stopping ability.
His footwork, positioning between the posts, and speed when rushing off his line was exceptional. Casillas was also known for his ability to save penalties.
He had a reserved character but was highly regarded for his strong personality, calm composure under pressure, ability to organize his defense, and leadership from the back.
Gianluigi Buffon described Casillas as the best goalkeeper of his era with his hands. He was often compared to Luis Arconada, whom he was inspired by, for his quick reactions, movement, and excellent footwork.
Casillas's playing style was described as that of a strong goalkeeper who leaps well and moves like a cat between the posts.
Moreover, throughout his career, he received several recognitions for his outstanding performances, including five La Liga titles, four Champions League titles, and two European Championship titles.
Sponsorship
In 2012, Iker Casillas signed a sponsorship deal with Adidas. He chose to wear their Response gloves and Predator boots. Before this deal, Casillas had been sponsored by Reebok since 2004.
During his association with Reebok, he was the face of their "I Am What I Am" global campaign in February 2005.
This campaign aimed to bring all of Reebok's marketing efforts under one umbrella. The move to Adidas marked the end of Casillas' long-standing partnership with Reebok. Since 2005, Adidas has been the parent company of Reebok.
Casillas' decision to switch to Adidas was likely due to their reputation as a top sports brand. By wearing their gloves and boots, Casillas was able to benefit from Adidas' expertise in athletic wear.
This was likely advantageous for Casillas as a professional footballer. Overall, the sponsorship deal with Adidas marked a new chapter in Casillas' sporting career.
To Recap
Iker Casillas, a retired Spanish football goalkeeper was born on May 20th, 1981 in Madrid. He began his football career in Real Madrid youth academy and played for the club from 1998 to 2015, making 510 appearances.
He then played for Porto from 2015 to 2020, making 116 appearances. Casillas played for Spain's national team from 2000 to 2016 and won several championships, including the FIFA World Cup in 2010 and the UEFA European Championship in 2008 and 2012.
Casillas is regarded as one of the greatest goalkeepers of all time, winning numerous individual awards and setting records in his career.
Similar Posts:
How To Tell If Golf Pride Grips Are Fake?
Golf Pride Grips are a well-known brand of golf club grips and they are often considered to be one of the best around. However, it's important to be aware that not all Golf Pride Grips are legitimate.
How To Cut Down A Golf Club Shaft?
If you have a golf club shaft that's too long, or if you want to shorten it, here are the steps:
1. Remove the club head.
How To Clean Leather Golf Grips?
If your golf grips are dirty and stained, you'll need to clean them. Here's how:
1) Pour a small amount of mild soap into a bowl or cup.
How To Add Length To Golf Clubs?
Adding length to golf clubs is a very simple process that can have a great impact on your game. By increasing the club's loft, you'll increase the distance it will travel and improve your accuracy.
Can You Wear Football Cleats For Rugby?
There is some debate about whether or not football cleats should be worn when playing rugby. The main concern is that the cleats may cause injuries to players' feet, ankles, and shins.
Titleist 913 Hybrid Adjustment Chart?
Titleist Hybrid Adjustment Chart is a handy tool that can be used by golfers to fine-tune their game. It has a stroke index and an impact index which can help you gauge the severity of your shots.