The Miami Marlins, a Major League Baseball team based in Miami, Florida, have had a complex journey in terms of popularity and fan support.
While the Marlins have experienced success on the field, including two World Series championships, they have also faced challenges in generating widespread enthusiasm and maintaining a strong fan base.
Factors such as favorability ratings, franchise value, attendance figures, and on-field performance play a crucial role in shaping the team's popularity.
In this discussion, we will explore the various aspects that contribute to the Miami Marlins' popularity, analyzing factors that have both hindered and aided their journey in becoming a beloved and successful team.
History of the Miami Marlins
The Miami Marlins, formerly known as the Florida Marlins, were established as an expansion team in 1993. They became the first MLB franchise based in Florida.
The team achieved early success by winning the World Series in their fifth season, in 1997, and again in 2003. However, the Marlins faced challenges with ownership instability, low attendance, and frequent roster changes.
In 2012, the team underwent a major rebranding, adopting the name Miami Marlins and moving to a new stadium. Under the new ownership group led by Derek Jeter, the Marlins are working to improve their performance and build a competitive team for the future.
How Popular Are the Miami Marlins?
According to a survey conducted by Statista in July 2020, the Miami Marlins had a 5% very favorable rating and a 15% somewhat favorable rating among U.S. respondents, while 7% had a very unfavorable rating and another 7% had a somewhat unfavorable rating.
The majority of respondents (49%) had heard of the team but had no opinion, while 17% had never heard of the team at all. These numbers suggest that the Marlins are not very popular or well-known nationally, compared to other MLB teams.
However, the same survey also showed that the Marlins were the most popular sports team in Florida, with 20% of respondents from the state saying they had a favorable opinion of them, followed by the Tampa Bay Lightning (NHL) with 18%, and the Tampa Bay Buccaneers (NFL) with 17%.
The survey did not include college sports teams, which are likely to have a large fan base in Florida as well. This result may seem surprising, given that Florida is home to other successful and popular sports franchises, such as the Miami Heat (NBA), who have won three championships since 2006, or the Tampa Bay Rays (MLB), who have reached the World Series twice in the last 13 years.
Why Miami Marlins Popularity So High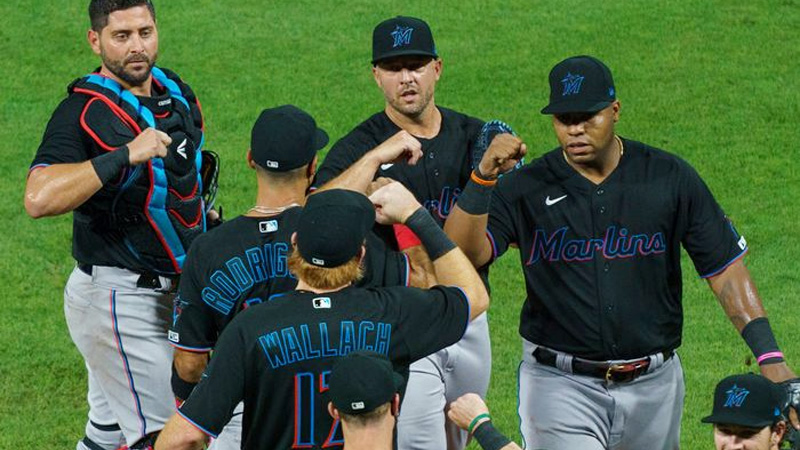 Source: wsj
there are many reasons for their success. Here are some of the factors that contribute to their high fan base and loyal supporters.
Location
Miami is a vibrant and diverse city that attracts many visitors and residents from different backgrounds and cultures. The Marlins reflect this diversity in their roster, staff, and community outreach. They also play in a modern and comfortable stadium that offers a great experience for fans of all ages.
Performance
The Marlins have been competitive and consistent in recent years, despite facing many challenges and adversities. They have made the playoffs in two of the last three seasons, and have shown resilience and determination in overcoming injuries, COVID-19 outbreaks, and roster changes. They have a talented and balanced team that can compete with any opponent in the league.
Recent Success
Success on the field can significantly impact a team's popularity. If the Marlins have been performing well in recent seasons, making the playoffs or having strong runs in the postseason, it could attract more attention and support from fans.
Emerging Talent
The presence of exciting and promising young players can generate enthusiasm among fans. If the Marlins have a crop of talented rookies or young stars who are making a big impact in the league, it can draw attention and increase the team's popularity.
Fan Engagement and Community Involvement
The Marlins' efforts to engage with fans and be active in the local community can enhance their popularity. Through outreach programs, events, and initiatives, the team can connect with their fan base and build a strong and loyal following.
Stadium Experience
The overall experience at the Marlins' home ballpark, loanDepot park (previously known as Marlins Park), can influence popularity. If the stadium offers modern amenities, a great atmosphere, and a memorable fan experience, it can attract more spectators and increase interest in the team.
Marketing and Branding
Effective marketing and branding strategies can help increase the team's visibility and reach a wider audience. Engaging social media campaigns, merchandise promotions, and partnerships with popular brands or local businesses can all contribute to raising the team's popularity.
Local Media Coverage
Positive and extensive coverage by local media outlets can boost the Marlins' popularity. Regular news updates, game analysis, and features on players and team events can keep the team in the public eye and generate interest among local fans.
Historical Significance
The Marlins have a relatively young franchise history compared to some other teams, but their two World Series championships (in 1997 and 2003) can add to their popularity. Those achievements are significant milestones in the team's history and can resonate with fans, both old and new.
Future
The Marlins have a bright future ahead of them, as they have strong and visionary leadership, a smart and creative front office, and a young and talented core of players.
They have invested in their farm system, which is ranked among the best in baseball, and have acquired some promising prospects and draft picks. They also have a loyal and passionate fan base that supports them through thick and thin.
FAQs
How many World Series championships have the Miami Marlins won?
The Miami Marlins have won two World Series championships. They won their first title in 1997 and their second in 2003.
Who is the current manager of the Miami Marlins?
As of my knowledge cutoff in September 2021, the current manager of the Miami Marlins is Don Mattingly. However, please note that this information may have changed since then.
What is the name of the Miami Marlins' home stadium?
The Miami Marlins' home stadium is called LoanDepot Park. It was previously known as Marlins Park before a naming rights agreement was signed in 2021.
Have any Miami Marlins players been inducted into the Baseball Hall of Fame?
As of my knowledge cutoff in September 2021, no Miami Marlins players have been inducted into the Baseball Hall of Fame. However, this may change in the future as players' careers progress and they become eligible for induction.
What is the team's official colors and logo?
The Miami Marlins' official colors are Miami Blue, Caliente Red, Midnight Black, and White. The team's logo features a stylized marlin fish with the team name written across it. The logo has undergone some changes over the years, with the current version introduced in 2019.
To Recap
The Miami Marlins have faced challenges in terms of popularity and fan support. Favorability ratings, franchise value, attendance figures, and on-field performance all indicate a lower level of popularity compared to many other Major League Baseball teams.
However, there are reasons for optimism. The new ownership group led by Derek Jeter brings a renewed sense of hope and a commitment to improving the team's performance and image.
The Marlins have made changes under new management and have a promising group of young and talented players.
With strategic decisions, continued development, and a focus on long-term success, the Marlins have the potential to increase their popularity and once again become a competitive force in the MLB.