Skateboarding has become a popular sport in India in recent years, and some of the best skateboarders in India have been making waves in the skateboarding community.
From seasoned veterans to young up-and-comers, these skaters have been pushing the limits of what's possible on a skateboard and inspiring others to get involved in the sport. In this article, we'll be taking a look at some of the best skateboarding players in India.
From their backgrounds to their accomplishments, these are the skaters that are paving the way for the future of skateboarding in India.
1. Avani Panchal
Avani Bharat Kumar Panchal is an Indian figure skater who hails from Vishakapatnam in Andhra Pradesh. She has achieved considerable success in the field of figure skating, particularly in pairs skating. In 2010, she won a bronze medal at the Asian Games held in Guangzhou, China.
She competed in pairs skating with her partner Anup Kumar Yama and the two of them put on a remarkable performance to secure the third-place finish.
Avani has consistently proven herself to be a formidable competitor in the field of figure skating, and her bronze medal win at the Asian Games is a testament to her capabilities and hard work.
She is one of the most respected figure skaters in India and her achievements are inspiring to many aspiring skaters.
2. Anup Kumar Yama
Anup Kumar Yama is an Indian figure and roller skater who has achieved incredible success in his field. He was recognized for his excellence in 2015 when the Indian Government awarded him the Arjuna Award. Furthermore, Anup has won numerous national titles throughout his career.
Most notably, Anup won two bronze medals at the 2010 Asian Games held in Guangzhou, China. He earned the medals in both the Men's Single Free Skating and Pairs Skating events with his partner Avani Panchal.
This was a remarkable accomplishment for Anup and his partner, as the Asian Games are one of the most prestigious events in the sport. Anup Kumar Yama is an exceptional figure and roller skater who has achieved tremendous success in his field.
He is a true testament to the power of hard work and dedication, and his accomplishments are a testament to the commitment he has put into his sport.
3. Sarvesh Amte
Sarvesh Amte is an extraordinary athlete from Belagavi, Karnataka, India. He began his career in speed skating in 2010 and has since gone on to become one of the country's most successful skaters.
In 2012, he represented India in the World Slalom Series and has since won numerous awards and accolades.
He holds more than 10 world records in the sport, which is a testament to his immense skill and dedication to the sport. Amte is a true champion of speed skating and his passion for the sport has only grown with time.
He is an inspiration to many young athletes and continues to set an example of excellence. His determination and hard work have enabled him to reach the highest levels of the sport and be a source of pride for the nation.
He is a shining example of what a person can achieve if they truly put their mind to it.
4. Dhanush Babu
Dhanush Babu is a prominent Indian speed skater who has achieved much success in the sport. He most recently had the honour of representing India in the 2019 World Roller Games held in Spain from 4 to 14 July.
This event was the biggest and most prestigious speed skating competition in the world, and saw some of the best speed skaters from across the globe compete for the top spot. Babu put in a remarkable performance and managed to make it to the finals.
This was a huge accomplishment for him, and he was one of the few Indian athletes to make it that far.
His performance was a testament to his skill and dedication to the sport, and it earned him a great deal of respect from the skating community. His accomplishment also put India on the map in the world of speed skating.
His success was widely celebrated in India, and he was seen as an inspiration to aspiring skaters.
Babu's success has also brought much needed attention to the sport in India, which has been gradually gaining more traction in recent years. Overall, Dhanush Babu's performance in the 2019 World Roller Games was a great success, and it has been an incredible journey for him so far.
His success is a testament to his hard work and dedication, and he is sure to continue achieving great things in the world of speed skating.
5. Nishchay Luthra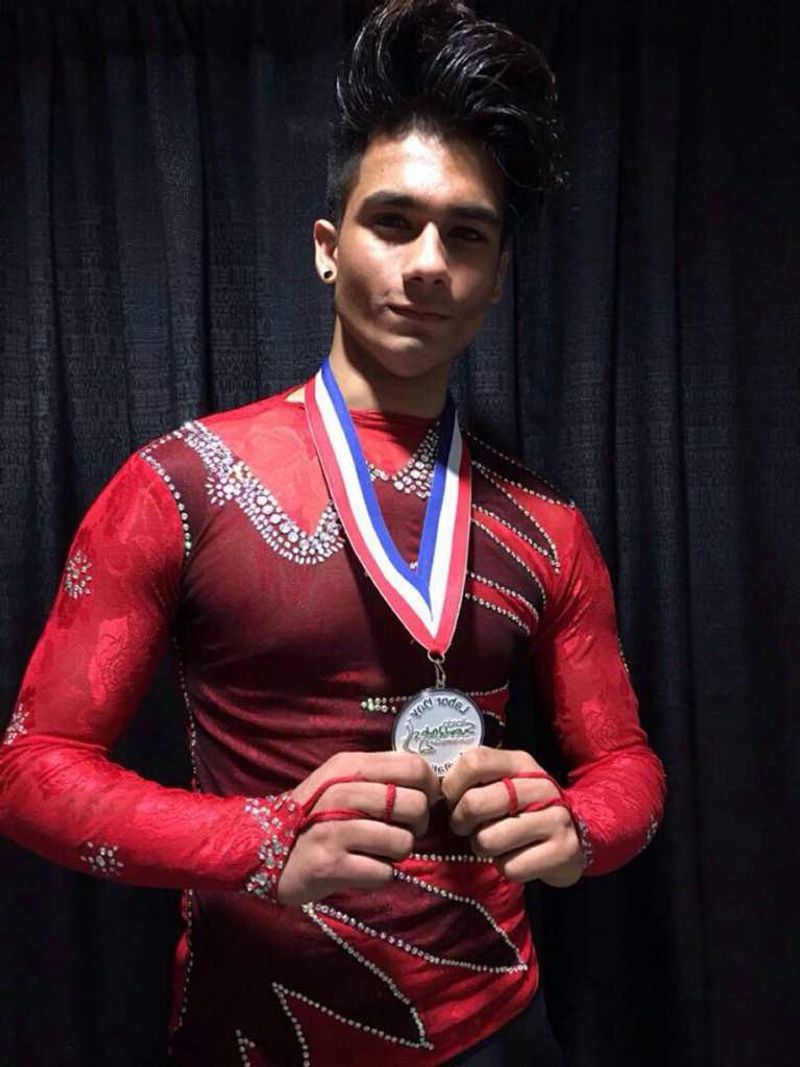 Nishchay Luthra is an Indian figure skater who has achieved great success in his sport. He has competed in men's singles and pairs competitions and has won four international medals for India.
He has also been a nine-time Indian national gold medalist, a testament to his skill and dedication to his sport. Luthra is a prominent figure in the Indian figure skating scene, and his success has helped to bring the sport to the forefront of Indian culture.
He has trained extensively in order to reach the level of success he has achieved and has earned the respect of both his peers and his competitors.
His success has served as an inspiration to aspiring figure skaters from India and has opened up new opportunities for the sport in the country. Nishchay Luthra has made a lasting impact on Indian figure skating, and his accomplishments are something to be admired.
His dedication to the sport and his willingness to give back to the community are exemplary, and his success is a testament to his hard work and dedication. He is an inspiration to many, and his success shows that anything is possible with dedication and hard work.
6. Tara Prasad
Tara Prasad is an accomplished Indian-American figure skater who has made a name for herself in the sport. She is a two-time Indian national champion and has been representing India in women's singles skating for the last few years.
Her remarkable talent has enabled her to reach the final segments of the 2022 and 2023 Four Continents Figure Skating Championships. This is an incredible accomplishment, as the competition is highly competitive and filled with top-notch skaters from around the world.
Her hard work and dedication to the sport have enabled her to rise to the top and become an example of success in the field of figure skating.
Tara Prasad is an inspiration to many aspiring skaters and her story serves as a reminder that with enough determination and dedication, anything is possible.
7. Yoniko Eva Washington
Yoniko Eva Washington is an accomplished figure skater, with an impressive career in competitive figure skating. Born in Oman and raised in the United States, she has been able to represent India in international competitions.
In 2008, she earned the Indian national silver medal and has also competed twice at the World Figure Skating Championships. Her dual citizenship, and her ability to represent both India and the United States, is a testament to her skill and determination as a figure skater.
She has worked hard to achieve her goals and is an example of what can be accomplished when one puts their passion and dedication into something. She has also inspired many young skaters to pursue their dreams and to strive for excellence in their respective sports.
Yoniko Washington is a role model for aspiring figure skaters, and her accomplishments have earned her the respect and admiration of many.
It is clear that she has a bright future ahead of her, and her dedication to the sport of figure skating is an example that should be followed.
8. Hounsh Munshi
Hounsh Munshi is a well-known former figure skater from India. She achieved the Indian bronze medalist title during the 2007-2008 season, a feat that she has been proud of ever since.
Her family originally hails from India, but she and her family relocated to Sydney, Australia prior to eventually settling in the United States. During her time as a figure skater, Munshi was coached by the renowned Tiffany Chin.
She has since retired from the sport, but her legacy still lives on.
9. Asha Gond
Asha Gond is an inspirational figure in the world of skateboarding. She hails from the Indian state of Madhya Pradesh and has achieved great heights in her field.
In 2018, she represented India at the World Skateboarding Championship, showcasing her talent and determination to the world.
Her success has made her an icon in her hometown and she has been celebrated for her achievements. In addition to her success in the sport, Asha Gond has also created a non-profit organization called Barefoot Skateboarders.
The organization is dedicated to helping those who are passionate about skateboarding but cannot afford the necessary equipment.
Asha's aim is to provide skateboarding facilities and opportunities to everyone, regardless of their socio-economic status. The story of Asha Gond's success has been the inspiration for the 2021 Netflix film, Skater Girl.
The movie is believed to be loosely based on her life and is a testament to her hard work and determination. Through her story, Asha has become an inspiration to many and has shown that anything is possible if you are willing to put in the effort.
Conclusion
Overall, it is clear that India has some of the best skateboarding players in the world. The talent and potential of these young skaters is undeniable, and they have achieved great success in the international arena.
Their commitment and dedication to skateboarding is inspiring, and their accomplishments are a testament to the greatness of Indian skateboarders.
With the continued support of the Indian skateboard community, these players will continue to take India's skateboarding scene to the next level.
Similar Posts:
What Does Sodo Mean In Seattle?
Sodo is a term that is often used in Seattle to describe the city's pressing issue of homelessness. The word "sodo" is derived from an Indian word, meaning vacant lot or open space.
How To Measure Exit Velocity With Radar Gun?
Radar guns are a great way to measure the speed of objects in the air. There are many different types of radar guns, and each has its own specific uses.
Understand Baseball Bat Numbers: What Does the Number on a Bat Mean?
In the world of baseball, the significance of the numbers etched onto a bat goes beyond mere identification. These seemingly cryptic figures, like -10 or -5, hold the key to unlocking a player's potential at the plate.
The number on a bat signifies the drop weight, a crucial factor in choosing the right equipment.
This drop weight, often misunderstood by newcomers to the game, reflects the difference between a bat's length and weight, offering insights into its characteristics and performance.
From optimizing swing speed to aligning with a player's hitting style, comprehending these numbers is a game-changer.
So, let's join us as we unravel.
Caps are the official headwear of rugby union. They protect players from injuries that could potentially end their careers, such as concussions.
How To Hit A Two Handed Forehand?
Hitting a two-handed forehand is an important part of tennis. It's a great weapon to use against your opponents when you're in control of the point and need to take the ball away from them.
What Is A Junk Ball In Tennis?
A junk ball in tennis is a ball that does not meet the required standards for play. These balls are typically used by beginners and low-level players because they are easier to handle and do not bounce as high as other types of balls.