Our favorite sport soccer has evolved a lot over time. The early days of soccer formation started with the W-M formation, during the early 20th century.
Later the 4-4-2 formation emerged and now we have Bilardo's 3-5-2 soccer formation.
The formations are like chess strategies on the soccer field. It dictates how players place themselves to optimize both defensive and offensive strategies.
The 3-5-2 is one such controversial soccer formation of our recent time. It explores the tactics and key attributes of soccer and affects the modern game type!
Today, we will go into the details of 3-5-2 soccer formation and how to take it! Let's explore with us!
What Is 3-5-2 Soccer Formation?
We also call it the 5-3-2 formation. It holds a powerful degree of defensive stability. So, how does this soccer formation work actually? Let's find out!
Three central defenders, five midfielders, and two forwards build up the 3-5-2 formation. With them, you have a triangular midfield with successful ball circulation and better positional play scopes.
You may not already know it but, the 3-5-2 is a blessing for both defensive stability and improving offensive flexibility.
Soccer managers who want to establish a balance between both parties, highly prefer this formation.
How It All Started?
It was Carlos Bilardo who invented the 3-5-2 formation. Later, the back-then manager of 1986 world cup champion Argentina improvised the formation to prevent the mighty Diego Maradona to have more space beforehand.
Argentina proved the success of the 3-5-2 formation! Furthermore, Arrigo Sacchi's Italian team, known for their disciplined defensive structure and smooth attacking transitions, used this formation to great effect.
It ensured Italy could maintain a strong defensive base while also providing flexibility in attack by the use of wing-backs and a two-striker partnership.
Most importantly, it still remains to this day!
How Do You Play 3-5-2 Soccer Formation?
The three centers we mentioned above form the defensive backbone to form a solid defensive structure. Meanwhile, the wide (left or right) midfielders can drop back to support the defense and effectively form a five-man backline if essential.
Also, the 3-5-2 formation involves a heavy central midfield. They are in charge to create passing triangles and maintain possession of the football effectively.
On the other hand, the wing-backs, who operate as both defenders and attackers, add width to the match. They overlap run down the flanks and create more scopes for crosses with extra attacking options.
Two forwards, seamlessly, boost up the attacking capabilities of the team. The two strikers are responsible for unsettling the opposing defense and creating more goal opportunities.
Here's how different players play their roles in the 3-5-2 formation. Learn more about the modern-day application of 3-5-2 formation below.
Modern Application of 3-5-2 Soccer Formation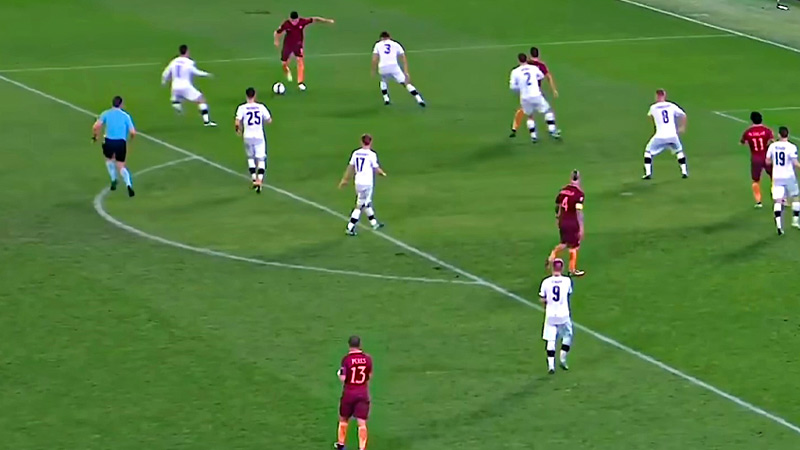 One reason why the 3-5-2 formation has been up in the play is, it can adapt to different playing styles. This is why, in different leagues and competitions, you will see applications of 3-5-2 formation up until now.
It has been evident that team managers often tweak the formation's flexibility based on their team's strengths and weaknesses.
For example, a possession-oriented soccer team might focus on dominating midfield, while a counter-attacking side might prefer quick transitions through the two forwards.
In addition to that, modern coaches often use the 3-5-2 formation as a foundation for flexible and smooth gameplay. Players in this setup need to adapt and play comfortably in different roles.
The wing-backs can drop back to form a defensive line of five, effectively switch to a 5-3-2 shape when under pressure, and push forward to have width in attack.
In the next part, we will know more about the strength and weakness of the 3-5-2 formation.
Strength of 3-5-2 Formation in Soccer,
First of all, it's the flexibility that we are impressed with! The wing-back players contribute most to this characteristic.
Plus, another reason why the 3-5-2 formation is at its best is the capability to adapt. You can be on any of the teams and yet switch between defensive solidity and attacking strategy, based on the context of the match.
In addition, with this formation, the midfield performs in balance. The triangular midfield offers effective ball retention, control, and smooth transitions from defense to attack.
The presence of two strikers offers a potential attacking threat and helps the team break down stubborn defenses and score goals.
Weakness of 3-5-2 Formation in Soccer
The 3-5-2 requires careful tracking back from the wing-backs. Its focus on the central areas can leave the flanks open to wide attacks. Be careful about this!
While the formation excels in central midfield control, it might face challenges against formations with superiority in midfield.
Plus, we know how fast you can switch between attack and defense with the 3-5-2 formation. But this very thing could be the reason for frustration due to its reliance on the midfield and the positioning of wing-backs.
Last Words
Here ends our article with a 3-5-2 soccer formation.
It started to prevent the role of a single soccer player. Now, the 3-5-2 soccer formation is noticed in more or less every soccer field.

Some may confuse the similarities and contrast between the 4-4-2 and 3-5-2 formations! But we will keep that topic for later in our collection!
So, what do think of the 3-5-2 formation? Even if you are a wannabe player or starting as a mentor, you should learn more about this formation to keep your nose ahead!
Let us know your opinion in the comment below. Also don't forget to share our article with your network of soccer lovers! Be enthusiastic, learn, and inform others of the right knowledge.
Stay tuned with us for more useful articles like this!
Similar Posts:
American Football Boots Vs Soccer Boots
There are a few key differences between American football boots and soccer boots. First, American football boots typically have a heavier construction than soccer boots, which is necessary in order to absorb more impact when players are running with the ball.
What Did Abbott And Costello Predict?
Abbott and Costello first performed in vaudeville in the early 1920s. They were a popular comedy act that was known for their parodies of current events.
If you are a baseball player, then you know how important it is to have batting gloves on hand. However, washing batting gloves can be a bit of a hassle.
What Is A Pepper Game In Baseball?
Baseball, known as America's pastime, has a rich history filled with various traditions and unique games. One such game is the "pepper game," which has captivated players and fans alike for generations.
In this comprehensive guide, we will delve into the intricacies of the pepper game in baseball, exploring its origins, rules, benefits, and even the reasons behind its banishment from certain ballparks.
By the end, you will have a thorough understanding of this beloved baseball activity.
Can You Wear Metal Cleats On Turf?
Metal cleats are not typically recommended for use on turf because they can damage the surface. They are also susceptible to rust and other corrosion, so be sure to clean them after every use.
Can You Put Lizard Skin Over Old Grip?
If you have an old grip that's in need of a new covering, there are a few options available to you. One option is lizard skin, which is a natural material that can be used to cover grips.